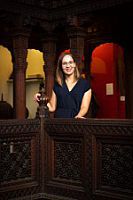 Miss
Sarah French
Biography
Sarah French is an AHRC CHASE-funded PhD Researcher working collaboratively between the Art History department at the University of Sussex and Hastings Museum & Art Gallery.


Her thesis is titled 'Doings of the Sunbeam: Reintroducing Photogaphy with the "Ethnological" Collections of Annie, Lady Brassey'. Annie Brassey (1839-1887) was a travel writer and collector most known for her eleven month voyage around the world in her family's yacht, Sunbeam R.Y.S, from 1876. This project looks at forming tangible connections between the photogrpahic and ethnographic material, which have now been separated for 100 years, in order to improve interpretation of the collections for today's audiences, within a post-colonial framework. Sarah is the recipient of an AHRC International Placement Scheme fellowship and will be studying at the Huntington Library, California, USA from March - May 2020.


From 2013-2018, Sarah worked at Farleys House & Gallery, the estate of photographer Lee Miller (1907-1977) and surrealist artist and patron Sir Roland Penrose (1900-1984). She worked accross copyright permissions, print sales, tours facilitation and assisted with the loans of artworks to several national and international exhibitions. In 2019 she organised the exhibition 'Lee Miller in Colour' for Farleys Gallery. Sarah has curated exhibitions and events for Brighton Photo Fringe festivals in 2016 & 2018.
Role
Doctoral Tutor and AHRC CHASE-funded PhD Researcher
Qualifications
MA Art History (part-time), University of Sussex, 2017.

BA(Hons) Photography, Arts University Bournemouth, 2013.