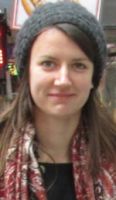 Dr
Joanna Freer
Biography
I began my studies in English Literature with a BA, undertaken at the University of Sussex, before moving to London and studying for an MA at UCL.
In 2008 I returned to Sussex to work on my DPhil in American Literature, which was awarded in 2012.
I also studied for a year as an ERASMUS student at the Università di Roma Tre, in Italy, and I lived in Valencia, Spain for a year teaching English as a Foreign Language.
Role
Associate Tutor.
Qualifications
BA English with Italian (First) University of Sussex
MA English: Issues in Modern Culture (Distinction) University College London
DPhil in American History and Literature. University of Sussex
My DPhil thesis, entitled ""A little parenthesis of light": Pynchon and the Counterculture," aimed to demonstrate the strength of influence that the social and political climate of the 1960s had on the work of the American postmodern novelist Thomas Pynchon. A book based on this thesis is forthcoming from Cambridge University Press.
This semester I am teaching on Critical Approaches 2, The Look of America and Texts in Time 2.
Thursday 13:00-14:00 (In Arts B, B349)
Friday 14:00-15:00 (In Arts B, B349)