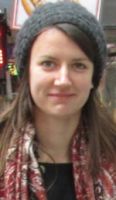 Dr
Joanna Freer
Biography
I began my studies in English Literature with a BA, undertaken at the University of Sussex, before moving to London and studying for an MA at UCL.
In 2008 I returned to Sussex to work on my DPhil in American Literature, which was awarded in 2012. I have been working as an tutor in the schools of English and HAHP since then.
I also studied for a year as an ERASMUS student at the Università di Roma Tre, in Italy, and I lived in Valencia, Spain for a year teaching English as a Foreign Language.
Role
Associate Tutor.
Qualifications
BA English with Italian (First) University of Sussex
MA English: Issues in Modern Culture (Distinction) University College London
DPhil in American History and Literature. University of Sussex