Broadcast: News items
Size and Shape update for all staff
By: Charlie Littlejones
Last updated: Thursday, 15 April 2021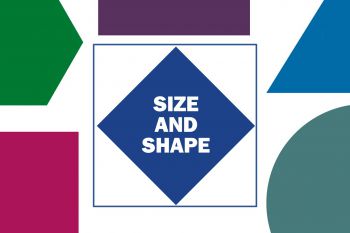 On Tuesday 13 April, the Vice-Chancellor wote to all staff to update them on the Size and Shape programme. You can read the email in full below:
Dear colleagues,

Just before we broke for Easter, we updated our governing Council on our latest proposals to secure the University's long-term future through our Size and Shape programme. You can read a report from this meeting published today by our Chair of Council, Dame Denise Holt.

The Size and Shape programme has implications for every member of staff at Sussex, so please do take the time to read this email in full.

To be clear, nothing has been decided at this stage, but Council has given us approval to move into the next phase of drawing up firm proposals, that will take into consideration your feedback.
Before getting into the detail of what was discussed, I want to just briefly remind you why we are doing this. It is important that we all understand the context before we move into this next phase.
Our vision

The driving force behind all we do continues to be Sussex 2025 and our vision. While the pandemic and other factors have meant we have needed to re-evaluate some priorities, this remains our vision for the next four years and is needed now more than ever. We can be pleased with what we have achieved so far, at this mid-point, but we now need to do more to ensure we remain a competitive institution that is recognised for universal excellence in research, scholarship and education.

This is where Size and Shape comes in. We will need to be bold and take difficult decisions but the outcome will be a University in charge of its own destiny, which is exactly what we need to be.

This is much more than just solving a financial challenge – it's about realising our vision. The reality is that we would be needing to do a good proportion of this work whatever context we found ourselves in. Our portfolio of degree programmes has not been reviewed in a decade, for example. Our plan through the Size and Shape programme is to move away from simply avoiding threats and towards pursuing opportunities. These opportunities are laid out in a new academic vision, which we presented to Council and has at its heart a commitment to investing in academic excellence.

This is a once-in-a-generation chance to become the University we want to and ought to be.

Our academic vision – investing in excellence

By investing in excellence, we can remain a broad-based institution with strength across the sciences, arts and humanities, and social sciences. To achieve this, we must revisit our appetite for cross-subsidy. Traditionally, we have invested when areas have grown but have not reduced in turn areas that have contracted. This results in cross-subsidy and limits the resource available to invest in areas where we excel or have the potential to do so. Cross-subsidy is important across academic disciplines, but its future must be framed around investing in successful academic areas that require some level of support to continue their excellence.

This will, in turn, bring long-term benefits to our sustainability and ensure that we are better able to thrive in a highly competitive environment.

All of the Heads of Schools will now be developing their academic plans for our future against the drivers of excellence and, of course, financial sustainability.

The proposals we discussed at Council are all focused on achieving this vision, and as such our Council stressed that really the programme should be called Shape and Size – as this more accurately puts the emphasis on how we need to look at our shape. I strongly feel that if we progress with the proposals set out below we have no reason to believe we will need to shrink in size and should have every reason to be confident about our future.

That's not to state that this will be easy – and I do not underestimate the concerns that many in our community have. Change is not easy, and it is important that myself, and all the leadership at the University, continue to acknowledge this.

However, I do believe that we have the opportunity to make the right decisions now on behalf of generations of students who will come to Sussex seeking an outstanding education and to achieve the breath of excellent research I genuinely believe is possible.

Now, to share some of the detail we presented to Council about each of the major projects that make up the Size and Shape programme.

Portfolio review

As is routine for most universities, we are reviewing all the courses we offer to students. This is long overdue if we are to remain a top choice for applicants. It is important to be clear that nothing has been decided at this stage but I can share what the data are showing.

If we look at undergraduate recruitment over the last four years, we can see that some schools have grown student numbers substantially, whereas others, have shrunk. At postgraduate level, half of our 146 courses fail to recruit 15 students a year, which is the minimum as set by Senate. Only 26 postgraduate courses recruit more than 30. These data and much more detail have been shared with Heads of Schools, who will now consider the findings and develop proposals in response. This could include renaming, suspending or withdrawing courses, as well as proposing new courses. Overall we expect our student numbers to be stronger after this review. However, there will be less international students in the immediate future than there have been which means that we will have less high fee paying students in our total student mix.

One Professional Service

We continue to work on the structure of Professional Services, so that services are organised optimally to support our academic mission. In the Schools, we are exploring whether clustering services may be helpful and are developing a consistent staffing and grading structure.

We are also seeking better efficiencies in procurement and reviewing technical support, to provide a more flexible and resilient service. We are hoping to conclude this work for the start of the next academic year.

Budget planning and achieving a surplus

You will hopefully recall that Council requires us to achieve a £5–10 million surplus in the next financial year. IPBP (the Integrated Planning and Budgetary Process) is the framework that glues together the other projects and allows us to assess how close we are to meeting this target. We are currently assessing the results of the portfolio review which we expect will help close the gap. Even after that and reductions in central non pay budgets, we expect there to be a savings gap to be closed during our planning in the period up to July when proposals will be made to Council. Of course, we will keep reviewing numbers with the latest realistic information to ensure that any prosed action is proportionate to the remaining gap.

Central costs

We have reviewed all costs sitting within central University budgets, to identify potential areas of discretionary expenditure that could be reduced from the existing and planned levels. As referred to above, this work has identified around £3m of potential savings within the University's central budgets. We had expected to find savings of c£1–2m in this way, so this is a good outcome, which lessens the overall financial burden elsewhere, potentially reducing the extent to which savings in staff are required.

These savings will be implemented for the 2021/22 academic year, with some savings possible in the current academic year.

Next steps

Next week, we will be launching the University engagement process for Size and Shape, which is your chance to get involved and help shape the discussions. Every School and Division will have a role to play and your Head or Director will be in touch with you directly.

Finally, later this month, we will be sharing details of a secondary voluntary severance scheme, which was one of the most popular options chosen by staff in our poll last year. Council has now approved this and it will launch towards the end of April. While it helps us achieve our aims, this is not part of Size and Shape, as it will take place before any business cases are brought forward.

Please do look out for the engagement opportunities in the coming weeks and look at our Size and Shape webpages for up-to-date information on the programme.