Digital and social media
The Digital and social media research theme applies digital media to construct and communicate across space and society.
Research in human-computer interaction at the Interact Lab aims to analyse how people of all ages and abilities play video games, with the overall aim of improving the game experience for everyone.
The player will show in this paragraph
It's all in the game
Historically, ensuring that video games are suitable for commercial release has meant that a game goes through a series of rigorous tests by a games studio's quality assurance department. However, this process usually examines only the functional correctness of the game, and doesn't consider the various human abilities of individual player styles. By ignoring how people actually interact with video games, studios are in danger of designing games that are really only for people like themselves.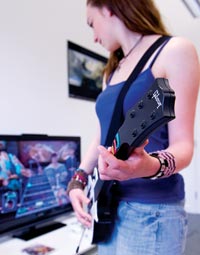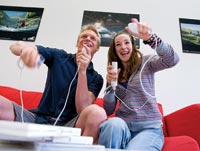 As the UK video game industry grows, and games become more expensive to design and develop, it is essential to deliver the highest quality product possible. To help ensure that UK games studios remain among the best in the world, Dr Graham McAllister and his research team at Sussex are analysing games from the viewpoint of the player, asking such questions as: can they understand the game? are the goals clear? do they enjoy it? In order to realise the commercial potential of this research. Dr McAllister has set up Vertical Slice, the first company in the UK to focus specifically on the usability and user experience of video games. Funding for Vertical Slice was awarded from the University of Sussex's Enterprise Development Fund, an initiative that supports new academic commercial activity.
Located at the Sussex Innovation Centre on the Sussex Campus, the spin-off company works closely with games studios to ensure that their games create a positive first impression, and then continue to provide users with a satisfying experience. The company's researchers gather user feedback on their client's games throughout the development lifecycle, from conception through to release. Using a range of techniques in their dedicated studios, they can capture, record and analyse a player's facial expression, body position, use of controllers and the game itself in order to better understand how games are played.
The company evaluates games for most of the major gaming companies, such as iPhone, Xbox, Playstation and Wii, with a diverse range of game players. With the introduction of the iPhone App Store and micro-payment methods, the business model of selling games is changing. There has, therefore, never been a more important time to ensure that games are designed with an understanding and involvement of the intended users.
Graham's perspective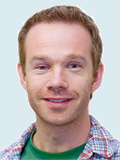 'As a researcher, it's always interesting to examine the edges of your field, the extreme cases. In the area of Human-Computer Interaction, I see video games as the extreme cases, as they challenge many of the established rules and also raise new questions worthy of study.
'Our research in video games also has clear benefits for the games industry. I find it motivating that my academic work has real-world applications, and can enhance the enjoyment of millions of people playing a game that we have been involved with.
'Moving to the University of Sussex was an easy decision for me to make, based on its international reputation in Human-Computer Interaction and also the quality of video game studios located in Brighton.
'I have been very impressed with the support and encouragement from the University in starting our company, Vertical Slice. By having a commercial company in the area in which I research and teach, I can also ensure that my students are aware of an industry perspective.'
Dr Graham McAllister
Senior Lecturer