Research news review
It has been an important year for research at Sussex; here are just some of the most significant developments.
The Sussex Doctoral School
As part of the University's Strategic Plan, a unique Doctoral School is currently being developed, which will be in existence in a 'virtual' form in time for the start of the academic year in September 2009.
The Doctoral School will commit the University to excellence in developing the next generation of researchers to fulfil their full potential, and recognise the contribution doctoral and postdoctoral researchers make both within their own disciplines, as well as to the distinctive interdisciplinary research environment at Sussex. This commitment should be understood as setting an ambitious trajectory for the Doctoral School and will, over a clear timeframe, allow Sussex to stamp its own distinctiveness on doctoral and postdoctoral research.
The Doctoral School will play a number of important roles for Sussex. It will provide cross-institutional support and promotion of research, enterprise and personal development. It also offers an environment and community for early-career researchers across the institution. It provides the coherence needed across all stages of the research career, helping Sussex to manage its research workforce more effectively. And finally, it should ensure the continuing high quality of the Sussex doctorate through setting and monitoring standards of provision. Head of the Doctoral School, James Birkett, said: 'The Doctoral School clearly demonstrates our commitment to attracting, training and developing the next generation of world-class researchers.'
2008 RAE results
The latest Research Assessment Exercise (RAE) results were very positive for Sussex. Over 90 per cent of Sussex research activity was rated as world leading, internationally excellent, or internationally recognised, confirming the University among the leading 30 UK research universities on a simple average across all scores. 18 subjects rank in the top 20 for research, with American Studies ranked number one in the UK, Politics number two, and Art History number three.
May 2009: Professor Guy Richardson was elected as a Fellow of the Royal Society, for his research on the molecular and cellular basis of hearing and deafness.
Junior Research Associates scheme enters second year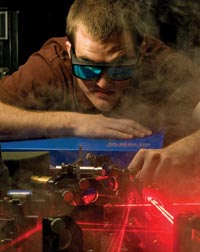 Talented Sussex undergraduates can now get a taste of life as academic researchers, thanks to the Junior Research Associates (JRA) bursary. Students receive up to £1,800 to support them while they work on their projects over the summer vacation.
The JRA scheme was successfully piloted in summer 2008, with undergraduates working alongside academics from across the University on projects as diverse as egg-laying behaviour in bees, Nigerian migrant communities in Brighton, and the use of lasers in quantum physics research. The results of the students' work were displayed in a poster exhibition to celebrate the scheme's first year.
Many applications for this summer's scheme have already been approved, and projects include studying the long-term effects of binge drinking, culture shock in international students at Sussex, and decoding bees' 'waggle dances'. It is hoped that many of the students will be encouraged to pursue postgraduate study and even an academic career after they graduate.
'Curious' event brings academics and local business together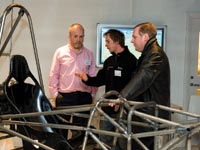 The University hosted a unique event in March 2009, titled Curious. Planned as a showcase of the diverse research and academic talent at Sussex, it enabled members of the University community and external partners to explore together how they could benefit from the sharing of new knowledge.
Interactive sessions were grouped into the areas covered by each research theme, and delegates from diverse organisations, including Brighton & Hove City Council, Wired Sussex, Creative Brighton, and the South East Health Technologies Alliance, were able to share common challenges, and seek collaborative solutions.
Dr Kathleen Stock (Senior Lecturer in Philosophy) met Hilary Lane over a discussion in the Culture and heritage theme workshop. Hilary is Cultural Strategy Manager for East Sussex County Council and has been in early discussions with Kathleen about jointly curating an exhibition on philosophical problems in art. Hilary said: 'Curious was a very cheering and energising event. It was a privilege to be able to spend time with dedicated, busy people hearing about their research. Much food for thought.'