Broadcast: News items
Taking a sustainable approach to catering
Posted on behalf of: Sam Waugh, Sustainability Manager
Last updated: Wednesday, 19 July 2023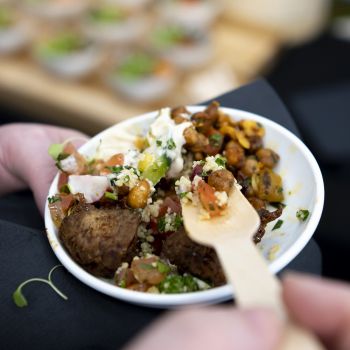 Our strategic goal is for the University of Sussex to be one of the most sustainable universities in the world as we work to being net zero by 2035.
We are passionate about providing sustainable food on campus and helping everyone to make sustainable food choices every day; the United Nations estimate that farming and food production cause around a third of global greenhouse gas emissions, so it's a way for all of us to make a difference.
That's why the University's Sustainable Sussex Strategy contains a number of sustainable food commitments, including:
Reducing demand for meat on campus
Piloting net zero cafes
Ensuring that at least 80% of our fresh produce, excluding dairy, comes from British and local suppliers
Supporting the redistribution of surplus food to food banks and other community destinations.
We have also made a plastic-free pledge, and put plans and policies in place to minimise all forms of waste.
Earlier this year, the University of Sussex came joint first for Sustainable Food in the People & Planet's 2022/23 University League table: we scored an impressive 100% when it came to sustainability practices.
With such a strong focus on food sustainability, I was delighted that we made finding a catering partner as committed to sustainability as we are an integral part of the procurement process when looking for a new catering partner from August. This was based on a commitment that the contract would not be focused on generating profit, but on delivering sustainability, ethics and value for money for our staff and students.
Purchased goods and services accounted for 45% of the University's carbon emissions in 2021-22, so the right partner was critical to help reduce our carbon impact.
As part of their bid, Chartwells submitted a roadmap that shows the milestones it has already met, the progress on targets and its wider sustainability commitments to support a transition to Net Zero Carbon by 2030 – five years ahead of Sussex's target of 2035.
They proposed a new £25,000 Sustainability Fund that will be spent in agreement with the University each year to help drive a more sustainable service at each outlet and reduce the carbon impact of the service across the campus as a whole.
Nearly 70% of you said it was very important or important that catering partners share the vision to become one of the most sustainable and inclusive universities in the world.
Last month, our University catering team took home the Sustainability Award at the U Dine awards for their commitment to reducing waste, source sustainable, ethical produce locally and seasonally, and increasing education around food sustainability.
Sussex Food have held a 3-star rating (the highest mark possible) from the Sustainable Restaurant Association since 2019, which was renewed in January 2022. We are the only university in the country with an onsite aerobic digester, which converts any food and compostable container waste produced on-site into fertiliser.
A recent impact report from Olio found that more than a tonne (1,121kg) of edible food has been donated to date, providing 2,650 meals for 317 households and saving 4,801kg of CO2 emissions (the equivalent of planting 220 trees).
In addition, Chartwells are the first contract caterer to join WRAP's UK Plastic Pact and is a founding member of Global Coalition for Animal Welfare. The company has been a member of the Round Table on Responsible Soy Association since 2016, and supported the Roundtable for Sustainable Palm Oil since 2010.
Our catering partner is also committed to ensuring really stringent animal welfare standards for the food sold in their premises and to ensuring that vegetarian and vegan food makes up at least 50% of menus.
There are lots of reasons why I'm excited about this renewed partnership, and these are just a few of them.
If you are interested in finding out more about the Sustainability Fund, please email me at sustainable@sussex.ac.uk
Read more about providing sustainable food on campus and check out our Sustainable Food and Agriculture Policy and waste reduction reuse and recycling policy.