Broadcast: News items
People and our campus remain our focus – Chair of Council update
Posted on behalf of: Internal Communications
Last updated: Thursday, 2 February 2023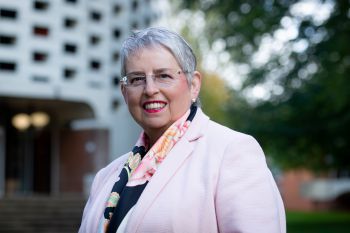 On Friday 25 November we held our first Council of the academic year. This meeting is an opportunity to review our accountability return for submission to the Office for Students (OfS) and a number of annual reports which provide assurance of ongoing compliance with key statutory and regulatory matters. These include: Prevent Return, Equalities, Diversity and Inclusion, Audit and Risk, and Health and Safety.
At the meeting, we were able to approve and progress some key initiatives and hear about important developments for the Sussex community.
Industrial relations
We began the meeting with a presentation from UCU members Jo Pawlik, UCU Sussex President, and Jackie Grant, USS representative, and it allowed us to collectively reflect on the improved industrial relations between the University Executive Group (UEG) and our campus trade unions.
Council thanked UCU Sussex and the UEG for their hard work over 16 weeks of negotiations over the summer which made such positive progress on key issues relating to pay and working conditions.
It was made clear that the most recent strikes were about important national issues, so distinct and unrelated to the improved industrial relations we have here at Sussex.
Our new Vice-Chancellor's update
It was Vice-Chancellor Sasha Roseneil's first Council meeting and she provided a useful overview of her first four months at Sussex. A huge focus for her has been getting to know the community on a 'listening tour' and she shared what she has learned about the University. She has visited most Schools and started visiting Professional Services Divisions, held an all staff open forum, and attended themed lunches, where colleagues and students come together to discuss key strategic areas for the University. She is also holding sessions at which students can make an appointment to talk with her twice a term.
Sasha also reflected on how pleased she has been with the positive progress that has been made in that time, including Sussex becoming an accredited Living Wage employer, the UCU agreement, and the £6.6m cost of living package of support for staff and students and how we are directing attention and support to those in our community who are most affected by the current challenges.
A cost of living working group has been set up between the University and USSU to ensure we are working together to support our students, including doubling the student hardship fund to £1.5m and a series of measures, such as providing subsidised £2 vegetarian and vegan meals on campus all through the winter.
Another area of focus for Sasha is to build our influence and reputation locally, nationally, internationally, and in the sector, working with partners, politicians, and Sussex alumni, many of whom are MPs. At a recent House of Lords event, she had the opportunity to meet with Sussex alumni who graduated in the 60s, 70s and 80s.
New role – Pro-Vice-Chancellor (Engagement and Partnerships)
To support enhancing our global reputation and following the departure of Deputy Pro-Vice-Chancellor International Richard Follett later this term, we agreed a new post of Pro-Vice-Chancellor (Engagement and Partnerships) who will lead on driving forward the Engage for Change strategic objectives and provide strategic leadership for: global engagement, international partnerships and civic, regional, and national engagement. The role will work with a range of Professional Services areas, including global engagement, the international office, communications and advancement, public policy, and research and enterprise.
Academic freedom
Sasha reminded us of the commitments to academic freedom and freedom of speech that are foundational to Sussex, and that are outlined in our governing documents, our Charter and Statutes, and of the legal and regulatory framework within which universities are operating that require us to uphold and promote academic freedom and freedom of speech within the law. David Ruebain, Pro-Vice-Chancellor (Culture, Equality, and Inclusion - CEI) has been given the role of providing strategic oversight of academic freedom and freedom of speech at Sussex, ensuring that diversity of opinion and belief can be expressed. This also reflects the important interconnection between upholding these principles whilst maintaining our institutional values of equality and inclusion.
People Strategy
Council approved the final draft of the People Strategy following consultation with the University community, whilst noting that it would continue to evolve and should be kept under review. It will be shared with our University community early in the new year. We are awaiting the appointment of a permanent HR Director, who will be able to work with our Pro-Vice-Chancellor (CEI) and members of the Equality, Diversity and Inclusion team on the strategy.
We also acknowledged that robust Key Performance Indicators (KPIs) are needed to ensure we can measure progress. Council agreed these need to be set with the community to ensure they are realistic and achievable. Council is very keen to continue to hear the views of staff via surveys and engagement opportunities. Workload and wellbeing are key to Sussex being an employer of choice and the fact that workload principles were achieved as an outcome of UCU negotiations was seen to be very positive.
Donations from supporters
This year, the University has been very fortunate to receive philanthropic donations, including a €1m donation from Baillie Gifford for the Deep Transitions programme between the Business School and Utrecht University, and £600,000 from the Rudd Family Foundation for scholarships for care leavers. We have already been doing sector-leading work to invite care leavers to study at Sussex, and this gift enables us to provide £5,000 a year to all our care-leaving undergraduate students.
Capital Programme
Considerable progress has been made with the Capital Programme (formerly called the Education and Research Investment Programme, ERIP) despite challenging financial conditions. It was agreed we need to maintain momentum and focus on the big priorities for the future and Council recognised the need to prioritise money for the Capital Programme.
The Network Replacement Programme is a flagship programme which will provide a state-of-the-art, secure, high speed wired and wireless campus data network. The programme is fundamental to the University's achievement of our strategic objectives, responding directly to negative feedback from the National Student Survey and it is a key element of the ITS and Estates roadmap. Jason Oliver, Chief Digital Transformation Officer, has led this work and I was pleased we could approve the business case and release of the sum of £41.3m for this important investment in our campus. This will enable us to be more efficient and more effective for the future.
Report from Senate
As the senior academic body responsible for the overview of academic standards and direction of academic matters, Senate provided three regulatory updates to Council: the Research and Integrity Statement 2022, the Degree Outcomes 2021/22 report and the University's Degree Classification Statement and assurance on the ongoing compliance with the Office for Students' A and B conditions of registration.
Student Union update
An update from Rose Linehan, Education and Employability Officer for the USSU reported on the recruitment of a new Chief Executive Officer for the Union, who will start in February. After almost 25 years in post, Paul Newton stood down as CEO in June. The USSU also has six new sabbatical officers.
A governance review will look at how the USSU runs alongside the University. It was reassuring to hear that student retention is back to pre-pandemic levels and how students appreciate the investment going into the Student Hardship Fund.
Implementation of Halpin Report and new Council members
Finally, in implementation of the Halpin Review of Governance conducted last year, and as part of its continuing commitment to effectiveness and best practice, Council considered and approved a number of changes to its ways of working, including a small reduction over time in the overall number of members. That said, Council was pleased to approve the appointment of three new members: Susan Angoy, Alison Haig-Davies, and Miriam Zukas. They bring a diverse range of skills and experience and allow us to maintain gender balance and representation, as we reduce numbers.
Dame Denise Holt
Chair of Council