Broadcast: News items
Take part in our staff survey and help shape life at Sussex
Posted on behalf of: Internal Communications
Last updated: Tuesday, 4 October 2022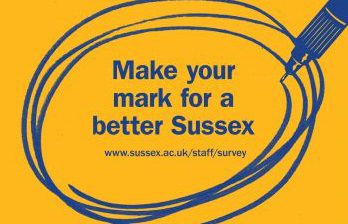 Today, 30 September, Robin Banerjee, Head of School (Psychology) and UEG member, wrote to all staff. You can read the message below.
Introduction from Robin Banerjee, Head of the School of Psychology
and Chair of the Staff Survey Steering Group

Dear colleague,
Our second staff pulse survey for 2022 will open on Monday 3 October and run until Friday 21 October, giving you an opportunity to share your views on working life at Sussex.
The University of Sussex has pledged to make a contribution of £2 for every survey response to the Sussex Fund, so please do take a few minutes to have your say. The Sussex Fund, funded by donations to the University, supports the student experience in areas of greatest need – from hardship bursaries that provide a lifeline to students in their darkest hour and scholarships for the most disadvantaged, to initiatives that improve the employability skills of our students.
Why is the staff survey important?
We want colleagues to feel proud to be working at Sussex and have a sense of belonging and inclusion within our community, and our staff surveys are part of Sussex's work to help us achieve that. As the cornerstone of our listening strategy, surveys help us to 'take the pulse' of how people are feeling so the University can take action where needed. At Sussex, we truly value the contributions and input from all our staff, and this is your opportunity to have your say about the way we work.
Our analysis of the staff survey results helps all Schools and Professional Service divisions, as well as the University leadership as a whole, to plan and carry out actions to address issues that colleagues are raising across our community. The results also help us to monitor our progress against action plans. These action plans are refreshed on an ongoing basis as we receive the feedback data from each survey.
The survey results are also critical for us to measure our progress towards our collective People Strategy aims. We have a number of exciting goals that we want to achieve for our people over the next few years and we want to hear your feedback on how we're doing.
Survey themes and confidentiality
This is the second of two pulse surveys this year, and both surveys have a small set of core engagement questions in common, allowing us to understand and respond quickly to any emerging issues. However, the remaining questions are different for each survey. The April survey focused more on equality, diversity and inclusion and staff belonging, whereas the themes of the upcoming survey relate to leadership, staff development and workload.
Delivered again by our partner organisation People Insight, the survey is completely confidential and no answers or comments will be attributable to any individual. Our staff survey operates on the 'rule of ten' meaning there cannot be any breakdown of results attributed to any group of fewer than ten people. This is common practice, ensuring that no assumptions or inferences about particular responses will be drawn about individual responses. We hope this will encourage you to feel confident about safely sharing your honest views about your experience of working here.
Actions taken as a result of the staff survey
As I mentioned earlier, each area of the institution has an ongoing action plan as a result of survey responses and you can read about the actions underway on our staff survey webpages.
Some actions take longer to implement but by holding regular surveys we can monitor progress and keep listening to what matters most to you.
How to take part
You will receive an email from People Insight on Monday 3 October with your survey link. This link is unique to you so please do not pass this to colleagues. The survey will take you around 10 minutes to complete and you can access it easily on either your computer or mobile phone.
Please do make sure your voice is heard, so that we can work together to change things for the better here at Sussex.
Best wishes,
Robin Banerjee
Head of School (Psychology) and Chair of the Staff Survey Steering Group


---
Video transcript
Robin Banerjee: Hi, my name is Robin Banerjee and I'm Head of the School of Psychology and also Chair of the Staff Survey Steering Group.
And yes, it's that time of year again, we have another brief staff survey for you to complete.
As you will remember, we are testing out a so-called pulse model where we do two surveys each year.
There is a small set of core questions about how you feel about working at Sussex in general, which is repeated in each survey. But the two surveys each year concentrate on different issues.
So last time back in the spring, you were asked about equality, diversity and inclusion and sense of belonging. This time you'll be asked questions about leadership, staff development and workload.
The survey administration is managed by People Insight, which is an external provider, and all the responses are totally confidential. There's nothing that can be attributable to any individual. No answers, no comments will be traced back to anyone.
And I know sometimes people feel unsure about whether doing staff surveys like this actually leads to meaningful change. But I do want to encourage you to have a look at the actions that have arisen from previous surveys, and they're in the staff survey web pages and there's a link to them in the email that you've just received.
Yeah, there are lots of challenges for sure, and it does take time to address them. But I hope you can see when you look at the action plans, I hope you can see that hearing the voices of our community through things like the staff survey really does make a difference anyway.
So please do log in and have your say. It really is very simple. Just takes a few minutes. You can fill it out on your mobile if you want to.
So just spend a few minutes to do that and thanks. Thanks so much, everyone, and have a great weekend when it arrives.