Broadcast: News items
Get involved in Sustainability at Welcome Week 2022
By: Martha Knott
Last updated: Thursday, 15 September 2022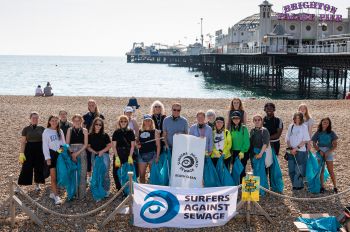 Are you new to Sussex, or a returning student who wants to get more involved in sustainability this year?
Sign up for our exciting sustainability Welcome Week activities to meet other like-minded students and hear about opportunities to protect the environment whilst studying at Sussex!
You can also meet the Sustainability Team at Freshers Fair on Wednesday 21 September, or contact us on sustainable@sussex.ac.uk.
These events are part of the Get Settled programme for Welcome Week.
4.00-6.00pm, Wednesday 21 September
Join other new students at a silent disco on the beach, while helping keep rubbish and plastic out of the ocean this Welcome Week. We will have three channels of music and litter-picking equipment, just bring your dancing shoes!
The clean will be led by Sasha Roseneil, the University's Vice-Chancellor, with equipment from Surfers Against Sewage, who tirelessly campaign for cleaner oceans and raise awareness of water pollution and the impacts of plastic.
2.00-3.00pm, Thursday 22 September
Sign up to this talk for all Sussex students, to hear how easy it is to bring sustainability into many parts of your life at Sussex - from how you travel to and from Brighton, to what you buy there, to how you dispose of it when you're finished.
We'll also answer you questions and discuss how we can work together with you to make Sussex a more sustainable place to be.
11.00am-12.00pm, Friday 23 September
Do you want to fight climate change and protect the environment whilst studying? Join this event to hear from current and former students in your Sussex Community about the many opportunities to get involved in sustainability at Sussex.
We will be joined by students involved in sustainability, as well as staff from the Students' Union and the University Sustainability Team. They will be sharing their experiences of working to make the world a better place during their studies, and answering your questions about how you can too.