Broadcast: News items
23 June was International Women in Engineering Day (INWED)
By: April Yeatman
Last updated: Friday, 24 June 2022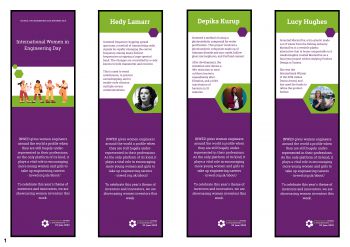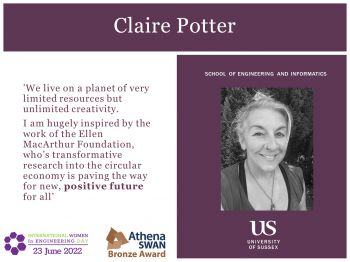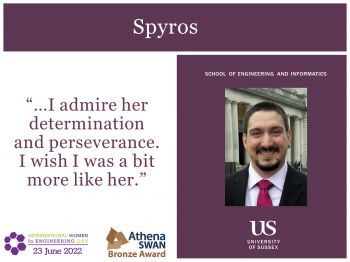 INWED aims to raise the profile of women in Engineering, and encourage more women to join the Engineering profession. The School of Engineering and Informatics recognises that women are still vastly underrepresented within Engineering due to gender stereotyping, systemic bias, and a lack of visible role models.
According to the 2021 Engineering UK Gender Disparity Report, only 12% of people working in engineering professions were women, yet women make up 47% of the total workforce. As part of combating this imbalance, there is a need to showcase powerful women role models and highlight the potential career paths for women throughout STEM professions.
The EDI team in Engineering and Informatics are highlighting the importance of male allies in achieving gender equality. In encouraging male allies, the School recognises that the gender disparity within engineering is everyone's issue, and that people of all genders should all be working towards equality as a common goal. It is crucial that men in engineering help to uplift the women around them, and speak out against sexism where they see it. Staff profiles includes a picture of the faculty member and an encouraging comment supporting our celebration of Women in Engineering within the School.
To celebrate this year's INWED theme of inventors and innovators, and to give a platform to the achievements of women, the School have been showcasing women inventors on social media and on their digital display screens this week:
Hedy Lamaar - Invented a method of transmitting radio signals.

Deepika Kurup - I

nvented a method of water purification.

Lin Lanying - Invented a new way to manufacture monocrystalline silicon.




Patricia Bath - I

nvented a medical device that improves on the use of lasers to remove cataracts.

Lucy Hughes

- Invented

a

bio-plastic

made out of

waste from the fishing industry.
The full campaign is shared on the School social media pages. In addition, staff were asked to share an encouragement for our students, and those wanting to study or join STEM careers, which will be displayed on a padlet on the School website.
April Yeaman, Graduate Associate and EDI team member said "I work with many inspiring women, both staff and students. I'm happy to be part of a school that both recognizes and actively celebrates the contributions of women to engineering and other STEM professions, and tries to enourage more women to enter this sector"
Dr Elizabeth Rendon-Morales, Senior Lecturer in Electrical and Electronics Engineering and EDI Lead in the School of Engineering and Informatics, said: "Cultivate supportive partnerships with women is a key process as it requires building relationship based on trust. It is important to create working environments with freedom to speak up and "call in" other people if you see them abusing their power with others. We are glad to have received many staff inspiring quotes which are making a difference for our students."