Broadcast: News items
Governance Services' James Bluring on his new apprenticeship MBA: "Do it. Definitely do it."
By: Lisette Whittaker
Last updated: Thursday, 10 March 2022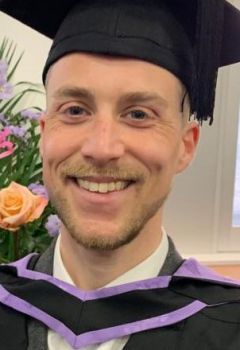 Transcript of interview with James Bluring, Deputy Head of Governance Services
James has achieved a Senior Leader Master's Degree apprenticeship and the learning is through the University of Brighton and the degree element of it involves an MBA (a Masters of Business Administration).
Why did you initially choose to do an apprenticeship?
Well, the idea of a degree apprenticeship really appealed because, its degree level, and higher degree level learning is something that was really attractive to me. I enjoy learning for learning sake and I enjoy learning new knowledge and skills. But whilst you're employed full time and in a busy role, that's often quite difficult to realise, so the attractiveness of degree apprenticeship is that you're able to integrate degree level learning and make sure that it's applied to your job and also have your employer on board in terms of supporting you on that on that learning journey too. Then as an added bonus as well, it's funded through the apprenticeship levy, so it comes at a much lower cost than you'd expect if you were looking to learn privately.
What sorts of challenges have you faced while completing this apprenticeship?
I'd say without a doubt, the biggest challenge is time management. So your own time management and that's because you're having to balance part time study alongside a really busy role trying to integrate the two things and then also just trying to deal with life and also a global pandemic alongside all of that as well. So it's a real balancing act, but that in itself is quite a good learning curve. You know, it's really valuable to be able to learn how to balance all those things because that's something that we all encounter at various points in our life. So knowing how to manage time effectively in that way is something of an unofficial skill I think that you might end up with at the end of the apprenticeship. Then apart from that, I'd say just having the determination and grit to get through what is 2 1/2 years of dedication to something which absolutely has its benefits. But along the way you know you're going to face various different challenges. I just say though, that you just have to remember it's worth it.
At the end of it you're going to end up with not only a degree qualification but usually a professional accreditation at the end of it too, so……challenges definitely, but worthwhile.
Great, so how do you think the apprenticeship will benefit you in the future and in your current role?
Well, having an MBA in itself is just a fantastic addition to the CV and it's a really transferable, portable qualification that can be applied to lots of different sectors. So it's got obvious benefits for future career aspirations. But then also the actual content of the MBA itself is directly applied to the role I'm in now. So it's not like I'm studying and waiting to apply all of that knowledge and learning. The apprenticeship forces you to think about how that learning can be directly applied to your role right now. It helps you develop in the role that you're in and become more effective in that and find new ways of thinking and looking at your role that you didn't necessarily know you could do. And then also your employer, the university benefits from it as well, because you've got an employee who's effectively upskilling in the job at the same time.
Excellent! What advice would you give to somebody considering an apprenticeship or looking to further their career.
I would say do it. Definitely do it, but talk to your family and talk to your friends first because you are going to need a support network around you. Definitely it is hard work and it needs you to sort of balance all those elements of your life, family, life, work. So just make sure that you've got that support network around you and also make sure that your employers on board with what you're about to embark on because without them supporting you. Encouraging you. Enabling you to do it, it's going be a lot harder than it already will be.
And so really think about it. Make sure those people are on board but if you can, just do it because the benefits are great.
Many thanks James!