Broadcast: News items
Transgender Day of Remembrance
Posted on behalf of: Internal Communications
Last updated: Friday, 19 November 2021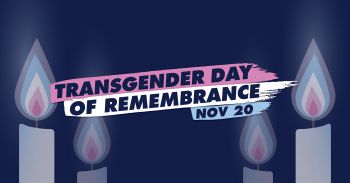 The University of Sussex is observing a day to commemorate all those who have been killed as a result of transphobic violence. Saturday 20 November is internationally recognised as Transgender Day of Remembrance (TDOR), a solemn reminder of violence towards the transgender community.
Sussex will mark the week leading up to Transgender Day of Remembrance by flying the trans flag over Sussex House.
Research by Dr Laia Becares, conducted jointly with Dr Dylan Kneale of University College London, has highlighted the disproportionate effect of COVID-19 on the transgender community. The Queerantine Study found that transgender and gender diverse people reported the highest levels of stress, depression, and harassment during the pandemic. Open-ended responses to the survey described various experiences of discrimination and inappropriate incidents including increased or excessive scrutiny, misgendering, exclusion, and online abuse.
David Ruebain, Pro-Vice-Chancellor (Culture, Equality and Inclusion), says: "Observing TDOR not only provides us with the opportunity to remember the transgender people who have tragically lost their lives, but also to understand the issues related to violence faced by the trans and wider LGBTQ+ community that have been exacerbated by COVID 19".
Vice-Chancellor David Maguire recently wrote to all staff and observed that we can do more to look out for several groups including some of our trans and non-binary staff and students. Being kind and thoughtful to everyone should not be too much to ask.
Our TransNonbinary Staff Network at Sussex is a confidential and a fully inclusive group open to all who identify as TransNonbinary and are members of staff or postgraduates at the University. You can join the confidential mailing list by contacting transnonbinarystaff@sussex.ac.uk. The mailing list is monitored and only accessed by the Chair of the TransNonbinary Network to ensure confidentiality.
There is a range of support avialbale for our students and all of our Student Life Advisors are skilled and experienced at working with LGBTQI students and providing support on issues related to Gender, Sexuality and Relationship Diversity. Students should feel free to choose to see any Advisor.
Please visit our LGBTQ and GSRD support webpages where you can find out more about specialised services.and support is available at the University and in the local area.