Broadcast: News items
Campus works impacting roads, access and transport
Posted on behalf of: Transport Office
Last updated: Thursday, 7 October 2021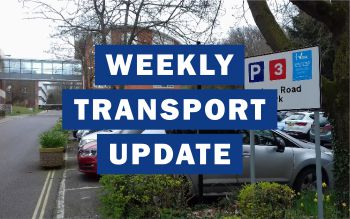 Parking charges are now active
Parking charges, which have been suspended in recent months, are now active.
You must display a valid parking permit or Blue Badge, or use visitor parking to park on campus. The cost of parking has not increased since the 2020/21 academic year.
If you have applied for a parking permit already, please monitor your provided e-mail address as you will be contacted via e-mail with information on how to collect your permit.
Parking permit applications are still open. We are quickly approaching capacity, so please ensure you apply for a parking permit as soon as you can if you plan to park on campus.
Please note that expired staff scratchcards (e.g. 2019, 2020) will be accepted for the foreseeable future. Please ensure you continue to scratch out the correct month and day, but the year at the bottom of the scratchcard can be ignored.
Scratch cards can currently be purchased from the Hastings Building reception weekdays from 10.00 am to 3.30 pm.
Car parks, roads, and closures
Upper Arts car park (P7a) is currently closed to support local a NHS Covid-19 testing initiative for University members and the local Sussex community.
Three disabled bays between Swanborough and the Student Centre are unavailable for eight weeks to support the ongoing Student Centre project. Plenty of alternative disabled spaces are still available in this area, and Park Village car park (P8) is available opposite.
P1 Science car park: open
Falmer Sports Complex: open
P3 Biology Road car park: open
P4 Sussex House car park: open
P5 Sport Centre car park: open
P6 Ridge car park: open
P7 Jubilee car park: open
P7a Arts car park: closed
P8 Park Village car park: open
P9 Lewes Court car park: partially open (12 spaces closed long term)
P11 Knights Gate car park: open