Broadcast: News items
Sussex software engineering first opens doors to AI supercomputing research
By: Sean Armstrong
Last updated: Tuesday, 13 July 2021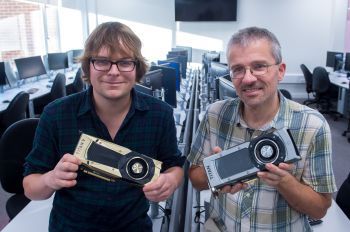 The University will enjoy access to some of the UK's most advanced supercomputing facilities, as a result of a partnership between the School of Engineering and Informatics and IT Services.
Professor of Informatics, Thomas Nowotny, has been appointed as a coinvestigator under the Engineering and Physical Sciences Research Council's (EPSRC) Jade 2 national supercomputer project.
Professor Nowotny said: "Sussex conducts some cutting-edge research in AI and machine learning, and we'll now be able to gain much more of a profile at a national level. The supercomputer facility at Hartree has only recently gone into service and we can't wait to take advantage of the new and exciting infrastructure now available to us."
At the same time, under a separate call, the EPSRC has awarded a Sussex research fellow, Dr James Knight, a five-year, £800,000 Fellowship to support his ongoing work as a Research Software Engineer – one of only a handful of awards made nationally.
Dr Knight said: "We recently found ways to turbocharge desktop PCs to allow them to compete with state-of-the-art supercomputers for brain simulation. This Fellowship will not only enable me to continue applying some of our insights to exciting problems in AI, but – in collaboration with IT Services – will also support the creation of an important new research software engineering community at Sussex, providing the tools, training and infrastructure services needed to support our work."
Deputy Pro-Vice-Chancellor (Research), Professor Seb Oliver – who has recently been working to set up a new Research IT Committee at the University – said: "Sussex has a vibrant research culture and through Sussex 2025 we're working hard to raise the profile of path-breaking interdisciplinary research such as this. I was delighted to assist with these two bids and I'm confident that in future we can look forward to more successes in this important field."
Deputy Director - ITS Operations and Research, Clare Gryce, who is leading on revitalising the University's IT provision in support of research, said: "It's been very rewarding working with academic colleagues on the proposals that have led to these awards. IT Services are committed to supporting the University's research community, and helping Sussex manage our researchers' code effectively as an institutional asset. These grants – and the access they confer – will help boost our research capacity at Sussex in a very real way."