Broadcast: News items
Admissions team retain 'Commit To Get Fit' title
Posted on behalf of: Sussexsport
Last updated: Friday, 21 June 2013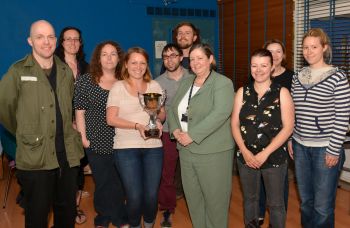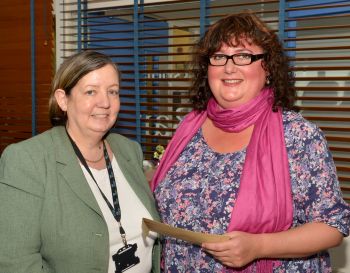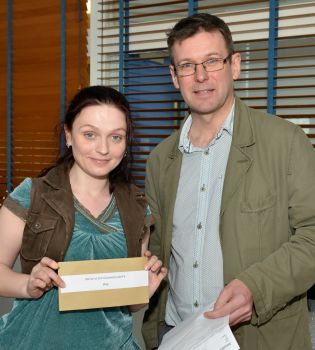 A team of staff who work in the Admissions Office have won the prize for the most inspiring response to Sussexsport's Commit To Get Fit challenge, which ran throughout May.
The team between them ran, walked and cycled more than 2,500 kilometres during the month, which aims to encourage staff to team up with their colleagues and work towards health and fitness goals.
The team, who also won last year's inaugural challenge, were presented with a trophy by the Deputy Vice-Chancellor, Professor Clare Mackie at a presentation ceremony at Falmer Sports Complex yesterday (Thursday 20 June).
Karen Creffield, Head of Sport and one of the judges, said: "The team set themselves the big challenge of covering the 2,863km to Mordor. Despite their heroic efforts, they missed their target by just over 300km. But we loved the fact that they carried on into June to reach their 'destination', kept us enthralled with their progress throughout and really united the whole team.
"They took part in team activities such as handball and group gym sessions and they motivated some of the other teams with their blogs and positive attitude."
Two hundred staff in 18 teams completed the challenge laid down by the University's sports service. In 2012, the first year that the challenge took place, 80 staff in eight teams entered.
Sussexsport supported the challengers by providing free access to their facilities and putting on a number of free classes and activities, including handball, kung fu, mountain-biking and yoga. They also held talks on related topics such as healthy eating and improving sleep.
An award was also handed to Jane Langley from the Development and Alumni Relations Office (DARO) for 'most inspiring individual'.
Karen added: "Jane really embraced the spirit of Commit To Get Fit. Not only did she motivate the whole of the alumni office to take part, but she threw herself wholeheartedly into the challenge by taking part in lots of new activities and making some significant changes to her diet and exercise regime."
Dr Marina Pedreira-Vilarino, Director of Development and Alumni Relations, said: "Beyond the obvious health benefits of taking part, for DARO the programme has been a great team-building experience."
Staff taking part were encouraged to keep a blog about their experiences using the University's SPLASH resource.
A prize for the best blog series was awarded to Gemma Farrell from the School of Mathematical and Physical Sciences (MPS). She received her award from Professor Peter Coles, Head of MPS and a prolific blogger.
The challenge was run in conjunction with the Health, Safety and Wellbeing Office, who published a new policy in October 2012 stating the commitment of the University to promoting and supporting staff and student wellbeing. The policy encourages managers to allow staff to work flexibly where possible to allow their participation in exercise, fitness classes and sessions that can help promote physical and emotional wellbeing.
If you'd like to leave a comment, enter your ITS username, password, and your comment. The comment may need approval before it is displayed, so don't expect your comment to appear right away.
By submitting a comment you are agreeing to the Acceptable Use Policy.