Latest staff news
Your wellbeing: the inner sanctum of human experience
By: Sean Armstrong
Last updated: Wednesday, 13 October 2021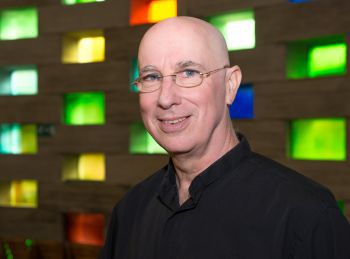 We come to the last article in the series focusing on the ten precepts that began back in January. Though articulated within the context of Buddhist tradition, each precept has a significance beyond any religious trajectory. They are essentially descriptors of what human beings are like at their best.
The final precept reads: 'Experience the intimacy of things: do not defile the three treasures.' The 'three treasures' referred to here are the Buddha, the Dharma (i.e. here it means the Buddha's teaching) and the Sangha, the community of disciples. The fundamental import of this precept is engage with life - with people and all beings - at the most intimate depths. To violate that sanctity is deemed so serious as to violate the most sacred values i.e. the three treasures.
What is it to experience the other or the wider world 'intimately'? It is to recognise their deepest nature and our relationship with them. In this context, that sacred depth is relayed in Zen Master Dogen's phrase, 'there are only Buddhas'. In some Buddhist thinking, the all-embracing reality of 'Buddha nature' includes each one of us in an intimate bond with the whole of reality. To cut off the other, isolate them from consideration as a significant aspect our own interconnectivity with the world, would be to violate them at their most sacred and intimate depths.
We might actually evoke a similar insight in other, non-Buddhist terms. Some might refer to it in terms of 'the image of God', or simply a fellow human being and all that may imply about the value of the person and their right to dignity and deep regard. To experience the other person as no more than a means to our end, a tool to achieve some purpose of our own. Or worse, to be dismissed as having any value at all – or hated and feared - because of their religion, beliefs, race, gender, sexuality or some other category under which we might include them would be the opposite of engaging with the intimacy of the other at their most sacred depths. It is to deny that they have any sacred depths.
I find a similar assumption about the value and sacred depth of 'the other' in the work of the political philosopher, Gillian Rose. The challenge of sitting in the 'broken middle' together with the one holding views utterly different from my own entails an engagement with the intimacy of that other. There is the risk of offering myself and what I deem to be of utmost importance (will it be rejected, misunderstood, or mocked or furiously disputed?). And the effort to receive the other's perspective without 'de-othering' them into a caricature, intending to understand how they see our common world of experience. In the face of an impasse it also entails a refusal to dismiss them as simply 'wrong' and seeking as best we can to comprehend what lay beneath that 'wrongness'. Maybe at best, holding that connection with the other in silence without rushing to a premature closure. At its best, this process is reciprocated by our dialogue partner in that broken middle.
That was, perhaps, a rather longwinded way to explore how this experiencing 'the intimacy of things' might be understood in a wider context. At a work-a-day level it comes to how we are with one another – that annoying colleague, that person toward whom we are indifferent, that friend or partner or spouse or even the one in the public sphere we experience remotely but form judgements about on the basis of their notoriety, celebrity, political party, etc.
To see each of the above as somehow sacred in the depth of their humanity and the profound nature of our interconnection – even if we argue with them, hotly contest their views, and find them deeply unpleasant at times and really difficult to get along with – is to experience them in their intimacy.
What is the equivalent sentiment to Dogen's 'there are only Buddhas'?
Perhaps it is simply to cultivate the practical habit of viewing each person from the perspective of those assumptions that we deem foundational for the notion of 'human rights' and entitlement to dignity, rather than from an academic perspective. Getting down and dirty with those values - if may apply the term in that manner - and working with them from our guts rather than our heads in our personal and professional relationships is perhaps one way to 'experience the intimacy of things'.
It is to enter the inner sanctum of our shared experience as human beings, whatever our beliefs or labels.