Extended catalogue descriptions of each album in the Dalziel Archive have been produced for the project by Bethan Stevens, and are fully integrated with the British Museum's Collection Online. Within each record, click 'view more' to see full information, and 'Images' to scroll through pages. This resource makes the Dalziel Archive accessible for the first time. Before visiting the catalogue, please read the instructions below.
Visit the Dalziel Archive in The British Museum Collection Online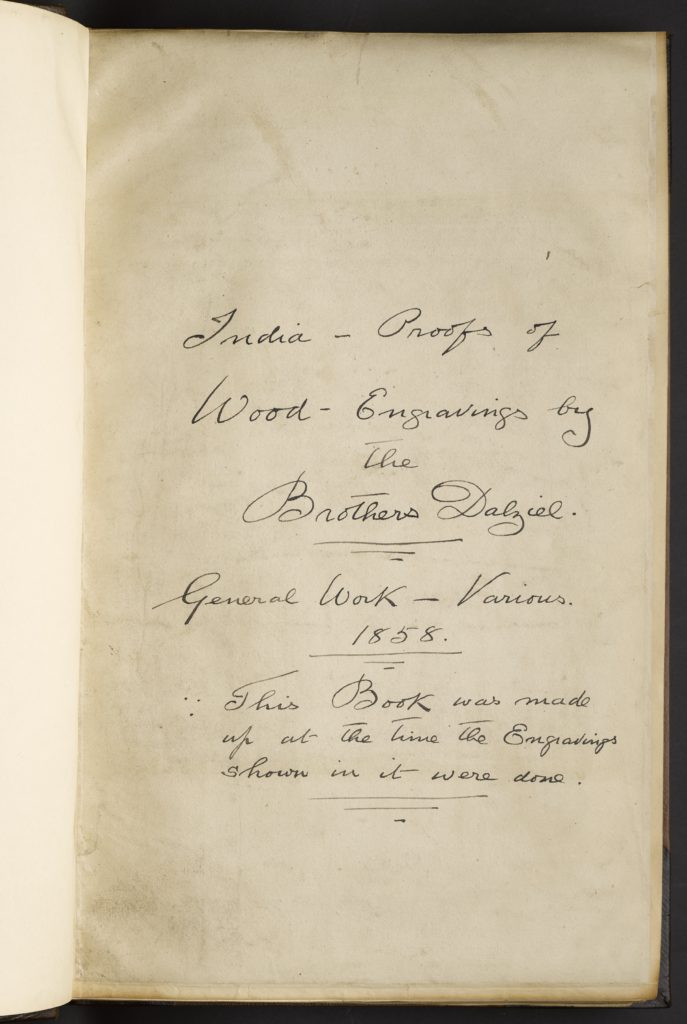 The catalogue summarises key material in the albums. While not exhaustive, it attributes many thousands of illustrations to specific designers and publications, allowing those interested in particular historical themes, artists or writers to identify which albums will interest them.
Photographers at Sylph Editions have photographed every page of each of the albums, amounting to almost 14,000 photographs. These are attached to each album description.
Instructions for use
There are 49 albums in the Dalziel Archive, containing approximately 54,000 wood engravings. Several printing blocks are also included in the catalogue.
The link at the top of this page (or here) takes you to thumbnails representing each of the catalogue entries for the archive.
Click on a thumbnail to see the catalogue description for that particular album.
The catalogue text is on the left. Scroll down, and click 'view more' to see the full description (for each album, there is a longish prose summary, with information about the content, techniques and publications included).
The catalogue text includes a detailed summary of contents for each album, as well as data for all the artists identified as designers of individual wood engravings, and other information.
On the right of the screen, you will also see a single image, which shows the first page of the album. Underneath the image there are thumbnails of the other pages (you may have to accept cookies before these are visible). Scroll horizontally through the thumbnails, and click on one to view the page (there are roughly between 150-350 pages for each album).
Clicking on any thumbnail takes you to a larger image. Note that images in Collection Online are displayed in low resolution, but you can click 'use this page' to request a high quality file.
Searching
Go to the British Museum's Collection Search
Copy and paste this phrase into the search bar: "India-Proofs of Wood Engravings by the Brothers Dalziel" (with quotation marks). This will find all the albums in the archive.
To narrow down your search, add your own search terms alongside this phrase. For example, to find which albums have Trollope illustrations, type the following:
"India-Proofs of Wood Engravings by the Brothers Dalziel" Trollope
The catalogue is part of a dynamic database and will continue to be updated by the project team and the British Museum following new research.
Troubleshooting:
There have been some recent glitches with the Collections Online website. If you have problems accessing the records using the above link, please try the following steps:
You can locate records for the entire Dalziel Archive by searching for the series title: India-Proofs of Wood-Engravings by The Brothers Dalziel
However, this approach has also had recent glitches. If it does not work, please search by register number on Collections Online. This requires that you retrieve the 49 records one by one, but the searches are stable. Go to Collections Online (https://www.britishmuseum.org/collection) and elect to search by "museum number". Then search as follows:

Dalziel Archive Volume 1 (1839-47). Search term: 1913,0415.163
Dalziel Archive Volume 2 (1848-51). Search term: 1913,0415.164
Dalziel Archive Volume 3 (1851). Search term: 1913,0415.165
Dalziel Archive Volume 4 (1852). Search term: 1913,0415.166
Dalziel Archive Volume 5 (1853). Search term: 1913,0415.167
Dalziel Archive Volume 6 (1854). Search term: 1913,0415.168
Dalziel Archive Volume 7 (1855). Search term: 1913,0415.169
Dalziel Archive Volume 8 (1856). Search term: 1913,0415.170
Dalziel Archive Volume 9 (1856-8). Search term: 1913,0415.171
Dalziel Archive Volume 10 (1857). Search term: 1913,0415.172
Dalziel Archive Volume 11 (1858). Search term: 1913,0415.173
Dalziel Archive Volume 12 (1859). Search term: 1913,0415.173.+
Dalziel Archive Volume 13 (1860). Search term: 1913,0415.174
Dalziel Archive Volume 14 (1861). Search term: 1913,0415.175
Dalziel Archive Volume 15 (1862). Search term: 1913,0415.176
Dalziel Archive Volume 16 (1861-63). Search term: 1913,0415.177
Dalziel Archive Volume 17 (1863). Search term: 1913,0415.178
Dalziel Archive Volume 18 (1863-67). Search term: 1913,0415.179
Dalziel Archive Volume 19 (1864). Search term: 1913,0415.180
Dalziel Archive Volume 20 (1865). Search term: 1913,0415.181
Dalziel Archive Volume 21 (1866). Search term: 1913,0415.182
Dalziel Archive Volume 22 (1867-70). Search term: 1913,0415.183
Dalziel Archive Volume 23 (1867). Search term: 1913,0415.184
Dalziel Archive Volume 24 (1868). Search term: 1913,0415.185
Dalziel Archive Volume 25 (1869). Search term: 1913,0415.186
Dalziel Archive Volume 26 (1869-1870). Search term: 1913,0415.187
Dalziel Archive Volume 27 (1870). Search term: 1913,0415.188
Dalziel Archive Volume 28 (1871). Search term: 1913,0415.189
Dalziel Archive Volume 29 (1871-74). Search term: 1913,0415.190
Dalziel Archive Volume 30 (1872). Search term: 1913,0415.191
Dalziel Archive Volume 31 (1873). Search term: 1913,0415.192
Dalziel Archive Volume 32 (1873-76). Search term: 1913,0415.193
Dalziel Archive Volume 33 (1874). Search term: 1913,0415.194
Dalziel Archive Volume 34 (1875). Search term: 1913,0415.195
Dalziel Archive Volume 35 (1876). Search term: 1913,0415.196
Dalziel Archive Volume 36 (1877). Search term: 1913,0415.197
Dalziel Archive Volume 37 (1878). Search term: 1913,0415.198
Dalziel Archive Volume 38 (1879). Search term: 1913,0415.199
Dalziel Archive Volume 39 (1879-83). Search term: 1913,0415.200
Dalziel Archive Volume 40 (1880). Search term: 1913,0415.201
Dalziel Archive Volume 41 (1881). Search term: 1913,0415.202
Dalziel Archive Volume 42 (1882-3). Search term: 1913,0415.203
Dalziel Archive Volume 43 (1884). Search term: 1913,0415.204
Dalziel Archive Volume 44 (1885). Search term: 1913,0415.205
Dalziel Archive Volume 45 (1886). Search term: 1913,0415.206
Dalziel Archive Volume 46 (1887-8). Search term: 1913,0415.207
Dalziel Archive Volume 47 (1889-90). Search term: 1913,0415.208
Dalziel Archive Volume 48 (1891-2). Search term: 1913,0415.209
Dalziel Archive Volume 49 (1893). Search term: 1913,0415.210
In association with: