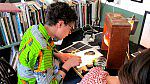 Dr
Bethan Stevens
Post:
Senior Lecturer English and Creative & Critical Writing (English)
Other posts:
Lecturer In Creative And Critical Writing (Centre for Creative and Critical Thought)
Location:
ARTS B B239
Email:
B.K.Stevens@sussex.ac.uk

Telephone numbers
Internal:
8064
UK:
01273 678064
International:
+44 1273 678064

Research expertise:
download vCarddownload vCard to your mobile
Biography
I have a broad interest in the way literary texts relate to printmaking and book illustration from the late eighteenth century to the present day. I'm also fascinated by ekphrasis, or writing about art. I approach these subjects through an interdisciplinary method, working in literary criticism, art history and creative writing.
My latest creative-critical project is a collaboration with the Prints and Drawings Department of the British Museum, Wood Engraving and the Future of Word-Image Narratives: The Dalziel Family, 1839-1893, funded by the Arts and Humanities Research Council (AHRC). The project focuses on the Dalziel Brothers, Britain's largest publishers of printed images in the Victorian period. They were the engravers of John Tenniel's designs for Lewis Carroll's Alice books, and of many Pre-Raphaelite illustrations for the Moxon Tennyson. As well as these landmarks in book illustration, the Dalziels produced a vast array of other images – everything from Dickens and Trollope illustrations to scientific images of molluscs and calf foetuses, and adverts for soap or cocoa. My project investigates the Dalziels and their radically collaborative methods of commissioning and engraving works of art. It explores word-image theory and the techniques and aesthetics of wood engraving. Outputs to date include an online catalogue on the British Museum's database, a virtual exhibition and articles (most recently in Textual Practice). Work in progress includes a monograph on the Dalziels, a graphic novel and a display in the British Museum (spring 2020).
Previous research on the history of wood engraving includes my essay 'The Virgil woodcuts out of scale: Blake's gigantic, masculine pastoral', in Bruder and Connolly, Blake, Gender, Culture (Pickering and Chatto, 2012), and my work on Victorian print culture includes the book Pre-Raphaelites (British Museum, 2008).
I also have an ongoing research interest in William Blake, and my creative-critical essay on Blake and the theory of captions was recently published in Helen Bruder and Tristranne Connolly (eds.) Beastly Blake (Palgrave 2018). I catalogued the Blake collection in the British Museum, one of the most important worldwide, and am the author of several publications on Blake (see publications list). Particular areas of focus include Blake's late works, his work on wood, his use of captioning and framing, his queerness, and his representations of slavery and abolition.
My other research interests include creative & critical writing, sexuality and queer theory, lost works of art, museum narratives, and narratives of fantasy and transformation. My essay on ekphrasis and the loss of artworks from museums, 'Spekphrasis: writing about lost works of art', was published in Critical Quarterly (2013). My essay on lost paintings, 'Remembering Lost Paintings: Vanessa Bell's The Nursery', was published in Memory Studies in 2010. My short fiction includes Mostly Indoors (Sylph, 2009) and Daily Mirror (Sylph, 2011), which is an interpretation in short fiction of a newly discovered painting by Walter Sickert.
Role
Lecturer in English and Creative & Critical Writing
Qualifications
BA in English (Bristol)
MA in Eighteenth Century Studies (York)
MA in History of Art (Yale)
PhD in Creative & Critical Writing (Sussex)
PGCHE, Postgraduate Certificate in Higher Education (Nottingham Trent)