BACA students joined us once again for two online events of talks and creative activities with a group of experts and artists. Each activity involved working with archival material, or thinking about how archival material might be used as a creative prompt. Have a look below at the activity instructions from each contributor if you would like to have a go yourself.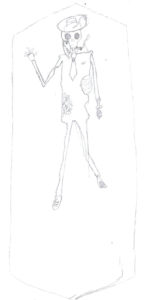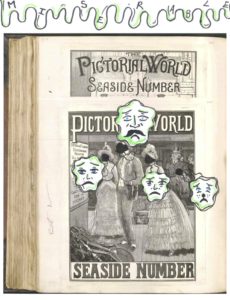 Isabel Seligman. 'Rewriting History: draw, cut, re-write images from the archive.'
Isabel is the Monument Trust Curator of Modern and Contemporary Drawing at the British Museum. She curated the touring exhibitions Lines of Thought: Drawing from Michelangelo to now' in 2016, and Pushing Paper: Contemporary drawing from 1970 to now in 2019, and wrote / co-authored the accompanying books. She also worked on the Bridget Riley Art Foundation project to engage artists and art students with the prints and drawings collection.
In Isabel's talk with the BACA students, she looked at the work of contemporary artists Seb Patane, Rachel Whiteread, and Hew Lock, who each alter found images or historical images, drawing attention to how artists use archival material to change our understanding of history. In the following activity, Isabel encouraged the students to think about how they might alter found images to create an alternative narrative.
Activity instructions: Take one, two or even three found images and equip yourself with scissors, tip-ex, glue, pens, pencils, white paint and a paint brush. Alter the image(s) in any way you'd like, thinking about what kind of story you'd like to tell with it. Perhaps you'll cut a section out of one image and glue it to another or use tip-ex or white paint to blank out certain areas. Once you've finished, write a short manifesto as to why you have altered the image in such a way and what story you intend it to tell.
Have a look at what some of the BACA students created during this activity: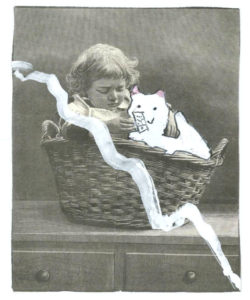 Chris Pig. 'Tiggy's Funeral: writing and drawing bereavement.'
Chris Pig is an artist-printmaker and has been for 40 years. He is the director of the Black Pig printing studio in Frome, Somerset. Black Pig is an open studio and art school as well as the place where Chris does his own printmaking. You can see prints that he has made throughout the world; for instance his work is in the Guangdong Museum in China, the Douro Museum in Portugal and the Victoria and Albert Museum in London. He is interested in Victorian methods of printmaking and illustration, and his work transforms historic practices and makes them modern. The historical techniques he uses show us what is exciting or troubling in our own culture, environment and imagination. He also teaches printmaking and encourages learning through play.
In Chris' talk, he showed the BACA students a print he had made entitled 'Tiggy's Funeral.' The print depicts his children participating in a funeral for one of their pets and they are dressed in waistcoats, suits and a smart dress. He told the student that although the funeral happened in real life, his children weren't wearing these clothes — he had fictionalised this aspect of the image. In the following activity, Chris encouraged the students to think deeply about significant moments of loss and how they can be represented in imagery or written text.
Activity instructions: Think about a time when you have experienced either the loss of a pet or loved one. Either (or do both) draw an image that is linked to the incident and is significant to you, or write a piece of creative writing about the incident. If you have created both a written and visual piece, think about how your work reflects your experiences in different ways.
Have a look at what some of the BACA students created during this activity: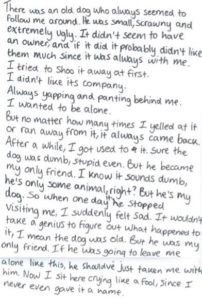 Joanna Rosenberg and Deborah Thwaites. 'Victorian Characters: writing or drawing characters inspired by the rare books collection at the Jubilee Library.'
Jo Rosenberg is a Community Engagement Coordinator at the Jubilee Library in Brighton. Some of Jo's specialisms include-organising and supporting young volunteers, primary & secondary school age engagement, (e.g. class visits, assemblies & events, promoting the Summer Reading Challenge and supporting a wide range of projects that focus on health & well-being, equality, reading, learning and culture.)
Debs Thwaites is a Community Engagement Coordinator at the Jubilee Library in Brighton. Some of Debs' specialisms include early years and primary age engagement (eg. Early years activities, outreach work, organising and leading workshops, activities and author events, promoting the Summer Reading Challenge and supporting a wide range of projects that focus on health & well-being, equality, reading, learning and culture.)
In their talk, Jo and Debs talked about the rare books collection at the Jubilee Library and showed pictures of some very unique and old books, including a book that was bound in human skin and another from shipwrecked wood! They showed pictures of household editions of Charles Dickens' Oliver Twist and an author edition of Arthur Conan Doyle's Adventures of Sherlock Holmes. In the following activity, Jo and Debs encouraged the students to think about the atmosphere of Victorian life and how they might create a character that would fit nicely into a Victorian story. Some of the BACA students created an animal character rather than human. One student created a race of wooden robots that were powered by steam and their owners used them as pickpockets or butlers, the student wasn't certain if the robots were sentient.
Activity instructions: Using the above illustrations from David Copperfield as inspiration, create a Victorian character by either drawing or writing a description about them (or doing both!). Think about how old they might be, their family background, what they look like, what they wear, what they like to eat and drink, where they live and who they spend their time with.
Richard Wragg. 'Through the Looking Glass: Correspondence and letter writing.'
Richard Wragg is Collections Manager at the University of Sussex. He spends much of his time at The Keep, where he works with the collections of archives and rare books. He trained as an archivist and previously worked at the National Maritime Museum and the National Gallery. We're especially grateful to Richard for inviting all of us into the Keep last January and for showing us many treasures including a first edition of Oliver Twist, and the amazing books like Temple of Flora and Dance of Death which the BACA students made such good drawings and writing from.
In Rich's talk, he discussed the archived forms of correspondence that reside at The Keep. He showed the students images of letters, including two from George Perceval to his parents which were written in 1806. Rich encouraged the students to think about global communication and letter writing in the nineteenth century and what we can learn from personal letters as researchers in the twenty-first century.
The students read letters from 11 year old Midshipman George Perceval to his parents, written in 1806. They thought about changes in his handwriting and how his tone altered when writing to his mother. They also responded to Tenniel's letter in 'Pig and Pepper' with its seal and crown. In the activity, the students each wrote a letter about a recent event, thinking about their audience and what it would mean for someone to read their words a hundred years in the future.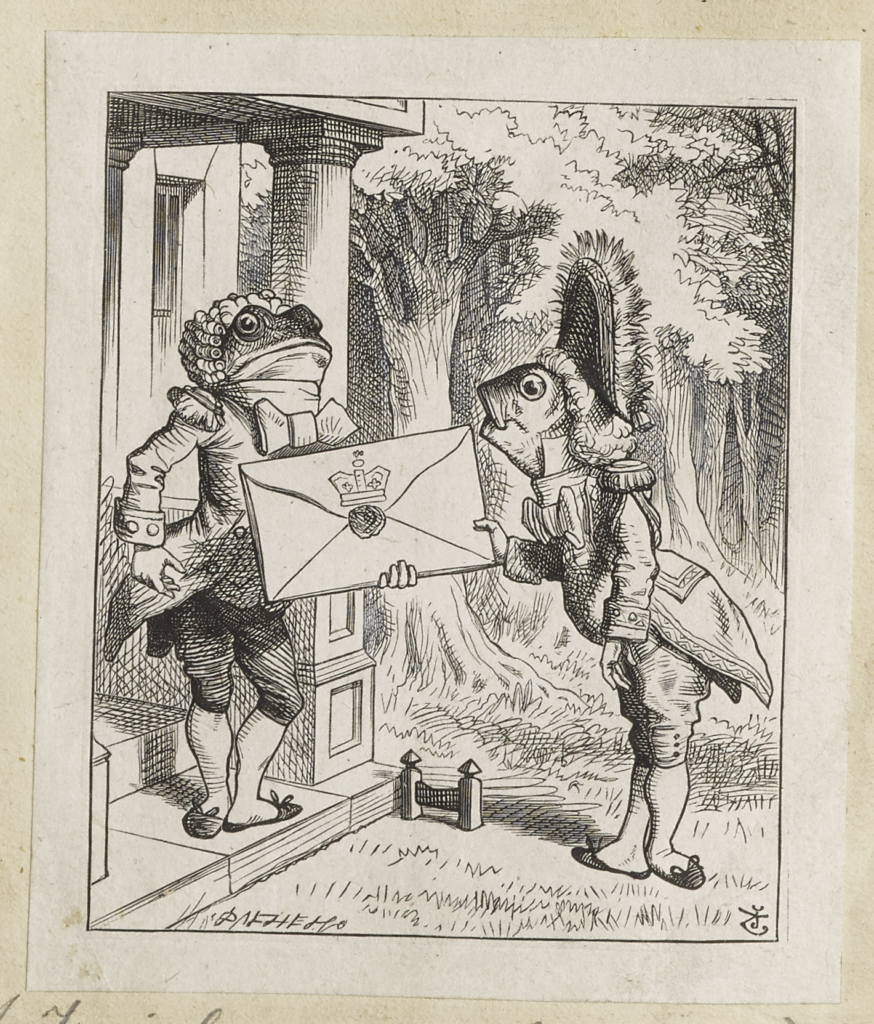 Activity instructions: Think about a recent event or something happening at the moment and write a letter describing it. Think about your audience – who is your immediate recipient? Who might read it 100 years from now? How might researchers approach your writing in the future? What would it tell them, what might they be mistaken about, what would be mysterious and what would make somebody want to learn more.
Katharine Martin. 'Encounters: Writing museum labels for Edward Bawden's Brighton Pier.'
Katharine Martin is Curator of 18th and 19th-century prints at the Victoria & Albert Museum, where she recently co-curated an exhibition all about printmaking, called Making an Impression. She's writing a book for the V&A on Printmaking and she has done education work in museums, and taught book illustration at the London Rare Book School. Katharine has been researching with us from the V&A and has helped us to find lots of amazing archival material and prints that we didn't know about.
In her talk, Katharine showed the BACA students Edward Bawden's Brighton Pier print. She asked them to look as closely as possible at the print, letting their eyes linger so that they could pick out aspects of the print that only become apparent after several seconds of looking. In the following activity, Katharine encouraged the students to consider creative ways of writing museum labels for Brighton Pier.
Activity instructions: In place of the museum label for this print, write a piece of evocative and creative writing on the theme of 'Encounters.' Think about how you might want your label to encourage the viewer to look more closely at the image and linger with their imaginations. Write no more than 100 words.
Have a look at what some of the BACA students created during this activity:
This print was made by Edward Bawden in 1958. It shows the pier, the pavilion and the buildings of brighton. There is also much skill included because Edward added shadow in his lino cut. He has also added more effect because he shows the light radiation from the pier lamps.

This extraordinary painting is set in Brighton pier. It was made 1958. The textures can create a mood and atmosphere. The different lines can make people feel different moods. Straighter lines can have a different impacts on the details compared to wiggly lines.

This print shows us the many glorious features of england. For example the pavilion and some of the houses. It also shows us the pier.

We come here at daytime and sometimes at night
The brighton pier with its flashing light
The sea which I never knew could look so blue
And wonderful scenery I never wish to lose

Man fell off the pier got in a scrap with a seagull behind the chip shop, It stole his fries and he screamed. police came and like bruh why u stealing them fries. they arrested the bird and sipped a tea and ate a bourbon.

The pier is one of Brighton's most visited tourist attractions and one of its oldest. Over the years, change and time has affected the pier to be one of the most spectacular places in Brighton and Hove. The regional chip shops, restaurants and hotels line the coast next to the pier. Hordes of people enter and exit the entrances every day like a beehive on a spring morning. During the summer day. The winds and waves crash into the support stands and the copper legs rust over time.
Student contributors: Alicia, Alisha, Cerys, Gordon, Jake, Lillian, Lucie-Lee, Nianna, Reuben, Robert, Rose, Sam, Sonny, Tamia, Thai.
With special thanks to Dr Susannah Walker and Sheila O'Connell for chairing the feedback sessions during the events.
Event Organised by: Lauren Howfield (BACA), Dr Bethan Stevens, Dr Hannah Field, Professor Lindsay Smith, Hanna Randall (University of Sussex).