Over the past year we have been developing an educational programme to enable schools and colleges to support their courses of study using material from the Dalziel Archive. From 30 Jan – 14 Feb 2017 we piloted a project with sixty 16 to 18- year-old students taking the Extended Diploma in Art and Design at the University of the Creative Arts in Rochester, Kent. Using the UAL awarding body's criteria, we developed a project for Unit 7: An integrated approach to time-based problem solving. The unit aims to develop students' ability to critically analyse and integrate research, contextual understanding, materials, methods and skills to solve time-based problems in art and design.
The project we devised for this unit is titled 'Engraved in Time: Reimagining the Dalziel Brothers.' Wood engraving has a fascinating relationship with time, richly conceptual in terms of mechanical reproduction, its status as a capitalist art form, the reversal of scenes on the woodblock and the stillness of the resulting image. Many of the illustrations that Dalziel realised are thematically linked to time. In our virtual exhibition 'Alice to Alice: Dalziel 1865 – 1871' there is a section focussed on 'The Moment', comprised of images that suspend and reverse time, images that feature watchmaking or the maintenance of such apparatus, and wood engraved impressions of photographs. And of course, Lewis Carroll's Alice in Wonderland and Through the Looking Glass, two of the most famous works that Dalziel produced illustrations for, are texts obsessed with time.
In this project we wanted the students to think about narrative, sequentiality, image/text relationships and wood engraving as an interpretive and industrial art form. Their task was to produce a sequential set of images. These could be photographs, illustrations, prints, paintings, collage or performance, but needed to focus on time-based themes emerging from the archive. Wonderlands, the language of time, artistic medium, authorship, cataloguing and narrativity are some potential areas of research we suggested in our learning pack, devised by George Mind from research by Bethan Stevens.
Over the two-week period students documented their creative process and research in their sketchbooks. These are beautifully crafted objects, revealing innovative presentational techniques and compelling re-imaginings of the Dalziels' wood engravings (see below).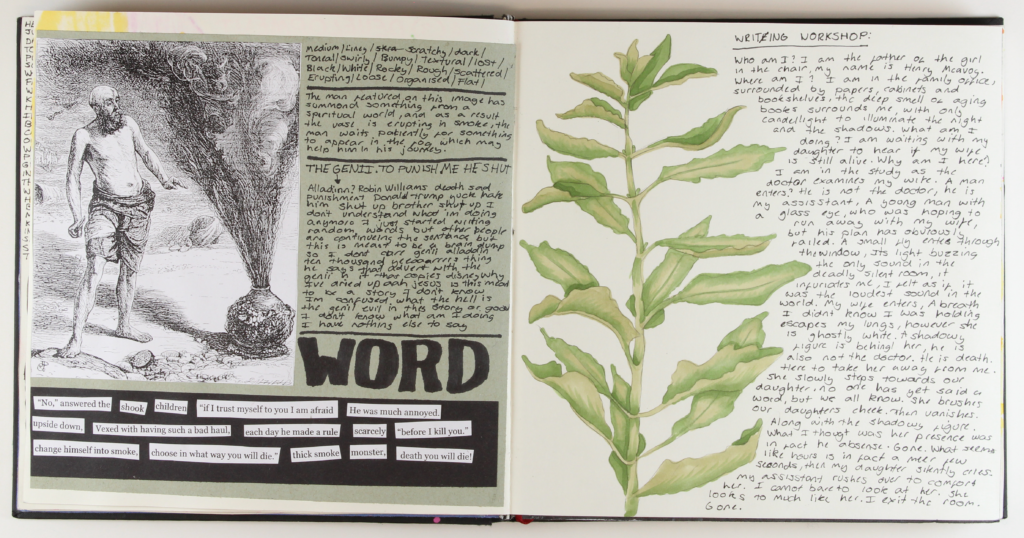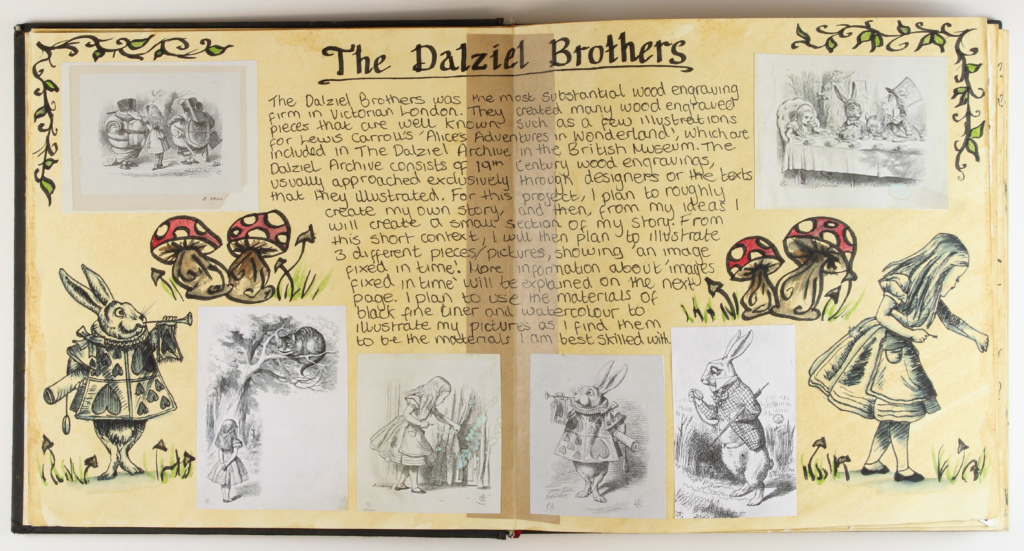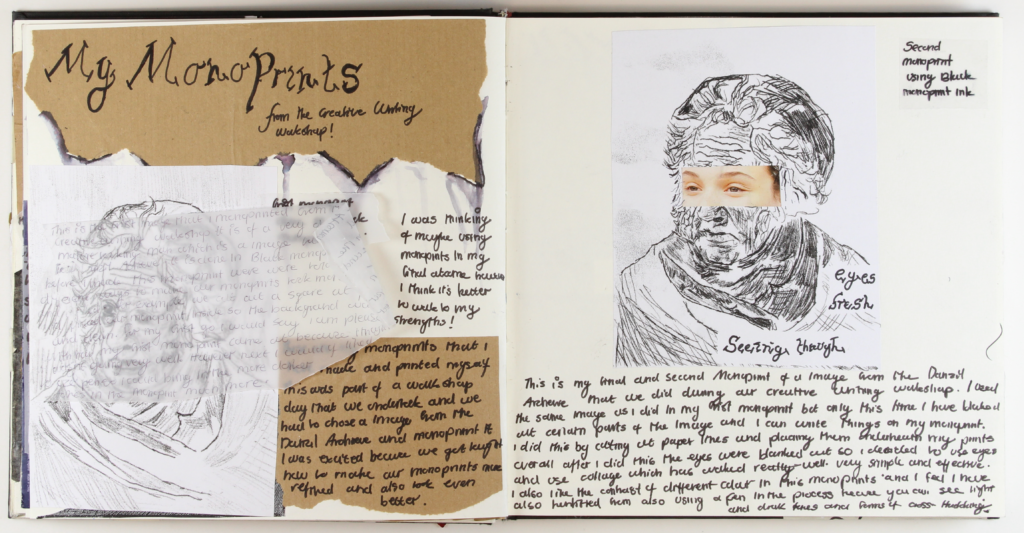 Sketchbook pages (from top to bottom) by: Jodie Winter, Mime Gerrits and Jake Wood.
The students presented their final pieces on 14th February to a panel of the course tutors, Gabi Mind and Curtis Tappenden, alongside Bethan Stevens and George Mind. The outcomes were exceptional. The range of materials and approaches the students took showed incredible skill, imagination and sophistication. Some of the students were particularly inspired by the wood-engraving medium, producing their own wood cuts and mono prints; some interpreted wood engraved lines into embroidery; some considered conceptual tensions between real time and fantasy time; some compared the socio-political moment of the Dalziels to our own; and some responses were performative, bringing the Dalziel Brothers' wood engravings to life.
Check out our Create & Comment section for examples of the work produced on the project