Broadcast: News items
"ADRs prioritise a supportive, coaching approach to career development"
By: Kaye Tilbury
Last updated: Thursday, 25 May 2023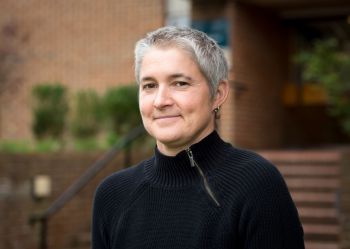 Kate O'Riordan, Professor of Digital Culture and Dean of the School of Media, Arts and Humanities, talks about our new Achievement and Development Review (ADR) framework launched for all staff in January 2023. Having helped develop the framework, Kate reflects on how ADRs support career development and how they aim to benefit academic staff.
How are ADRs different to appraisals - and why did they change?
ADRs are a refreshed approach to staff development and support, and the aim is to improve working conditions and staff experience at the University. They prioritise a supportive, coaching approach to career development, and give a focused and consistent structure and a space to think about progression, support and promotion. Academic career progression sometimes feels opaque - but there are different ways of thinking about careers in this profession and ADRs aim to support this.
What's the purpose of an ADR and how will it help me?
ADRs help by offering the space, structure and opportunity to think about and reflect on career progression, including on-the-job development, training needs and promotion pathways. They also help to refresh our collective understanding of the context in which we work - in a complex institution in a rapidly changing sector with heavy workloads. The ADR offers a space to reflect, to access information and develop a better understanding of opportunities and challenges.
How can an ADR conversation help me progress or get promoted?
It can have direct practical benefits because it creates an opportunity to consider career arcs and the Discretionary Pay Review processes; to look at criteria, and plan approaches to promotion. It can also help more broadly by providing a space to focus on and reflect on promotions, and to consider questions you have about these processes to better understand how they work.
For people carrying out reviews, the new approach aims to give clarity, consistency and structure, and training and resources are available to support you. It is also a work in progress and there may be opportunities for you to contribute to future improvements in our process.
Find out more about the ADR process
ADRs, previously known as appraisals, are a key part of the 'harnessing talent' element of our People Strategy. They aim to support staff to set professional and career development goals, to measure their success and progress against their objectives, and to develop new objectives that are achievable and measurable.
This year's ADR period runs from April until the end of September 2023 for Professional Services staff, and to the end of October 2023 for academic staff. You can view guidance, resources and the updated review forms on the ADRs webpage.