Building your online profile: Start with Sussex
Doctoral researchers are increasingly required to communicate and disseminate work online, and there seem to be ever more platforms for doing so. A quick and easy place to start is with your Sussex online profile. As a doctoral researcher you can develop an individual profile on your department website, just as faculty do. If you have teaching responsibilities a profile may have already been set up for you by Human Resources.
Once you have signed up, your profile will automatically appear alongside other researchers in the 'People' section of your departmental website (& can be added to any existing research student lists, but you'll need to contact your departmental web editors about this).To set up your profile, go to Sussex Direct and choose 'Web Profile' from the Personal tab: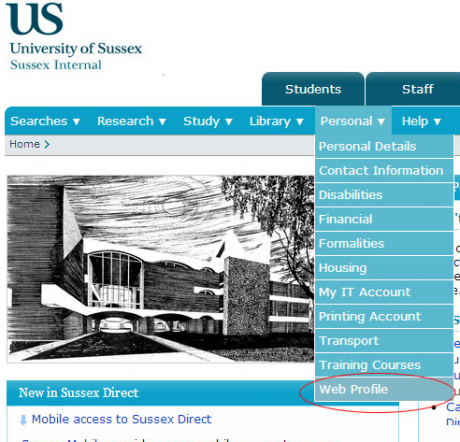 You can find further guidance on setting up your profile, and adding content to the different sections in our online module: Developing your Sussex Online Profile . It's also a good idea to have a look at the profiles of other researchers within your department.
The profile includes sections for your publications (linked to the Sussex Research Online repository), research and teaching, and is very easy to keep up to date. As Google ranks academic sites more highly than others, a Sussex Online Profile is a good way of promoting yourself. It will:
Make you visible within Sussex
Reinforce your credentials
Help people find you
Provide a place from which you can link to your web presence elsewhere
Having said all this, we know the profiles could be better! We're working with colleagues in IT Services to explore adding keywords so it's easier to find fellow doctoral researchers with shared research interests and expertise, so we'll keep you posted on developments. You can currently find other doctoral researchers via our Directory of Doctoral Researchers on the Doctoral School site, though this only includes those who have signed up for their profile.
Support from Researcher Development

We run a popular workshop on building you academic web presence, and have a date coming up on 25th March . This workshop explores successful strategies for raising your academic profile using not only your Sussex profile, but social media, research networking sites, and blogging.
If you have any further queries about online profiles at Sussex, get in touch with us at
researcher-development@sussex.ac.uk.
Helen Hampson
Researcher Development Officer