Please go to the new Special Collections Website at The Keep
This page is no longer updated. Please visit our new pages at The Keep: http://www.thekeep.info/.
These pages may contain out of date information. Links to these pages may no longer work in the future.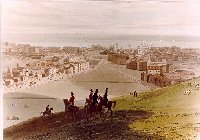 Illustration of Brighton from R. Ayton's A voyage round Great Britain(1814): Baker Collection
Introduction
The Baker Collection of Books A collection rich in first editions, eye-catching detail and developments in dress and decorative arts
The Caffyn Collection A diachronic collection of books relating to the works of Percy Bysshe Shelley
The Gilbert Foyle Collection of Dickens First Editions First editions of various Dickens works in serialised form, complete with surrounding advertisements
The Travers Collection An eclectic collection of books from the 15th-19th centuries united by an emphasis on the development of scientific thought and the impact of the printing press
The University of Sussex Rare Book Collection An eclectic collection of books, many published before 1801, extracted from the Library's main collection.