Please go to the new Special Collections Website at The Keep
This page is no longer updated. Please visit our new pages at The Keep: http://www.thekeep.info/.
These pages may contain out of date information. Links to these pages may no longer work in the future.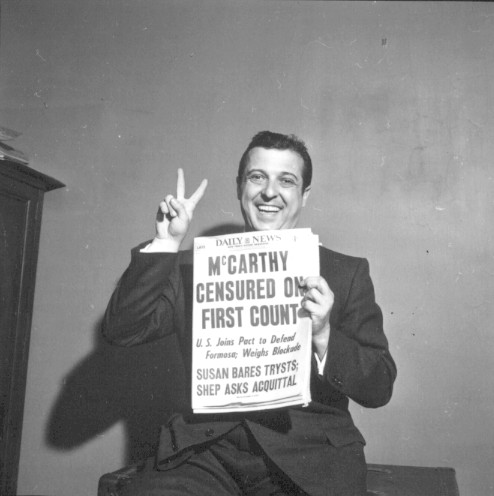 From a contact sheet from a photo shoot for a proposed 'humorous book on life as a witness'
Introduction
The Harvey Matusow Archive is a vast and eclectic repository of potential interest to anyone researching twentieth-century American politics, cultural history and underground movements. Separated into two distinct collections, the first is an archive of papers relating to Senator Joseph McCarthy's Communist 'witch-hunts' of the 1950s, the second documents underground culture (art, magazines, music) of New York and London in the late 1960s and early 1970s. Together, the two halves of the Harvey Matusow Archive colourfully illustrate the extraordinary career of a man actively involved in both, whose political affiliations were as eccentric and volatile as his cultural interests. The material spans the 1940s to the early 1970s and is housed in over a hundred boxes.