Please go to the new Special Collections Website at The Keep
This page is no longer updated. Please visit our new pages at The Keep: http://www.thekeep.info/.
These pages may contain out of date information. Links to these pages may no longer work in the future.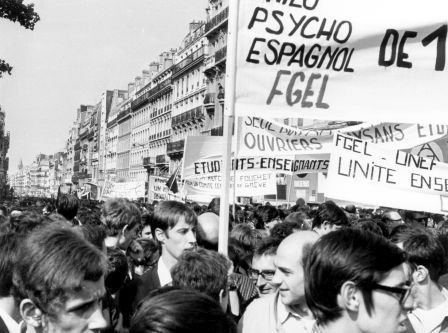 Demonstrations in Paris May 1968
Collection description
When student protests and clashes between left and right in the France of 1968 led to uprisings on the streets of Paris, the authorities' heavy-handed repression precipitated a general strike and sent ripples of unrest around the world. Gathered directly from the streets, the Mai '68 Collection is a compulsive record of that inflammatory era, a vivid collection of primary source material which documents the insurrection in a mixture of printed agitprop and large numbers of striking black and white prints. Other material, which pre-dates the clashes, helps frame the protestors' acts. Events leading up to the unrest in Nantes, Paris and across France are included in the form of leaflets and handouts detailing problems with universities and criticism of the higher education system. There are printed papers from student and workers' unions as well as political organisations. Some leaflets relate to the General Strike. The uprising itself is well represented in the form of nearly 250 dynamic black and white photographs of rallies together with a collection which records the posters and graffiti which adorned city walls. Of the written material, typescript handouts with titles like 'Non à la Discrimination' and 'La Pègre?' predominate. Contemporaneous editions of a wide range of magazines from Arcane ('Organe de la Jeunesse Anarchiste Communiste') to Paris Match document the way differently placed publications handled the events. The majority of the printed matter is in French, but there is one folder of English material which includes an issue of Socialist Worker and handouts from English students. One issue of Class Struggle is in a joint English-French edition. There is also some material relating to student unrest in Germany. The Collection has been supplemented with printed papers depicting more recent dissension in France; the presidential election of 1981, for example, is well represented by posters and leaflets. The Mai '68 Collection is relatively small in size (four boxes and a tube of posters), but its remit is wide and its material fascinating.
Other collections at Sussex relating to 1960s and 70s counter culture include the Harvey Matusow Papers, in particular the second part of his archive.

Links
The International Institute of Social Archives (Amsterdam) holds similar material, including pamphlets and posters.