Where did this research come from?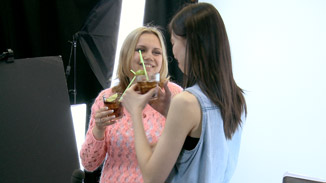 In another study, young people had told us that they thought it was important to talk about specific advice and strategies for real-world social situations. They thought this was an important addition to other things they might learn about alcohol, like how many units are in different drinks, or the long-term health consequences of excessive drinking. They wanted to talk about how to handle themselves in regular social situations where alcohol might be around.
The Chief Medical Officer advises that an alcohol-free childhood is the healthiest and best option. Everyone chooses whether they're going to drink or not. A lot of young people do eventually try alcohol, and many people do drink in a responsible way, but many young people say it can be hard to figure out how to do this – especially when you get caught up in the moment. Many people end up drinking a little more than is healthy for them, even though they aren't alcoholics. So it's important to talk about how to enjoy yourself while not drinking a lot, or even not drinking at all.
That way you can make the best decision for you, right now – whatever that may be – and you know how to do it. Instead of thinking you're missing out if you don't drink a lot, you realize that you may actually be gaining ways of making your life better. That's what The Sweet Spot approach is all about.
Why I participated