Criminalisation of Protest in Ecuador

In recent years there has been a rise in the trend of criminalization of social protest and reduction in space for civil society action in Ecuador, particularly affecting women and indigenous communities (1). Throughout Ecuador, communities such as San Marcos, Achuar, Shuar, Íntag in the north have spoken out against extractive industry projects. The criminalisation of such protests can be seen in efforts by the government led by President Rafael Correa to restrict freedom of assembly, association and speech, targeted at individuals, NGOs and the media:
Individual protestors and campesino leaders
The government has used broad counterterrorism legislation to prosecute protesters and indigenous leaders as criminals or terrorists. A report by the International Federation for Human Rights (FIDH) investigates the situation of community leaders in Ecuador who have been criminalised for defending their rights and territories in the context of extractive projects, highlighting the cases of Javier Ramírez, president of the Junín – Íntag community, Pepe Acacho, leader of the Shuar indigenous group and Manuel Trujillo, president of the community organisation of San Pablo de Amalí, all of whom have been prosecuted for their efforts to stop mining or hydroelectric projects in their communities (1).
In Ecuador, a number of deaths have been attributed to the conflict between communities and mining companies, including the teacher Bosco Wisuma, Freddy Taish in 2013 and indigenous leader José Isidro Tendetza Antún, who was found dead just days before he was to campaign at climate talks in Lima (2).
Amnesty International launched the 'Speak Out for Defenders' online platform which maps out and features human rights defenders in the Americas. Available in English and Spanish, it aims to increase the awareness and visibility of territory, land and environmental rights defenders at risk in the Americas: speakout4defenders.com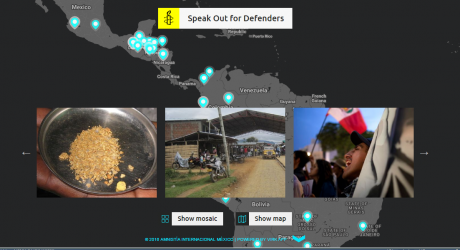 Non-Governmental Organisations
Environmental and indigenous NGOs have been targeted with criminalisation in order to reduce their voice and curtail their efforts to resist resource exploitation and development projects. The Executive Decree No. 16 adopted in 2013 imposes restrictions for NGOs to gain permission to work in Ecuador and grants the government powers to intervene in groups thought to "compromise public peace" (1).
In January 2013, Fundación Pachamama, an NGO that represented indigenous communities land rights was forced to close under Decree No. 16.
Fundamedios, an Ecuadorian NGO that monitors, researches and defends the right to freedom of expression, and recorded nearly 600 attacks on journalists between 2008 and 2012, was ordered by the Ecuadorian government to close in September 2015 (3). However, the plans to shut the NGO were later abandoned.
The latest NGO to be targeted by the Ecuadorian government is Acción Ecológica, a prominent environmental NGO that has been campaigning for environmental action and indigenous rights in Ecuador for 30 years and is one of the founders of the 'Keep It In The Ground' movement. Ecuador's Environment Ministry announced on 20 December 2016 its intention to close down the NGO. The notice arose in response to campaigning and protests involving the Shuar Indigenous Peoples' in opposition to a copper mining project in Morona Santiago. (4,5).
Media Censorship
A 2013 Communications Law gives the government broad powers to limit free speech. The law requires that all information disseminated by media be "verified" and "precise," giving power to the government to censor media to publish news thought to be incomplete or damaging to the State, such as criticism of Correa's administration.
References:
(1) FIDH (2015) Criminalización de la protesta social frente a proyectos extractivos en Ecuador. Misión Internacional de Investigación. Federación International de Derechos Humanos.
(2)Watts, J. and Collins, D. (2014) Ecuador indigenous leader found dead days before planned Lima protest. The Guardian, 6 December.
(3) Banning-Lover, R (2015) NGO alert: Ecuadorian government orders press freedom group to disband. The Guardian online, 9 September.
(4) Amnesty International (2016) Ecuador: Indigenous Peoples' rights activists at risk following leader's arrest. Amnesty International, 22 December.
(5) Ecuador Ministry for Environment (2016) Solicitud de extinción y disolución de Organización Social Corporacin Acción Ecológica, 19 December.
Further Reading:
Holmes, O. (2016) Environmental activist murders set record as 2015 became deadliest year. The Guardian, 20 June.
Amnesty International (2012) 'SO THAT NO ONE CAN DEMAND ANYTHING' Criminalizing the Right to Protest In Ecuador? Amnesty International.
Friends of the Earth (2013). We defend the environment, we defend human rights. Friends of the Earth International, Amsterdam.
Human Rights Watch (2015) World Report 2015: Ecuador.