Refurbishment work starts on Attenborough Centre
Work has started to refurbish the interior of the Attenborough Centre for the Creative Arts.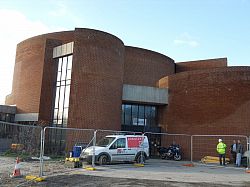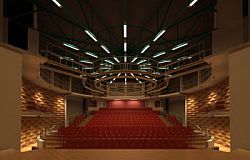 The architecturally unique building, formerly known as the Gardner Arts Centre, closed in 2007. Emergency repairs to the exterior of the grade II* listed building were undertaken in 2011-12 and it is set to re-open in 2015 once the interior refurbishment has been completed.
In 2009 the building was renamed as a tribute to the involvement of Lord (Richard) Attenborough and his family with both the University and the arts. Lord Attenborough, Oscar-winning film director and actor, was Chancellor of the University from 1998-2008.
Speaking in 2012, Lord Attenborough said: "I have no doubt that the Attenborough Centre for the Creative Arts will make a significant contribution to performing arts education and practice for generations to come."
The Vice-Chancellor, Professor Michael Farthing, says: "The reinvention of the Gardner Centre as the Attenborough Centre for the Creative Arts is a long-term and vital part of the development of the campus.
"The complete refurbishment of this signature building will provide a major venue on campus for our students and staff in support of creative-arts research and teaching."
The project to remodel the interior of the building will provide a flexible auditorium with various seating options and a minimum capacity of 350. Four different-sized studios and teaching spaces are also planned, in addition to exhibition spaces.
There will be office accommodation for core staff, as well as improved acoustics, fire safety and toilet facilities. The building will be accessible to visitors with disabilities.
The cost of refurbishment, estimated at about £7.2 million, is being met through the University's Capital Investment Programme.
When it opens, the new Attenborough Centre for the Creative Arts will be at the centre of practice-based arts programmes on campus and will be available to the wider community.
Professor Sally-Jane Norman, Director of the Attenborough Centre, says: "With our 50-year history of supporting the arts, we are looking forward to the completion of the Attenborough Centre next year.
"Named in honour of one of the most celebrated figures in theatre and film – and a passionate advocate for the University – the Centre will be a vibrant hub of flexible performance, research, teaching and exhibition spaces.
"Sussex has always been proud of it pioneering spirit. The Centre, housed within one of the University's iconic Basil Spence buildings, will embody that spirit through a diverse range of original events."