Media students showcase talent at degree show
A film premiere-style launch marks the opening of the Media Practice and Theory Degree Show 2007 at the University of Sussex on May 17.
More than 50 media students will be presenting a spectacular portfolio of final-year work, featuring films, photographs and multimedia installations at the Gardner Arts Centre on campus.
Entitled You Want US, the show opens to the public at 4pm on Thursday, 17 May until 5pm on Tuesday 22 May.
The opening night will include, for invited guests, a drinks reception at 5.30pm, a chance to view an exhibition of photography projects and animation design in the galleries and a big-screen premiere for all the film projects in the show.
The films - a mix of dramas and documentaries - will be screened in the main auditorium, from 7pm. This will be the first chance to see the 2007 MPT films by the degree course finalists - and the only chance to see them on the big screen during the course of the show.
It promises to be an extraordinary showcase of talent from one of the University's most innovative courses - and definitely not to be missed, says student organiser Clare Kiernan, who adds: "The You Want Us exhibition will be a pinnacle moment of our student lives at Sussex."
Co-organiser Katie Readings says: "I'm really excited about the show and we're all extremely proud of the work on display. It represents three years' hard work from all the students. There's definitely some real talent on display this year."
Photography projects explore with startling beauty subjects such as illness and anxiety, as well as genres such as portraiture and landscape.
Alongside the gallery is an exclusive viewing room where the student films can be viewed during the course of the five-day show (the show is closed on Sunday 20 May). They range in subject from the fascinating hidden lives of Brighton-based people to a superb animation based on the rivalry between cats and dogs. There is also a clutch of original dramas, from film noir to explorations of even darker human emotions.
Course convenor Lizzie Thynne, who is a senior lecturer and documentary maker, says: "The range of work produced is very wide and shows that our students have used the opportunities to develop their skills and ideas across media to excellent effect."
Alright Mum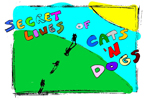 Secret Lives: Cats and Dogs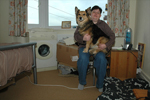 Off the Leash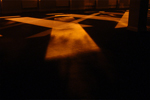 Vacant
Notes for editors
University of Sussex Press office contacts: Maggie Clune or Jacqui Bealing. Tel: 01273 678 888 or email press@sussex.ac.uk
Useful links