Please go to the new Special Collections Website at The Keep
This page is no longer updated. Please visit our new pages at The Keep: http://www.thekeep.info/.
These pages may contain out of date information. Links to these pages may no longer work in the future.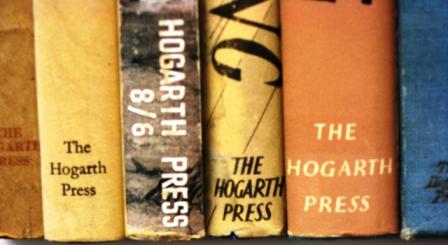 The collection comprises 320 books printed by the Hogarth Press which serve as an example of the books being published by the Press up to the early 1960s. The collection was presented to the University as part of the Leonard Woolf Papers by Trekkie Parsons.
The Press was founded in 1917 by Leonard and Virginia Woolf, the first books being printed using a handpress based in their Richmond home. The venture soon grew into a commercial business and although Virginia Woolf relinquished her interest as partner in 1938, Leonard continued to be involved in the Press eventually going into partnership with Chatto & Windus in 1946.
Hogarth Press not only published works by the Woolfs and their circle of literary acquaintance (including TS Eliot, Katherine Mansfield, Rupert Graves and Chrsitopher Isherwood) but also in the fields of psycho-analysis and translations of foreign works.
The papers of the Hogarth Press Archive are held at the University of Reading (further details) whilst the Leonard Woolf Papers hold much information regarding Woolf's involvement with the Press.
Access
This collection is available in the reference area of Special Collections for browisng and consultation and is not available for loan. All researchers will need to fill out an application for access form on their first visit. It is not always necessary to make an appointment to use these books but it might be advisable to do so if you are making a special trip in case seats are unavailable.
There is currently no available listing of the books held in this collection. A checklist of the Hogarth Press, 1917-1946 by J. Howard Woolmer & Mary E. Gaither is available with the collection.