Bring your child to the Sussex Baby Lab
We are always looking for babies and toddlers to take part in our studies at the Sussex Baby Lab.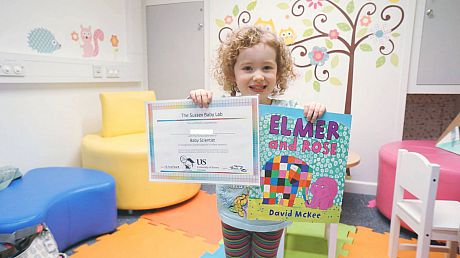 Please note:
You are probably aware of the General Data Protection Regulations (GDPR), which came into force on 25th May 2018. These regulations limit and safeguard the use of personal information about individuals.
As the Baby Lab currently hold information about parents who have expressed an interest in the research conducted here, or who have previously visited the Lab, it is important we comply with these new regulations. We currently hold the contact details that you supplied to us, and the name/s, date of birth and gender of your child/ren. We use this data to communicate with you about other research that you may be interested in and invite you to take part in our studies. We do not provide the data to any third parties. The information is held in an online, password protected account, to which only the Baby Lab team have access.
You may request to be removed at any time, without reason. If you would like to be removed from this database please contact us at babylab@sussex.ac.uk or call us on 01273 873300.
How To Find Us
We reimburse all travel expenses within a 12 mile radius. A detailed map will be sent to you when we invite you to the Baby Lab.
🚗Car
The Sussex Baby Lab has a free car parking space dedicated for our infant scientists.
Address: Developmental Hub Pevensey 2, University of Sussex, Falmer, Brighton, BN1 9RH
🚂Train
University of Sussex is directly opposite Falmer train station.
Common journey times:
Brighton → Falmer
(7 minutes)
Hove → Falmer
(25 minutes)
Lewes → Falmer
(7 minutes)
🚌Bus
From Brighton: Bus 23, 25, 28 and 29.
From Hove: Bus 25.
From Lewes: Bus 28 and 29.
Please visit the Brighton & Hove Buses website for live times and the best routes to plan your bus journey.