What is the Sussex Baby Lab?
The Sussex Baby Lab is in the School of Psychology at the University of Sussex.
We are a team of researchers who aim to understand how babies and children see, think and learn about colour.
We invite babies, children and parents to visit our lab to take part in our fun studies.
Have you ever wondered what babies can see? We recently produced a video showing the first 6 months of baby vision:
How do we find out how babies think, see and learn?
We use 3 main methods:
1. Eye-Tracking
A special camera called an eye-tracking camera is used to measure where and how long babies look at an image when shown different images. We use a little sticker to let our camera know where it needs to look for your baby's face. The eye-tracking camera is a completely safe technique that uses infrared light to detect the movements of the eye. It's just like watching TV!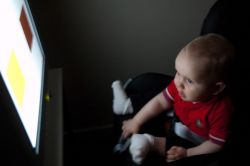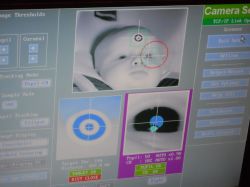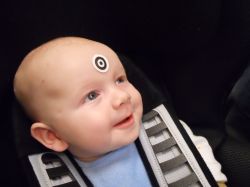 2. Electroencephalography (EEG)
EEG is a safe and non-invasive technique used to measure brain activity. As babies cannot talk, measuring brain activity is a useful way to gain insight into developmental processes. To do this, babies wear an EEG cap (similar to a swimming cap), made of soft stretchy material with small sensors sewn into it. Our brain produces tiny electrical signals and the sensors pick up these signals from your baby's scalp. These sensors do not send out electrical activity and simply measure existing activity from the brain. Like a thermometer, it can only take your temperature, but cannot change it.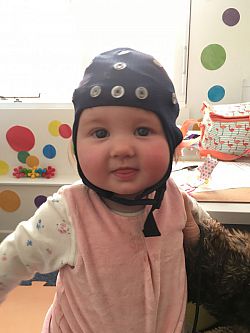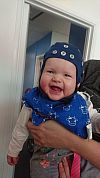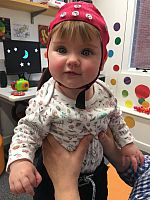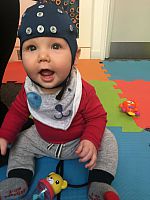 Here is one of our infant scientists enjoying his time playing with bubbles!
3. Play
Our studies are optimised so that babies and children taking part have fun while they're doing them! For example, some of our studies can be run on through specially designed iPad games which have lots of animations built in to keep our baby scientists engaged and interested, we've also run studies where toddlers have to play matching games with pieces of coloured card, or help different animals pick out their favourite colours. These games mean our baby scientists have fun taking part, and we can get a better insight into the development of babies and children.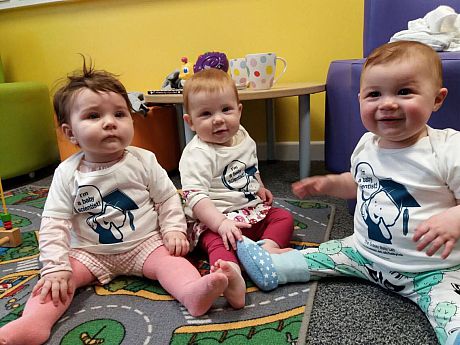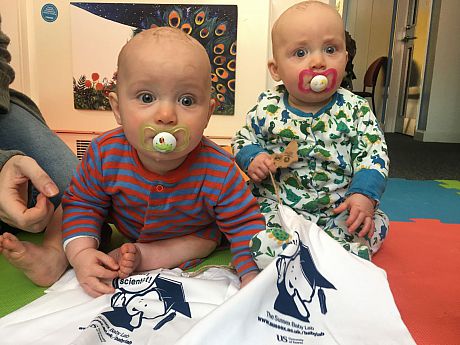 How Do I Sign Up?
We are always looking for babies and children to sign up the Sussex Baby Lab. A visit to the Baby Lab usually takes half an hour and it is a fun and interesting activity for you and your baby.
How To Find Us
We reimburse all travel expenses within a 12 mile radius. A detailed map will be sent to you when we invite you to the Baby Lab.
🚗Car
The Sussex Baby Lab has a free car parking space dedicated for our infant scientists.
Address: Developmental Hub Pevensey 2, University of Sussex, Falmer, Brighton, BN1 9RH
🚂Train
University of Sussex is directly opposite Falmer train station.
Common journey times:
Brighton → Falmer
(7 minutes)
Hove → Falmer
(25 minutes)
Lewes → Falmer
(7 minutes)
🚌Bus
From Brighton: Bus 23, 25, 28 and 29.
From Hove: Bus 25.
From Lewes: Bus 28 and 29.
Please visit the Brighton & Hove Buses website for live times and the best routes to plan your bus journey.