We have a new Special Collections Website
Our new website was launched in 2010, and allows searching across all our collections and view records for all our items. You can access the site at the following address: http://specialcollections.lib.sussex.ac.uk/.
These pages are available for reference and are no longer being updated. They may contain out of date information.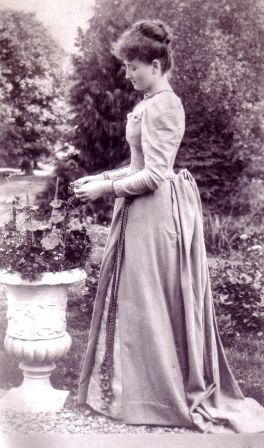 Trix Kipling (Image taken from the Baldwin Papers)
Collection introduction
Alice 'Trix' MacDonald Kipling was born in London in 1868, the younger sister of Rudyard Kipling. Although less is written about her than her famous brother, she was a prolific writer, and this is reflected by the material in the collection, which contains drafts of stories and books of notebooks of poetry by her. Material in the collection was the basis for the book Trix; Kipling's forgotten sister by Lorna Lee
Immediate Source of Acquistion: Donated by Lorna Lee in 2005
Scope and Content: Ms and Ts writing and poetry. Hand bound book "Aunt Trix", Mrs Alice MacDonald- Some Recollections by Gwladys Cox.
Extent: 1 box
Catalogued by Siobhan Britton, April 2008