We have a new Special Collections Website
Our new website was launched in 2010, and allows searching across all our collections and view records for all our items. You can access the site at the following address: http://specialcollections.lib.sussex.ac.uk/.
These pages are available for reference and are no longer being updated. They may contain out of date information.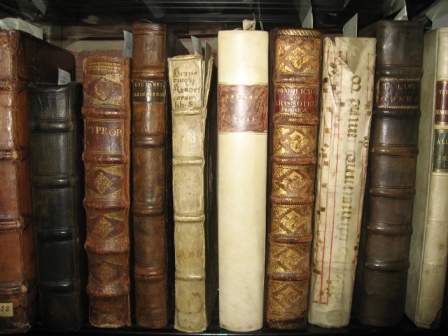 Book spines from the Travers Collection
Collection Description
Of value to scholars of the history of the book and rich in examples of printing and binding from the fifteenth to the nineteenth centuries, the Travers Collection at Sussex is a select portion of the library formed by Michael Travers between 1945 and his death in 1977. Although varied in scope and subject matter, the Collection is given coherence by its two main themes: the development of modern culture (with particular emphasis on landmark works in the advancement of scientific thought) and the impact of the printing press.
The Collection includes 24 incunabula, most in contemporary bindings, although the Caxton Polychronicon was rebound by Douglas Cockerell. Travers developed an interest in the under-researched area of post-incunabula and his Collection includes 165 examples of these and other titles from the first half of the sixteenth century, all foreign imprints of classical authors or theological works. This part of the Collection has significant potential for research.
The period 1551–1640 is stronger on English printers. Contemporary poets and philosophers are well represented in the 31 books (all with English imprints) from the period 1641–1700 while the 45 eighteenth-century works range from the Koran to popular songs. The 14 nineteenth-century imprints focus on the rise of science writing for a mass audience and include an illustrated edition of Charles Darwin's The Descent of Man and two works by Michael Faraday.
Michael Travers and his wife Joy had been supporters of the University Library for many years and had founded the Friends of the Library society. After Michael Travers's death, his rare book collection was presented to the University by Mrs Travers in 1978.