A bug's life: helping to preserve rainforest riches
A rainforest caterpillar, sporting alarming-looking spines to ward off predators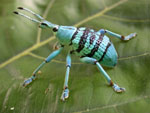 A blue weevil, commonly found in Papua New Guinea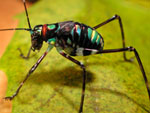 A colourful rainforest cricket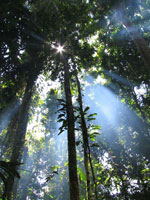 Rainforest, Papua New Guinea
The geographical distribution of insect species across the vast tropical forests of Papua New Guinea are helping scientists to better understand the world's precious rainforests.
The findings of an international team, which includes University of Sussex ecologist Dr Alan Stewart, one of the principal investigators, are published in science journal Nature. They show that plant-eating insects in tropical rainforests are not fussy foodies who stick to a local menu of plants, but foragers of a broad range of plants, across hundreds of miles.
The results could have important implications for the study of ecological processes and extinction patterns - vital for the effective conservation of environmentally rich yet endangered areas of the world, such as rainforests.
Dr Stewart, who collaborated with colleagues in the Czech Republic, the USA and Panama and helped to build and train the team of locally recruited field biologists who collected the voluminous data, says: "Studies on such a vast scale have rarely been achieved before but are vital for unpacking the mysteries of rainforest ecology and understanding how best to preserve these globally-threatened habitats."
The team sampled different caterpillar communities, comprising 500 identified species, but also many new species which scientists have not yet fully catalogued, across the Sepik-Ramu river basins, a vast area of lowland rainforest in New Guinea equivalent to the size of Ireland.
"Large areas of Papua New Guinea are still untouched by modern threats to natural habitats - 70 per cent of the original pristine rainforest habitat is still intact. This, together with its designation as one of the three main tropical wilderness areas of the world, makes it an ideal location for carrying out such studies," says Dr Stewart.
Analysis of the data revealed remarkably little change in species composition of caterpillar communities across areas hundreds of miles of stable and undisturbed lowland forest. By contrast species composition was radically different at sites high up in the central mountain range running through the country, where the climate is very different. Comparable data on fruitflies and bark beetles produced similar results, adding credence to the general pattern.
Assessing biodiversity through the study of insects (entomology) is challenging because around 80-95 per cent of the insect world has yet to be identified and classified (through the branch of biological science known as taxonomy). This gap in entomologists' knowledge is one of the major barriers to building a biodiversity model with which predictions about biodiversity or extinction can be made.
Dr Stewart concludes: "The results are very relevant to deciding how best to conserve these unique forests. If species composition of plant and animal communities doesn't change much over large distances, limited resources available for setting up protected areas or reserves should prioritise a few large areas rather than lots of small and isolated ones in which species will be more vulnerable to extinction."
The research was partly funded by a five-year grant from the Darwin Initiative, a Government funding body that aids conservation in biodiverse regions around the world.
Notes for editors
'Low beta diversity of herbivorous insects in tropical forests', by Novotny et al, is published in Nature, vol 448, doi: 10.1038/nature06021
The Darwin Initiative aims to promote biodiversity conservation and sustainable use of resources around the world, by drawing upon British expertise to help countries that are rich in biodiversity but poor in the resources needed to assess, manage and conserve it. The Initiative is funded and administered by the UK Department for Environment, Food and Rural Affairs, (Defra). For more information see: http://www.darwin.gov.uk/
Dr Alan Stewart is Senior Lecturer in Ecology in the School of Life Sciences, University of Sussex. For information about biology and environmental science at University of Sussex, see: biology
University of Sussex Press Office contacts: Maggie Clune or Jacqui Bealing. Tel: 01273 678 888 or email press@sussex.ac.uk
Useful links