The Badger wins national student media award
The Badger received an award for 'Best Sports Coverage' at the Student Publication Association (SPA) awards ceremony at Nottingham Trent University on Saturday 10 May.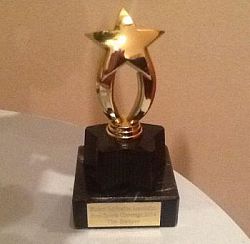 The newspaper's final issue of the 2014 academic year, which celebrated an historic win for Sussex in the annual Varsity sporting competition, featured a review of the day's events, coverage of eleven sports teams' partnership with the Stonewall charity, and a 'view from the crowd' commentary.
Over 200 nominations were submitted for a number of awards categories by student publication delegates from England, Wales and Scotland.
The Badger's sports coverage was judged by Justin Deeny from BUCS (British Universities and College Sport), who said: "What stood out for us was the breadth and variety of articles they produced with their audience clearly in mind.
"The coverage is not only broad but fantastically balanced and sees an incredibly sensitive issue of 'rainbow laces' sit alongside a more tongue in cheek 'view from the crowd', the supporting editorial placement enhancing both articles substantially.
"As well as being informative and rounding up the universities varsity campaign the writers go beyond simply reporting the results and reflect the mood of their partisan audience.
"Completing the overall experience, the articles are professionally presented in the excellent design of the printed newspaper."
Responding to the award, Aubrey Allegretti, The Badger's Editor-in-chief and newly appointed Digital Media Officer of the SPA, said: "This is a fantastic achievement for our newspaper – and certainly the first of many more to come.
"Sport is such an integral part of university life to those studying at Sussex and we were keen to capitalise on what was a well-deserved win for our students.
"We're increasing the profile of our sports coverage throughout the year and making sure the newspaper goes from strength to strength.
"I'm sure that next year, as the SPA grows and The Badger flourishes under fresh new leadership, the newspaper will celebrate the success of our students in all areas of their university lives in new and innovative ways."