Life Sciences student wins presentation award at international conference
A PhD student in Life Sciences achieved third place in a student presentation competition at the 47th annual meeting of the Society of Invertebrate Pathology held in Mainz, Germany last week (3 – 7 August).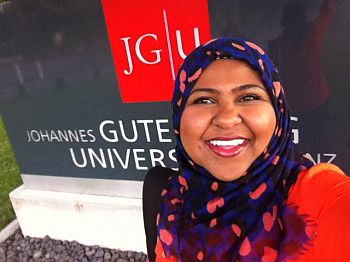 Alicia Elhigazi was one of 60 students to enter the competition. She scored highly for scientific excellence, innovation of the research and on her ability to communicate the science effectively.
Alicia's PhD supervisor, Dr Neil Crickmore, said: "With almost 500 delegates, and 60 student presentations, this was a daunting environment in which to give your first international talk. Alicia conquered her nerves though and delivered a clear account of her work."
Her presentation was entitled 'Which regions of the Bacillus thuringiensis Cry41Aa toxin are responsible for its activity against human cancer cells?' Alicia's PhD project involves protein engineering in order to understand how some members of this toxin family, others of which are produced by insect-resistant GM crops, have developed the ability to kill certain human cancer cell lines.
Not only the judges were impressed by Alicia's talk; she also received an invitation to visit a lab in Montreal to undertake some detailed biophysical studies with her toxin.