Sussex scores well in student questionnaire
Sussex has expert lecturers, a safe and secure campus and good clubs and societies, according to the latest official survey of student opinion.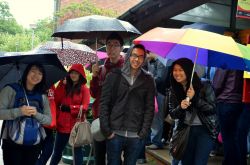 And Sussex topped the 1994 Group of research-intensive universities for student satisfaction in a number of categories covered by the International Student Barometer (ISB), one of the largest studies of international students in the world.
The ISB is run by i-Graduate, an independent market-research organisation, and is used as the official measure of international student opinion by the UK government and funding bodies.
Fifteen UK universities including Sussex also participated during the summer term 2011 in the ISB's counterpart for UK students, the Student Barometer (SB).
Sara Dyer, Head of International Students' Support at Sussex, says: "Overall this summer's results are very positive and show a marked improvement on previous years' performance."
International and EU students who completed the ISB survey showed high satisfaction with the support services at Sussex: 96% praised the Students' Union, with equivalent figures of 95% for the International and Study Abroad Office, 94% for the Student Life Centre and 92% for the Finance Office.
The ratings for learning support and language support were also high, with 91% of international and EU students declaring themselves to be satisfied or very satisfied. Both of these scores went up significantly compared with 2010 and put Sussex at first place in the 1994 Group of research-intensive universities.
Sussex also topped the 1994 Group in a number of ISB categories to do with student life, including safety, campus environment, transport links and advice on visas.
UK students at Sussex who completed the Student Barometer survey were so positive about these aspects of student life that Sussex came first out of all 15 participating universities for campus environment and transport links and as a "good place to be".
Their scores for learning put Sussex in the top three participating institutions in no fewer than eight categories. Teaching staff were praised by 96% of students, lectures by 94% and research by 94%.
And scores from UK students for support at Sussex were nearly as high, with 96% showing high satisfaction with disability support, 93% with clubs and societies, and 93% with the Student Life Centre.
Areas of concern mainly related to accommodation, internet access and the availability of work experience (particularly among home students). Action is already in hand to address these issues.
The University will use the findings of the ISB and SB to strengthen services to students. Sara says: "Our students consistently pay tribute in these surveys to the quality of the Sussex student experience. But they also highlight what we could do better – and we'll certainly put effort into improving in those areas."