Commemorative book tells the story of University's first 50 years
Professor Fred Gray is currently working on a cultural history of the palm tree. He's also written about seaside architecture, lifelong learning in rural Britain, and the history of Brighton's West Pier.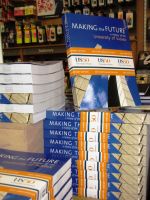 Professor Gray's latest book, though, looks at the history of another Brighton landmark and institution: the University of Sussex.
In 1961 the first 52 students and nine members of faculty started at the brand-new university. From the beginning, it set out to break the mould of traditional higher education and to redraw the map of learning. As John Fulton, the first Vice-Chancellor, remarked, Sussex was about "making the future".
Making the Future, published to celebrate the University's 50th anniversary and edited by Professor Gray, tells the story of Sussex and how it has evolved over the last five decades.
The official launch event in the Library yesterday (Thursday 17 November) featured a talk by Professor Gray.
The new book includes specially commissioned essays exploring the core business of the University – making knowledge and disseminating understanding – as well as varied pieces on the campus architecture and landscape and on the colourful history of Sussex student protest.
It is richly illustrated with numerous photographs, most never published before, and also tells of the unique personal experiences of some of the people who have worked or studied at Sussex. In total there are more than contributors. "It really is a collaborative effort," said Professor Gray.
The book, which costs £25, is available from the John Smith's Bookshop on campus.