Sussex signs partnership agreement with Chinese arts academy
The University has strengthened its Chinese links by signing a Memorandum of Understanding with the National Academy of Chinese Theatre Arts (NACTA).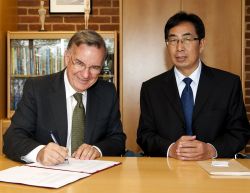 Professor Chris Marlin, Pro-Vice-Chancellor (International), is pictured (left) signing the agreement with the NACTA President, Professor Du Changsheng, when he came to Sussex at the end of last month.
They discussed future opportunities for developing student and staff exchanges and research partnerships.
One particularly fruitful collaboration could be between the Attenborough Centre for the Creative Arts at Sussex and the NACTA, which is China's leading institution for the study of traditional Beijing opera and also develops strong intercultural activity and reflection on contemporary performing arts.
The director of the Attenborough Centre, Professor Sally-Jane Norman, visited the Academy in Beijing in June 2011.
As part of this return trip to Sussex, Professor Norman gave a presentation on plans for the Attenborough Centre and the visitors' campus tour included a visit to the Attenborough Centre site. Professor Du's visit also allowed further discussion of areas of possible collaboration, which cover a diverse range from motion capture to Shakespeare.
The Chinese guests also dropped in on an undergraduate Mandarin language class in the Sussex Centre for Language Studies (SCLS).
Sussex already has contacts, many of them long established, with institutions across China. Sussex's research and China's priorities for the future coincide in many areas, such as the effects of climate change, globalisation, migration, and the impact of technology on economic development.
Professor Marlin said: "We are proud to collaborate with top universities in China on a range of projects, including student or staff exchanges and joint research programmes."