CoastView - Coastal erosion in general and examples from the UK and further afield

The following articles provide examples on coastal erosion in a more general way or provide specific examples. Click on the heading below to go to the article (the publication year is given in parentheses).
---
NO SHORE BET: The cost of holding back the rising tides

Times 18-01-1999

For years, politicians have been arguing about the erosion of Britain's sovereignty by the European Union. Yet the gradual disappearance of Britain itself has never received the same attention. Much like the gradual seepage of power from Westminster to Brussels, Britain has been slipping beneath the waves for decades. That rate of disappearance is now set to accelerate. On the East Coast, an area the size of Jersey could be submerged in the next 20 years. Meeting this threat with a Maginot line of sea walls would cost taxpayers millions of pounds. A debate is needed on how Britain might best fight on its beaches.
Responsibility for defending our island against Neptune's invasion is confused. Two Whitehall departments, the Environment Agency, local authorities, drainage boards and regional flood defence committees has to wade through more than 80 Acts of Parliament. Politicians have ample opportunity to pass the buck.
The conventional wisdom used to be that sea walls were the best This has been usurped by the concept of "managed retreat": sea defences are to be abandoned at certain points, so natural habitats such as salt marshes - can slow down the sea's advance as well as create new habitats for wildlife. The members of the Agriculture Select Committee endorse this idea, considering it "time to declare an end to the centuries-old war with the sea and seek a peaceful accommodation". So too does the Government, delighted by the savings it might make: sea walls cost up to £5 million per kilometre to build. Abandoning land to the sea may be a practical solution in uninhabited regions. Yet rural communities are appalled by this policy of aquatic appeasement. They would prefer to remain steadfast against the elements.
But finance to build new defences may not be made available. Spending more taxpayers' money on concrete walls may well be akin to pouring money into the sea, a futile attempt to control nature. In the long list of priorities, these millions might be better spent on schools or hospitals. Making such choices is the stuff of politics. Even so, a survey of the areas most at risk from flooding should be conducted, so that the scant resources available might be used effectively. The responsibility for coastal and sea defences needs to be clarified. Above all, ministers should encourage a debate about the costs and benefits of sea defences against managed retreats. Their strategy to deal with this marine threat should be revealed, not sunk deep in Whitehall.

---
Crumbling defences against the great flood: In 1953 a wall of water swept over Britain's east coast killing more than 300 people and thousands of sheep and cattle. Could it happen again?

The Independent 30 January 1993

by NICHOLAS SCHOON
FORTY years ago this weekend more than 300 people were killed by the great flood of 1953. A storm surge combined with a spring tide swept a wall of water over the sea walls of the east coast in one of Britain's worst peace-time disasters. From the Humber to the Thames estuary, thousands of sheep and cattle drowned and tracts of farmland were left infertile. Nearly 25,000 homes were damaged, some entirely swept away. In the Netherlands the disaster was even more severe - 1,400 people died. The sea level was pushed more than 8ft (2.4m) above the usual highest tide. Twice since that Sunday night of 31 January, a similar combination of spring tide and storm surge has raised the North Sea as high or even higher: in January 1978 and January 1983, according to the Meteorological Office's storm tide warning service. Twice already in 1993 the Thames barrier has been raised to deal with lesser storm surges and high tides. There has also been minor sea flooding around Colchester in Essex and Wells in Norfolk this year. But there has been no repeat of the 1953 tragedy because a major programme of rebuilding and heightening of east coast flood walls began soon after the disaster and the strengthened defences have taken the strain.
Now many miles of those sea walls are eroded and in need of major maintenance. It is not only storm surges they have to contend with. The south-east of Britain is tilting down as fast as 5mm a year as Scotland and the North-west rises. The land mass is still responding to the removal of billions of tonnes of ice at the end of the last Ice Age. Sea levels are also expected to rise by an extra 6.5mm a year in the next century due to man-made global warming; this increase may have already begun.
The Anglian region of the National Rivers Authority, the area most threatened by sea flooding, has increased spending on its 1,000 miles of sea walls by 30 per cent in recent years to pounds 33m a year. The rise is mainly because many of the post-1953 defences now need repair or rebuilding. The aim is to renew or replace about 30 miles a year. But coastal engineers recognise that old-fashioned sea walls and groynes can stop the flow of sediments along coasts, worsening erosion elsewhere. They are now working with nature, replenishing beaches by dumping sand and shingle and building low offshore breakwaters. The disaster 40 years ago began with a deep depression over the North Atlantic. The low air pressure sucked up the sea level by an extra foot over a huge area of ocean, moving westwards at about 50mph. Once the depression and its trailing hump of water reached the confined and shallower North Sea waters, the level climbed much higher. Northerly gales driving the sea south added still more to the surge, and as the level reached the top of the defences, storm waves helped to smash the sea over them. Many of the embankments were dilapidated because of neglect during the war years and the austerity afterwards. From Grimsby and Cleethorpes in the north to Canvey Island in the south, via towns like Skegness, King's Lynn, Lowestoft and Harwich, the sea raced through streets and houses. The victims, many of them elderly or bungalow dwellers, drowned or collapsed as they tried to flee. At Hunstanton in Norfolk a train collided with a house being swept along the track. The worst incident was on Canvey Island in Essex, where 58 people died. As well as higher sea walls, residents in threatened areas will now get much more advance notice. The storm tide warning service prides itself on giving at least 12 hours' notice of extra high sea levels for the east coast. The Proudman Oceanographic Laboratory in Birkenhead on Merseyside develops computer simulations of storm surges to help the warning service, which is funded by the Ministry of Agriculture. It is now working on an improved model which will take into account the battering effect of waves on sea defences as well as spring tides and storm surges.


---
Up to six metres of coastline claimed by the sea each year: Some coastal defences can cause erosion on nearby beaches, scientists warn

The Indepent 9 June 1993

by NICHOLAS SCHOON
PARTS of Britain's coastline are being eroded at rates of up to six metres a year. Each year there are large coastal landslips on the same scale as the one destroying Holbeck Hall Hotel in Scarborough, North Yorkshire. Yet they rarely make the headlines because fields rather than homes are destroyed. Coastal stretches prone to collapse are sufficiently well known to be off limits to builders.
Yesterday, as the North Yorkshire MEP Edward McMillan-Scott called for emergency EC aid for Scarborough, scientists warned that coastal defence structures used to combat erosion could cause problems further along the coast. Dr John Pethick, a coastal geomorphologist at Hull University, said the best overall solution was to avoid building in the worst affected areas, surrender land to the sea and compensate landowners affected. He said compensation should be sorted out at a European level because huge quantities of sediment from Britain's east coast travelled across the North Sea to be deposited on the beaches of Belgium, the Netherlands and Germany. Once there it acted as a natural sea defence.
Dr Pethick said a 25-mile stretch of coast around Holderness, north of Hull, was being eroded at the rate of 2 metres a year, depositing about 1.5 million cubic metres of sediment into the North Sea. Since Roman times the coast has moved more than two miles inland and some 30 villages have disappeared. Professor Keith Clayton, head of the University of East Anglia's school of environmental sciences, said the erosion rate along a three-mile stretch at Covehithe, north of Southwold in Suffolk, was even higher - six metres a year for several decades. In one location the sea had come inshore by 35 metres during a recent winter. He said there had been many cases of piecemeal coastal defence works being built this century which caused severe erosion further afield. On some stretches of coastline one cliff edge can be eroding rapidly while a low-lying area one mile away can be fed by the sediment from it and be in peril should that supply be interrupted. The southern half of Britain is gradually sinking - as fast as six millimetres a year - while the north is rising: the axis runs between Belfast and Sunderland. This happens because the land mass is still responding to the removal of billions of tons of ice at the end of the last Ice Age 10,000 years ago. At the same time, global sea levels may be starting to rise slowly as the sea warms, due to the increase in temperatures brought about by increasing levels of man-made 'greenhouse' gases. Dr Pethick said the rise was happening at about one millimetre a year. The east coast is affected worse than the west because the rocks tend to be softer. The new thinking is to surrender land wherever possible and to imitate or encourage natural defences, such as beach building. The Ministry of Agriculture, which has the prime responsibility for coastal defence, is interested. But it has yet to come up with any large-scale trials, or compensation schemes for landowners affected.
---
The shifting, disappearing sands of Europe: A new survey shows the toll the twentieth century has taken of coastal dunelands

The Independent 23 March 1993

by MALCOLM SMITH
STAND on the sand dunes at Gronant on the north Wales coast and the problem is immediately apparent. A large caravan site nestles into their landward edge. A golf course abuts another part. Summertime beach-goers have worn paths through the dunes, starting a process of erosion. Soon there will be industrial developments, too. A gas find offshore is likely to be piped through the dunes to a processing complex. Gronant is far from unique. Across Europe, coastal sand dunes have been destroyed or damaged at an alarming rate, despite the fact that they are a rich wildlife habitat and a natural sea defence. The first inventory of sand dunes across Europe has just been published by the European Union for Coastal Conservation (EUCC). The union has also made a start at compiling loss and damage statistics. They make depressing reading. Along Europe's Atlantic coast, more than a third of the dune area has been destroyed or seriously damaged since 1960. Planting of conifers, industrial developments, and recreational facilities from golf courses to hotels, have all played a part.
On the Mediterranean coast the situation is more desperate: 90,000 acres, at best, remain - a loss of 75 per cent this century as tourism and its associated developments have burgeoned. Another 10 to 15 per cent is likely to be lost or damaged during the next 10 to 20 years as the pressures generated by coastal recreation gather yet more momentum. But what is so special about sand dunes that conservationists should fear for their future? Sand dunes are one of the most natural ecosystems we have in Europe. They exhibit a tremendous variety of habitats from their seaward to their landward edges. Dunes begin their life at the high-tide drift line on a beach. Here, plants such as sea rocket form the first tiny barrier to windborne sand. Above the drift line other plants such as sand couch and lyme grass trap more sand, causing a narrow zone of low foredunes to accumulate. As tough marram grass develops, more sand is trapped inland of the foredunes. Sand builds upon sand as the specialised marram grows through to trap more on top. The arid environment of these so-called yellow dunes, which can reach 90 feet in height, is the home of a few drought-loving plants such as sea holly and sand sedge. It can succour nesting colonies of birds such as sandwich and arctic terns, too. Further inland, as the sand supply peters out, a more diverse flora, including mosses and lichens, develops and the dunes become grey rather than yellow. Wetter hollows, known as slacks, can be exceedingly rich. Home to the low, creeping willow and the marsh helleborine, they can abound in insects. Natterjack toads, now rare, live in a few dune systems near wet slacks.
Yet further inland from the grey dunes and slacks, a dune grassland rich in flowers and insects will develop if the sand is calcareous. If it is not, grassland gives way to a heather and erica heathland instead. More than just a prominent landscape feature and wildlife haven, coastal dunes also provide an excellent natural barrier in the face of storms or sea-level rises. Towyn - where man- made sea defences failed in a severe storm - is only a few miles west of the Gronant dunes. The dunes survived. If predicted sea-level rises are accompanied by more storms, we may well give thanks for sand dunes and the free protection they afford low-lying coastal areas.
Too often we have treated dunes with disdain. Ireland had an estimated 50,000 acres of dunes in 1900. Between 40 and 60 per cent has have been destroyed or badly damaged. Of the 23 systems in Northern Ireland, only one remains completely unmodified. Others have been affected by golf courses, caravan sites, military training, agriculture, and by residential or recreational developments. In the Republic of Ireland, about 70 per cent of east-coast dunes has been destroyed or severely damaged. They have survived better on the south, west and north-west coasts. Across Ireland, about 30,000 acres of dune have some form of protection.
Britain has about 140,000 acres of blown sand, although some of this has been grown over with conifer plantations, often extensive in area, effectively destroying its wildlife value and drastically altering coastal landscapes. The most important dune systems, 120 in all, are protected as Sites of Special Scientific Interest. Some are National Nature Reserves. Nevertheless, housing developments, airfields, car-parks, caravan sites and golf courses have taken their toll. So, too, has sand extraction for the construction industry.
However, if access to bathing beaches through fragile dunes and other recreational developments has damaged some British dunes (though often not irreparably), spare a thought for those on the Mediterranean coast that are situated near the favourite holiday spots of northern Europeans. Italy had 110,000 acres of dune in 1900. Today about a fifth of this area remains intact. Hotel and camping developments, housing, afforestation, sand extraction and - ironically - coastal defence works, have put paid to the rest.
Greece has lost up to a half of its dunes this century, while Spain has seen 30 per cent of those on its Atlantic coast and 75 per cent of those on its Mediterranean coast damaged or destroyed. France - the western European country with by far the largest dune area - 600,000 acres at the turn of the century - has fared no better. Up to half its Atlantic-coast dunes have been lost, mainly to forestry plantations. On its Mediterranean coast, three- quarters have gone, courtesy of recreational developments and burgeoning tourism. Urbanisation and industrialisation on the coast have taken an enormous toll, too. Between Calais and Dunkirk 40 per cent of the coast has been destroyed as a natural environment in the last 25 years. Almost all was once sand dunes. What can conservationists do to save these shifting sands? Apart from the crucial task already carried out by the EUCC of identifying areas of sand dune that remain undamaged, Dr Pat Doody, editor of the Sand Dune Inventory of Europe, believes there are three courses of action. First, existing duneland reserves must be protected from peripheral damage and new ones be established. Second, necessary coastal developments must be positioned away from sensitive coastlines. And last, degraded areas must be rehabilitated. How much of this gets done will depend on the level of commitment by individual governments and such EC measures as the new Habitats Directive, under the aegis of which member states that actively comply could embarrass more recalcitrant members into action. But time is not on the side of many sand dunes. As the EUCC inventory puts it: 'The speed at which the wholesale destruction of sand dunes has occurred (in the Mediterranean), and the way in which this appears to have spread in an uncontrolled fashion eastwards from the Spanish coast, is an indictment of man's selfish attitude to the natural environment.' Attitudes have been little better in northern Europe.

---
Salt marsh erosion prompts call for flood defence review

The Independent 29 April 1992

by JONATHAN THEOBALD
CONSERVATIONISTS are calling for a review of coastal flood defences following the publication yesterday of research showing the salt marshes that are south-east England's last remaining wildernesses are being eroded. A study by English Nature of the coast between Felixstowe, Suffolk, and the Isle of Sheppey, Kent, found that over a 15-year period up to half the salt marsh area was lost. Worst affected were the Crouch, Orwell and Stour estuaries. On the Stour the figure was 49 per cent.
English Nature's chief executive, Dr Derek Langslow, described the findings as 'alarming' and urged 'a radical rethink to stem the losses and provide opportunities for a new salt marsh to develop'. The report argues that the marshes can be saved only if some land is surrendered to the sea and marshes are allowed to move inland. The loss of the salt marshes has serious implications for man and wildlife alike, the study says. Marshes absorb waves' energy and are themselves an important element of coastal defences. The report quoted research showing that a 10-metre salting - a marsh overflowed by the sea - can reduce the necessary height of a sea wall from 12 to 6 metres. Nearly 250,000 water fowl rely on the marshes, most of which are protected as Sites of Special Scientific Interest or National Nature Reserves. Phil Grice, an ornithologist at English Nature, said: 'The birds will have to fly further in search of a smaller number of roof sites and feeding areas. I'd expect monitoring to show declining numbers of birds in future. It's very serious.'
The report says that in many cases the losses were entirely due to erosion. On the Stour, however, 5 per cent was caused by land reclamation. It blames the erosion on rising sea levels and says there are worries about the role of sea defences. 'Sea walls prevent natural adjustment of salt marshes to rising sea levels, but the marshes are being squeezed between the sea and the defences,' Dr Geoff Radley, English Nature's coastal ecologist, said. 'If this continues we'll see concrete along the entire coast of south-east England.' Compensation to land owners who allow their land to be flooded is one solution being considered by English Nature, Dr Radley said.


---
British Association Science 91: Pollution erodes salt-marshes

The Independent 29 August 1991

by STEVE CONNOR, SUSAN WATTS and FRANK ASHALL
COMBINATION of pollution and rising sea levels is destroying Britain's salt-marshes, an important barrier against coastal erosion and flooding, according to Laurie Boorman, a scientist from the Natural Environment Research Council's Institute of Terrestial Ecology, near Huntingdon in Cambridgeshire.
Half the area of coastal salt- marshes would disappear within 50 years. 'Salt-marshes protect sea walls from the worst effects of erosion. The rising costs of sea defence can be considerably offset if we can keep salt-marshes in a reasonably healthy state,' he said. Salt-marshes are areas of vegetation that grow on the mud flats that develop beyond sea walls. The plants cushion the action of waves and reduce the need for costly sea walls.
In the last century, the amount of land being reclaimed and so needing a sea wall has increased, but the formation of salt-marshes has not kept pace. 'In many areas over the past 15 years the balance has gone from stability - with cycles of erosion and reclamation - to one of predominantly erosion.
'We still do not know what is causing these serious losses. Pollutants seem to be very important. Certain salt-marsh plants have their growth inhibited by heavy metal pollutants. This situation will become worse because rising sea levels will drown out salt- marshes,' he said.


---
Stone shipped in to rescue village

The Independent 13 May 1992

by STEPHEN WARD
MORE THAN 10,500 cubic metres of stone will arrive from Norway over the next few weeks to protect a small community in Cornwall from being eroded by the sea, writes Stephen Ward.
If nature was left to take its course, nine clifftop homes at Downderry, near Looe, and a mile of coast road would become part of the stony beach. Several gardens are teetering on the edge. In 1974 one house plunged nearly 200 feet into the sea. Tony Maycock, of Caradon district council, said the storms of 1989-90 brought the situation to a crisis, and the next similar winter would have taken the lot over the edge. Although only nine homes are immediately at risk, for more than two years the owners of 50 clifftop properties with diminishing safety margins have lobbied the council to act. It was the potential loss of the road which made the crucial difference. A cost benefit analysis showed that it was cheaper to build the sea wall, costing pounds 1.3m, than to buy extra land and rebuild the road. The 330-metre wall is to be laid 25 metres from the foot of the cliff, effectively building a permanent wide beach. Only a quarter of the cost has to be met by Caradon district council and Cornwall county council, because the Ministry of Agriculture Fisheries and Food pays a 75 per cent grant to stop coastal erosion as long as the cost benefit study justifies it. The stone is being shipped from Norway in blocks weighing up to five tonnes each because it is cheaper, and is considered to be more environmentally friendly than moving local stone along narrow lanes.


---
A town under siege by the sea: Since its beach was washed away, Withernsea on Humberside is cracking up from twice-daily poundings at high tide

The Independent on Sunday 17 October 1993

by HELEN NOWICKA
THE HOUSE trembles. Glassware shivers on the shelves. The cooker shudders around the kitchen. Welcome to high tide at Withernsea. Residents of this small Humberside town thought they were used to weathering the North Sea's worst excesses. But since February, when storms washed away the beach which absorbed the impact of breaking waves, they have been under siege by the sea: subjected to twice-daily poundings by the high tide - for four hours at a time - which are shaking up their lives. The waves' force, as they strike the Victorian sea wall, can reach 120 tonnes per square metre. Locals liken the resulting tremors to a mini-earthquake - walls quiver, people are roused from their sleep. Living on the Promenade, Lez White and her family are among the worst affected by the vibrations. 'The last few months have been absolute hell. It's totally dominating our lives,' she says. 'The earth really does move round here, not just on the front but a few streets back, and the big worry is that it will get worse in the winter.'
Last week Lez's cooker juddered around the kitchen. Mysterious cracks have started appearing in ceilings and window frames. ''It might not be the sea, but it's a hell of a coincidence.' As she speaks a shiver runs through the three-storey house. 'That was nothing,it gets far worse. It gets me down tremendously sometimes,' she sighs, drawing deeply on her cigarette. Eddie Tebb, another Promenade resident, founded a residents' group to campaign for something to be done. He can remember 40 years ago when even high tides rarely reached the sea wall. 'It used to be great to sit snug in here when the weather was rough outside,' he said. 'Now it's frightening. The house feels like it's on jelly.
'Some of our critics say we are looking for compensation ,but that's not true. We bought this to stay here for the rest of our days. We just want it back to how it was.' Although Eddie and Lez plan to stay put, other home- owners hoping to move away have been thwarted, their once- desirable seafront homes and businesses rendered unsellable. Some building societies are refusing to issue mortgages for properties on the Promenade. Bruce Ryan, managing director of Frank Hill, a local estate agents, said Victorian three-storey houses which should sell for pounds 70,000 were effectively worthless. He recently valued a home for a retired couple further up the coast. Six years ago there were two fields between the sea and their bungalow. Now there is one. Mr Ryan believes the property may survive for 10 years before it is claimed by the waves. 'They've spent pounds 60,000 on it. They might get pounds 10,000 if someone wants a holiday home.'
Withernsea lies on Britain's fastest-eroding stretch of coast, running from Bridlington to the Humber estuary, where the North Sea eats away the soft boulder clay by between one and four metres a year. While Withernsea is protected against such erosion, the surrounding area is not and in 200 years the town could be an island. Erosion is accelerating as climatic changes and geological movements cause an increase in sea levels which in turn generate greater wave power. But erosion has an important function. Sand and clay particles from around Withernsea end up on marshes and mud flats in the Humber estuary, preventing floods inland. Slowing erosion by building sea defences creates a cycle whereby less sediment is deposited and more land needs protecting against high water levels.
The Minister of Agriculture, Gillian Shephard, acknowledged the complexity of the issue last week when she announced the Government's coastal defence strategy. She said: 'Natural river and coastal processes should only be disrupted by the construction of defence works where life or important natural or man- made assets are at risk . . . intervention at one point can cause problems elsewhere.' The definition did not go far enough for Dr John Pethick, director of the Institute of Estuarine and Coastal Studies at Hull University. He says the concept of 'important assets' needs to be quantified and that a debate is needed on whether money would be best spent on sea defences or on compensating people for moving from eroding areas. In the interim, he agrees that centres of population must be defended.
In Withernsea, work will start next month on apounds 1.9m coastal protection scheme to restore peace to the Promenade. Boulders will be piled next to the sea wall to form a slope, forcing waves to break away from the shore. Eddie Knapp, principal engineer for Holderness council which is overseeing the work, is optimistic that eight months of vibrations will not permanently have affected homes on the front. 'Preliminary findings of a seismographic study suggest it's unlikely that any structural damage would have occurred. There's quite considerable nuisance value - we have appreciated that from day one - but we have done our best to try and get over that.'


---
Compromise to save clifftop landmark: The Naze Tower

The Times, 06 January 1990

by Michael Horsnell
The eighteenth-century Naze Tower, atop crumbling cliffs at Walton on the Naze, Essex, is less than 50 yards from falling into the North Sea. The tower is on the brink of disaster after a 15-year dispute between the local authority and the Nature Conservancy Council.
While Tendring District Council wants to preserve the famous landmark and surrounding headland from further coastal erosion, conservationists have successfully protested that the cliffs should not be shored up. The red crag of the Naze, which is designated a site of special scientific interest, is one of the world's most valuable and extensive deposits of bird fossils. The conservancy council wants to assure its continued exposure to the elements. However, provisional agreement has almost been reached on a Pounds 250,000 compromise in the debate over what to value more the fossils, including 50-million-year-old cuckoos from the Eocene period, or the 260-year-old observation tower. The agreement will be submitted to the Ministry of Agriculture, Fisheries and Food for approval.
While research on tidal currents continues, a scheme has been devised to construct two revolutionary breakwaters which will slow erosion. As that occurs, the breakwaters will be extended inland. Mr Michael Page, leader of the majority Conservative group on the council and chairman of the policy and resources committee, said: ``We have lost more than 30 yards from erosion over the past five years, and, at this rate, there soon won't be a tower left if we don't act now.''
The NCC was not available for comment.

---
Nature poses a cliffhanger

The Times, 16 December 1995

by Peter Mullen
Parts of the East Coast are continuing to fall into the sea, but building defences merely shifts the problem elsewhere Topper, our pregnant cow, fell over the cliff when it collapsed,'' Sue Earle recalls. ``Astonishingly, she turned up safe and sound five miles down the coast. She gave birth with no trouble at all. Mother and calf doing well.''
This kind of domestic excitement can become routine on Ms Earle's farm in the village of Cowden on the Humberside coast. The cliffs are rugged and spectacular, but they are also vulnerable before the ravaging force of the North Sea. When Ms Earle's uncle bought the farmhouse in the 1950s, it was more than 60 metres from the clifftop; now it is only a few paces from the edge. ``We've had to evacuate buildings,'' Ms Earle says, ``and the cliff road used by the farm delivery lorries and holidaymakers was first closed by the authorities and now it has gone right over the cliff.'' Whole stretches of the east coast of England have been falling into the sea. So what can be done? Common sense says the answer is to build better sea defences. A few years ago, Mappleton, a village a mile and a half to the north of Cowden, was threatened with imminent flooding. So the council built a protective wall. This saved Mappleton, but Cowden residents say it set in motion a series of events which made their bit of coastline even more vulnerable.
Professor John Pethwick of Hull University's Institute of Estuarine and Coastal Studies, believes there could be some truth in the claim. ``These problems are chiefly about the movement of sand from north to south by the tides. ``The presence of sand acts as a natural barrier and helps to slow the process of erosion. But man-made sea defences get in the way of the sand's natural movement southwards. So, deprived of sand, the shore immediately to the south of sea defences will erode more quickly.'' Further down the Holderness peninsula lies Spurn Head, a misty, mysterious flatland poking out into the sea. This is a world-renowned habitat for rare migrating birds, even rarer moths and other wildlife.
Here the erosion has been so dramatic in recent years that the area has been abandoned to the encroaching sea. Tim Collins, Spurn Heritage Coast Officer, says: ``We have evolved a strategy that says we should allow nature to take its course. Basically, Spurn is in the wrong place. It should be moving westwards with the rest of Holderness but it hasn't been doing so since 1840, when it broke from the mainland and was repaired with hard sea defences. ``These defences were not a good idea for the area generally. I know people get terribly worked up when they see the cliff edge disappearing into the sea, but hard defences in one place only result in more erosion in other places. Our new visitor centre explains to the public the merits of our policy to let nature take its course.'' These local upheavals have a much wider significance to many of Europe's great coastal cities. Professor Pethwick says: ``Continued deposition of silt along the coast is crucial in counteracting the rise in sea level. The removal of such a sediment source (by building a wall, for instance) may be disastrous, causing drowning of the mud flats and inundation of coastal flood defences.
``The Holderness peninsula is peanuts. It's more important to ensure the long-term stability of the coasts of the EU states that border the southern North Sea and to seek EU funding to compensate Holderness residents who lose their homes in order to provide a wider coastal stability. ``It's a much bigger problem than many realise. All sorts of parochial attitudes are voiced. Distinguished engineers say to me, `We mustn't let England fall into the sea!' I'd sacrifice Holderness any day to preserve Denmark. And in any case, erosion isn't an unmitigated disaster; it often creates new depositional lands. We shouldn't be engaged in confrontational planning against the sea but in conciliatory planning with the natural forces along our coastline.'' The logic behind this general strategy seems unassailable, but the local and personal catastrophes remain. A quarter of a mile from Ms Earle's farm, Shawn and Yvonne Mars run their pig farm of some 90 sows. Mr Mars says: ``When I bought this farm nearly seven years ago it was six acres, but now it's only a bit more than four. We knew about the coastal erosion when we bought the farm but the land was disappearing at one-and-a-half metres a year when we moved in. This year alone we've lost 15 metres.''
The views and worries of the locals are being represented. Mr Collins says: ``The responsibility for coastal defences is with the Ministry of Agriculture, Fisheries and Food. They are encouraging local authorities to set up groups of all concerned people to organise their own regional policies. Our group is looking at the area from Flamborough, south to Lincolnshire''. There has been discussion about coastal management among EU states, but the question of sea defences has been left to individual governments. A spokesman for MAFF takes a cautious view: ``It may be that what the scientists are saying about the link between what happens on the east coast of England and its results for places such as Zeebrugge, Rotterdam and Copenhagen is something that will be verified only in geological time.'' But for others there is a greater urgency, which can be felt in Sue Earle's words: ``You can hear it when you're in bed at night, in the gale and the rain: the land slipping and the old cliff falling on to the shore.''


---
Shifting sands erode resort's bucket-and-spade trade - Swanage Bay

The Times, 24 April 1995

by Ian Murray
LONG stretches of a white, sandy beach celebrated by Thomas Hardy have disappeared, leaving behind a rough shingle shoreline. The loss of part of the mile-long beach at Swanage Bay has forced the town council to bring in mechanical diggers to shift hundreds of tons of sand from the southern end of the bay to the north. Only when this sand was moved was it possible to put up beach huts in time for the holiday season. Brenda Woodford, whose livelihood was lost with the sand, blames the council for building a jetty into the bay. The council blames the tides and the weather. Experts on coastal erosion blame global warming and the Government. Mrs Woodford paid Pounds 80,000 for a 200-yard frontage of beach and a watersports centre near the northern end of the bay in 1991. ``It was a lovely strip of sand where kids could enjoy making sandcastles and burying their dads. Now it's all gone and there is nothing left but stones.''
She says the sand began to disappear in 1992 shortly after Purbeck District Council paid Pounds 5.5 million to build a 60-yard stone jetty in the middle of the bay. It was designed to carry away storm water that was causing winter flooding in Swanage. She says it has altered the way the sands are pushed to and fro by the tides, winds and storms. She is backed by George Willey, recently retired as editor of the local paper, who has lived in Swanage for over 40 years. ``In some winters parts of the beach have been denuded of sand but usually it is quickly restored. This time the sand seems to have gone permanently.''
Mike Goater, technical officer at Purbeck, says the sandy beach has always come and gone periodically, depending on the weather and the tides. ``Mrs Woodford bought the beach when there was sand all the way round the bay. Having bought it like that I can appreciate that she might expect it to stay there but the coastline is something dynamic, not static.'' Hydraulic Research, Europe's leading coastal survey experts, carried out a study on the likely effects of building the jetty and told Purbeck council there was no need to worry. Alan Brampton, who heads the company's coastal group covering the area, said: ``We came to the conclusion that it was unlikely to damage the beach and that even if sand did disappear from one place it would be possible to move the stuff around from somewhere else.''
John Pethick, of the Institute of Estuary and Coastal Studies at Hull University, said that Swanage could be about to lose its beach for ever, partly because global warming was raising sea levels. ``Beaches have a finite life and are now being washed out to sea everywhere from Florida to Africa and Australia.''


---
Council blamed for hotel's fall into sea

The Times, 03 October 1997

by Michael Horsnell
Owners win court fight for Pounds 2m compensation, reports Michael Horsnell.
THE failings of a local council were blamed yesterday for a spectacular landslide in which a clifftop hotel fell 150ft into the sea four years ago. In a High Court judgment that will alarm local authorities in areas of coastal erosion and place a new duty on landowners, the owners of the four-star Holbeck Hall Hotel at Scarborough won a fight for compensation, which is expected to total more than Pounds 2 million.
The 29-bedroom late Victorian hotel and its extensive grounds, owned between the wars by the family of the actor Charles Laughton, slipped into the North Sea between June 3 and 6, 1993. Guests had been moved out. Judge John Hicks, QC, sitting as an Official Referee, ruled that Scarborough Borough Council was in breach of its duty of care to maintain the supporting land and the undercliff it owned between the hotel grounds and the sea. The action was brought in the names of John and Joan Turner, who own the English Rose Hotels group, though their insurance claim has already been settled. The hearing was effectively brought by their insurers, Cigna Insurance Co of Europe, who sued for damages. Figures have still to be assessed but John Farrell, solicitor to Cigna, said after the case that damages, interest and costs would exceed Pounds 2 million.
Mrs Turner said that she had been traumatised by the sudden landslide which brought about the demise of the mock-Tudor building, erected as a private house in 1883 and converted to an hotel in 1930. She said: "I spent ten years of my life at the hotel and I miss that beautiful building. I just remain grateful that no lives were lost." The judge dismissed a claim in which Scarborough had in turn blamed its technical advisers, the site investigation company Geotechnical Engineering (Northern), which had been commissioned to check the stability of the cliffs. The judge said the council must have been aware, from the history of cliff falls and remedial works along the coastline, of the hazards. He said he was satisfied that the council had not acted in accordance with all the company's findings. Some works were carried out in 1989, but they were "wholly inadequate", the judge said.
Scarborough is on a 40-mile stretch of Europe's fastest eroding coastline which would cost millions of pounds to control. But the judge said the council was bound by com mon law to exercise a "measured duty of care" to the hotel owners. John Trebble, the council's chief executive, said later that the judgment would have far-reaching consequences for landowners if it were not overturned, and that an appeal would be launched. Emphasising that the council was involved only because it owned adjacent land, he said: "The judgment breaks new ground as it seeks to create a new duty on landowners, the implications of which are quite startling, based on very nebulous principles." John Rees, of the Local Government Association, said later that it would be studying the judgment closely and supporting Scarborough council. "We are very concerned. Anyone who owns land in these circumstances could now find themselves being taken to court."
Since the collapse, scientists have said that cliffs on the East Coast should be left to crumble into the sea to help to save beaches and farmland and to defend cities from flooding. They believe the collapse was part of a process that is beneficial to the environment and that coastal protection is unnecessary.


---
How to avoid that sinking feeling

The Times, 12 July 1997

by Emma Haughton
A home by the sea may seem romantic, but beware coastal erosion, says Emma Haughton Last November, East Yorkshire County Council arrived at Sue Earle's three-bedroom Victorian farmhouse, took a few measurements, then gave her four days to leave and ordered her to demolish her home. The house, a mile south of Mappleton on the Holderness coast, was just four metres from the cliff edge, and considered too dangerous to inhabit. Ms Earle, who now lives in a caravan, is suing for compensation. She believes that sea defences built in 1991 to protect Mappleton increased the rate of erosion on her land from a couple of metres a year to six or seven.
"They built two rock groynes at Mappleton. This stops sediment coming onto the beach, so the cliff erodes faster because there is no beach to protect it," she says. "In one place we lost 20 metres in one year. I knew I'd lose the house eventually, but if the rate of erosion had stayed as it was, we would have had another ten to 15 years. I feel very angry. Nobody should lose their home to the sea and get nothing." She says it will cost her at least Pounds 50,000 to build a new house. At least Ms Earle always knew her home was in danger and has some chance of compensation. Others, seduced by romantic prospects of a home by the sea, pay a premium for the privilege only to find it turn into a liability when their houses are threatened by erosion or flooding, or they have to pay high maintenance bills to keep out the rigours of salt and sea, with window frames and doors requiring constant attention. "Some people put their life savings into a seaside bungalow and lose everything," says Chris Mathews, design engineer for East Yorkshire, which has the fastest eroding coastline in Europe: a recent report suggested the council should simply allow some villages to disappear into the sea.
"We hear stories where people have been told that the house they are buying 50 metres from the edge will last 1,000 years, but ten years down the line their front door is right on the cliff top." Problems with coastal homes are not isolated to East Yorkshire. According to Diane Dumashie, a chartered surveyor specialising in coastal development, Britain is tilting along a line running roughly from Norfolk and the Wash to Bristol, with everything to the north rising slightly, and everything to the south falling. "It's a very small drop," she says, "but it is occurring." Small it may be, but add in the increased number of storms over the past ten years and the forecast 40cm rise in sea levels around Britain over the next 50 years, and you have a significant problem, says Dr Andrew Dlugolecki, a general manager of insurers General Accident and an authority on global warming. "The slight rise in the land will cancel out sea level rises in northerly areas such as Scotland, but in the South East it will be doubly worse because the land is sinking and the sea level is rising," he says, "Severe storms can raise the sea level even higher than 40cm above its normal height for short periods, with terrible results."
The northeast coast of England, however, is especially vulnerable, largely due to its particular rock formation. Other areas most at risk are those on the coast of Kent, East Anglia, the South East, and around the Thames Wash, including homes beside tidal rivers. Unfortunately, homeowners may find little help is at hand if the worst does happen. With storm, flooding and water damage acounting for nearly a third of all claims in England, according to a NatWest Insurance Services report, insurers are increasingly reluctant to insure homes in high-risk areas, especially if the property has a history of claims. And if the problem is coastal erosion, you are unlikely to be covered at all. "The insurance industry is spending a lot of money and time trying to make sure it can still cover people in high-risk areas," Mr Dlugolecki says, "but it does depend how much the Government and coastal authorities are prepared to invest in ensuring these coastlines are defended." Just how much will be spent on coastal defence is also a headache for Vivienne Jolliffe and her partner John Parker, who live in one of three former Admiralty cottages perched on the cliff edge in the hamlet of Seatown, on the Dorset coast. Their view of the sea, framed by cliffs and the imposing peak of Golden Cap, is magnificent, and from the living room you can hear the sea sighing and rolling.
But how much longer they can enjoy it all has hung in the balance since a large piece of their garden fell away three years ago, leaving the cliff edge just five metres from the house. Their fate now rests in the hands of West Dorset District Council and the Ministry of Agriculture, Fisheries and Food (MAFF). Unless MAFF grants the council the Pounds 300,000 needed to provide sea defences, the owners may be forced to abandon their homes, each worth more than Pounds 100,000 - and they would not be eligible for compensation. Others, however, have no prospect at all of a coastal cavalry coming to the rescue. "There is the expectation that if something goes wrong, somebody will do something about it," says John Ribey, principal engineer at Scarborough Borough Council, where four years ago a hotel slipped off the cliffs of the North Yorkshire town. "A lot of people think there is an authority they can turn to if things go wrong, but there isn't. Coastal councils have a responsibility to look at coastal protection, but no obligation to put right any problems."
MAFF, which provides grants for sea defence (this includes measures such as sea walls or cliff drainage, to lower the water table), demands that the cost of any work is less than the value of any property or assets it will save, and that any scheme will not have a detrimental environmental impact. "There is now a presumption to let nature take its course rather than embark on hard engineering," Mr Ribey says. "If you protect the area concerned, it may have an adverse effect on another area down the coast." Even if your home is protected by established sea defences, you should not be complacent. With many defences more than 100 years old and built at a lower level than anyone imagined would be overcome, it is likely they will be breached with increasing frequency over the coming years.
So what should homebuyers do to protect themselves from making a purchase they might live to regret? If you are going to buy a property in a high-risk area, get a full structural survey from a qualified local surveyor, Ms Dumashie says, and be prepared to bring in a specialist surveyor if necessary. She also suggests you do some homework of your own. The local Environment Agency office will have plans for coastal defence and flood control, while the council engineering department should have details of local erosion rates over a number of years.
In addition, it is wise to check whether you will be able to get sufficient building and contents insurance. According to David Lennan, head of retail insurance at NatWest Insurance Services, many insurers will negotiate tailor-made policies which may, for instance, exclude damage by flooding. In which case it may come down to taking a calculated risk. "Lots of people live in flood areas but they're prepared for the worst," he says. "They have stone floors and rugs rather than expensive fitted carpets, and they stick to furniture they can move easily in a flood." This may be fine for the stout-hearted, but is unlikely to offer much peace of mind to anyone who has read Mill on the Floss.


---
Living on the edge

The Times, 16 January 1999

by Nick Nuttall
Violent weather and high sea levels, made worse by global warming, are causing the coastline of Britain to erode at an alarming rate. And there seems no solution, says Nick Nuttall When Tony Oliver bought a Georgian farmhouse with an extraordinary view, the North Sea lapped calmly near the doorstep of a dream home. Today, his much increased promixity to the waves has proved a nightmare. Erosion and gales are lashing the family from their North Yorkshire home. They wanted to stay, but the elements have proved too powerful and property prices have plummeted: a three-bedroom seaside home in the area once selling for Pounds 100,000 is now going for about half that amount. Seven years after moving in, Oliver is drawing up an evacuation plan after facing an unequal struggle with the elements battering the cliffs near Robin Hood Bay. The coastline is crumbling and no one seems to care, he says. Don Lockett, of Jacksons Property Service in Whitby, says: "A lot of people come here to retire, wanting bungalows with a sea view. But there is a risk and there are real problems with the insurance. "We have to call a spade a spade. We tell them that if they want a sea view they have to take the risk upon themselves. Some places are so bad that you cannot even get a mortgage on them. The owners cannot sell or, if they do, then the price is rock bottom." The astonishing collapse this week of huge chunks of Beachy Head in East Sussex has proved an exciting excursion for day-trippers and sightseers while underscoring the awesome power of the rain, wind and waves. But for thousands of homeowners on vulnerable coastlines, the weather battering the country has brought only more misery and hastened the day when they will be forced to move inland.
Scientists fear the exodus from coastal areas will accelerate over coming decades as global warming raises sea levels and increases the frequency of cliff-crumbling storms. But Oliver says he has more immediate concerns. Recently he has seen rivers of clay pouring down the the cliffs in front of Stoupe Bank Farm, his Grade II listed farmhouse. When the house was bought at auction, without, he claims, a whisper of a threat from the hungry sea, the waves were 32 metres away. Now they are just 16 metres from the front door. "Two metres fell off just two days ago. At the moment we are about 16 metres away at the narrowest point. But bits of the land are dropping off all the time," says Oliver, a business consultant whose home is between Ravenscar and Robin Hood Bay, not far from Whitby. Oliver, 52, says the rate of coastal erosion appears to have accelerated: "We could be here for 50 years - or five. The rate at which it is going, you could suddenly get a slump." He has given up doing home improvements "in the light of the property's inevitable demise". There is no bitterness over the imminent loss of the family home, only frustration that the local planning authority, the North Yorkshire Moors National Park, has refused his bid to rebuild the house further inland. "I have eight-and-a-half acres. Moving it 200 metres inland should see my lifetime out," he says. But the planning body has refused, claiming that despite it being Oliver's land, it would be a new development on a greenfield site. He believes the planning rules should be changed on vulnerable coastlines so homeowners can retreat to safety: "The alternative is to see your life washed away." At nearby Robin Hood Bay, some 20 minutes' walk away, hundreds of thousands of pounds have been spent on sea defences to protect houses. But there is no prospect of a scheme for Oliver's cliff: "The economics do not justify a coastal defence scheme here. But I believe there should be some kind of compensation." His views are echoed in a recent House of Commons Agricultural Committee report which calls for compensation for homeowners and landowners in vulnerable areas.
When the sea finally reaches his front door, Oliver may have to pay a contractor or the local authority to knock down the farmhouse. Insurance companies do not offer cover for coastal erosion, so a home collapsing into the sea is an uninsured loss and may be a risk to people on the beach below. The plight of the Olivers comes as little surprise to geologists - the British Isles, and especially the clays and sandy cliffs of the east coast from North Yorkshire and down through East Anglia, have been eroding for thousands of years. Similar reshaping of the coastline has been occurring along the chalk and clay cliffs of the south coast from Dover through to Dorset and into parts of Devon. But scientists fear the threats are accelerating with increased winter rains, summer droughts and rising sea levels brought on by global warming. Other high-risk areas include parts of Cumberland, north, west and south Wales and eastern Scotland. In Fife, the council is battling to save the village of East Wemyss and its network of Pictish caves. Some experts believe a bad storm could see the community lost within five years if Pounds 1.8 million is not spent on coastal defences. At Freshwater Bay on the Isle of Wight, engineers have noticed large cracks forming in the cliffs.
The erosion of Britain dates back to the end of the last Ice Age. Dr Chris Evans, a coastal geologist with the British Geological Survey in Keyworth, Nottinghamshire, reckons that some 10,000 years ago sea levels were 80 metres lower than today. Since then they have risen sharply, sweeping away settlements, cliffs and agricultural land. He says maps of old Roman roads, which appear to end in the middle of nowhere, bear testament to a changing landscape. The roads probably led to ports which have since disappeared under the waves. The largest recorded loss of coast was in 1792 when a stretch of cliffs, two kilometres long and half a kilometre deep, collapsed at Portland in Dorset. Monasteries, settlements and villages have also disappeared over the centuries due to the force of the weather and the sea. Dunwich in Suffolk was once a great medieval town with six churches, monasteries and a harbour. Despite the building of sea defences, the town effectively died in 1740 when a storm broke through. The remaining houses are all vulnerable to erosion; Suffolk Coastal, the local council, expects three to go within the next decade and another 12 to be lost in the next century. Hamish Heeley of Abbots estate agents in Wickham Market, Suffolk, said: "About five years ago we tried to sell a house near the coast in Dunwich. The asking price was Pounds 65,000, although it would have been worth at least Pounds 20,000 more further inland.
"A buyer offered less than Pounds 60,000 and the owner was prepared to accept. However, no insurance company was willing to cover the place." Barry Sanders, the chief engineer at Suffolk Coastal, says other danger areas in the county include Thorpeness and Cobbles Point near Felixstowe. At Dunwich, sea defences have been ruled out as too expensive and a system of managed retreat, in which the waves will be allowed to move inland, has been adopted by the Environment Agency. Similar plans, called Shoreline Management Planning, are being drawn up with coastal councils around the country. The schemes, promoted by the Ministry of Agriculture, Fisheries and Foods, are aimed at accommodating the sea rather than fighting it. The agency is spending Pounds 263.3 million a year just to ring all vulnerable areas of the coast. But low-grade agricultural land is to be abandonded to the elements. Driving the new pragmatism are forecasts by scientists advising the United Nations and the British Government on the likely impact of climate change. Studies by the climatic research unit at the University of East Anglia show how sea levels have begun to rise sharply with the increase in concentrations of carbon dioxide and other greenhouse gases.
Such findings come from records of sea levels at Brancaster on the north Norfolk coast. In AD750, levels were rising by 1.2mm a year and have accelerated since the start of the Industrial Revolution to 2.9mm a year. The thermal expansion of the oceans, allied to the melting of glaciers in mountain ranges such as the Alps, is set to increase the rate even further. Jonathan Gregory, a sea-level rise expert at the Hadley Centre, part of the Meteorological Office in Bracknell, Berkshire, says the latest conservative forecasts are for levels to rise by 28cm in eastern England by 2050. In northwest Scotland the rise will be less, say 18cm. The difference is due to the tilt of the United Kingdom, a legacy of movements from the last Ice Age. Southeast England is sinking into the waves and northwest Scotland is rising from them. It will not be just the rise in sea levels which will bring havoc to vulnerable areas. By 2050 government advisers predict that average summer temperatures will be above 77F (25C). Dry weather will increase cracks in clay cliffs, allowing more rainwater to penetrate. Winter rains are forecast to be 5 to 25 per cent heavier. Storm surges, able to overwhelm sea defences and undermine the base of cliffs, are also forecast. Exceedingly high tides, now seen once every 100 years, are likely to happen every decade. Weather watchers say that without substantial government expenditure, many coastal properties will go under. "Why not move to Birmingham?" said one. "It may not be anyone's favourite city, but at least it as far from the sea as you can get."
It has been forecast that global warming could raise sea levels by 20 inches over the next 50 years. On the south coast, a metre of land a year is lost to the sea. On parts of the east coast the rate is twice that, in a few places even more. The coast at Humberside is disappearing at a rate of up to 11 metres a year. An area more than the size of Jersey could be lost on the east coast in the next 20 years. In August 1998, the Agriculture Select Committee said it was time to "end the centuries-old war with the sea" and surrender to a "peaceful accommodation with nature". It painted a vision of floodplains, waterlogged farmlands and a London where Hammersmith, Greenwich and the Victoria Embankment were under the Thames. Environmental groups welcomed the vision, farmers and landlowners did not. At Birling Gap in East Sussex, where a house has already fallen into the sea, the council has decided not to pay for defences.


---
Coastline is on edge of collapse

The Times, 13 January 1999

by Nick Nuttall
Experts fear that the Beachy Head collapse will be followed by others, reports Nick Nuttall.
THE Government was told yesterday to act urgently to counter the danger of further coastal erosion in the wake of the landslide at Beachy Head. Stretches of the East and South Coasts could be the next to collapse if torrential rains and high waves continue to pound Britain. Part of the Holderness Coast in Yorkshire, a strip east of Lyme Regis in Dorset, and a 200-metre stretch of cliffs on the Isle of Wight have been identified as most immediately vulnerable. John Gummer, the Conservative MP for Suffolk Coastal and former Environment Secretary, has tabled a series of Commons questions to John Prescott, the Secretary for the Environment, Transport and the Regions, and Nick Brown, the Minister of Agriculture.
Mr Gummer is to ask Mr Brown if he will now reconsider the "savage" cut in the rate of financial support from the Government for coastal defences - down by 20 per cent in many cases. He said the Government had also made it more difficult for local authorities to get this support. Mr Gummer wants to know who is to be in overall charge of countering the threat to the coastline and is urging the minister to establish an integrated programme of action. The threat to Britain's coastline - illustrated so dramatically when a large chunk of Beachy Head crashed down - is a product both of global warming, which is causing sea levels to rise, and the tilting effect that is a legacy of the last Ice Age. Monitoring equipment has picked up yawning cracks in the cliffs on the Isle of Wight, at Freshwater Bay, and a Pounds 2million scheme to save the cliff road from collapse is ready to go into action. Yesterday the Environment Agency gave a warning to sightseers to stay away from Beachy Head, where a 50ft by 200ft section of the chalk cliff-face tumbled into the sea on Sunday night. A spokesman for the agency said: "The conditions are absolutely atrocious with high winds and lots of rain. We could get a large cliff fall at any time".
Alan Clarke, a geotechnics expert, whose firm advises councils and Mr Prescott's department on erosion, said that the coast from North Yorkshire down through East Anglia and south along to West Dorset and Devon was vulnerable. Dr Clark said: "It is impossible to say where the next collapse will occur. But you need only to look at the geology of the British coast to see where it is at risk." One of the areas most at risk, he said, was the Holderness Coast, running from Spurn Head to Bridlington, which is made of soft clay and over the past 1,000 years has lost about a mile. At Freshwater Bay, near Afton Down, where the hazardous cracks are being monitored, piles will hold up the road when - rather than if - the Isle of Wight rock face collapses, Dr Clark said. It is forecast that global warming could create an average rise in sea levels of 24 centimetres in the next 50 years because of thermal expansion of the oceans and melting glaciers, according to the Hadley Centre, part of the Meteorological Office at Bracknell. Britain is also tilting because of movements associated with the last Ice Age, with Scotland rising and the South of England falling. Dr Clark, who works for High-Point Rendel in London, said yesterday that the Hadley Centre estimated that, when the tilt effect was factored in, sea levels around northern Scotland would rise by 16 cm and those in southern England by 31 cm by the middle of the next century. Other features of global warming, including more violent storms, rainfall and waves, could hasten cliff collapse. The rate of loss is currently a metre a year on the South Coast, Martin Lee of Newcastle University said yesterday.On parts of the East Coast, the rate is twice that, and in some places even faster. The composition of the cliffs helps to determine the rate of erosion.
Mr Lee, a geomorphologist, said that the cliffs on the East Coast were deposited by glaciers between 15,000 and 30,000 years ago. They were made up of clay and rocks, and were far softer than the chalk cliffs of the South, which were formed during the Cretaceous period up to 100 million years ago. Both kinds of coastline were being undermined by wave action. The rubble formed by the collapse at Beachy Head will eventually be washed away, leaving the foot of the cliffs vulnerable to wave action. Above this the chalk is riddled with fractures, fissures and cracks more than a metre wide. Some of these expand and become unstable because of effects such as rainwater seeping down through the chalk. Martin Culshaw, an engineering geologist at the British Geological Survey in Keyworth, Nottinghamshire, said he believed that the heavy winter rains, and the exceptional wetness of 1998, caused the sudden collapse. Freezing temperatures can be a factor, but in this case he believes temperatures have been too high. The erosion on the East Coast is more akin to a landslide than a collapse, with the cliffs slipping into the sea because of internal pressures, rather than breaking off. Again, waves erode the foot of the cliffs helping to aggravate huge pressures building up in the layers of clay pressing against each other. Eventually the pressure, which is also "polishing" the surfaces of clay, reaches a critical point and one of the layers slides down into the sea. Mr Culshaw said the erosion can be accelerated by drought followed by heavy rains. The drought causes deep cracks to form in the surface layers, down which rainwater is funnelled, putting further pressure on vulnerable cliffs.
"On the Beachy Head to Seven Sisters cliffs you will expect on average a metre of erosion every year. It will come as nothing one year and say two metres the next," said Mr Lee. "On the East Coast at Holderness, you would expect something like 18 metres to 20 metres over a decade." Concern over the cost of defending vulnerable shorelines has prompted the Environment Agency to consider reducing sea defences. This month it will propose the option of downgrading ones at Selsey Bill, Hampshire, where 10,000 people live. The agency spokesman said it would lead to the loss to the sea of high grade agricultural land and part of Europe's biggest caravan park.


---
Storms cause havoc in Spain

The Guardian, 11 May 2002

by Giles Tremlett in Madrid
Tourist resorts on Spain's east coast began an emergency operation yesterday to reinstate dozens of beaches after violent storms over the past few days washed away tonnes of sand. Meanwhile, authorities in Barcelona had to dispose of a huge dead whale that was washed into the city's harbour by the storms.
Truckloads of sand were brought to beaches in Barcelona and the popular resorts of Cambrils and Gandia in the south. With early-season tourists, many of them British, already arriving, some local authorities feared that beaches might not be ready for them. Environmentalists warned that excessive building has so disturbed the natural balance of Spain's eastern seaboard that many beaches could disappear completely. Barcelona officials called on the government to declare a state of emergency along the coast and asked for state funds to help get its beaches ready by June.
They said huge swaths of sand had disappeared into "a black hole" from the city's beaches. "In some parts of the coast we have lost up to 20 metres of beach," Jorge Guillen, a scientist at Barcelona's marine sciences institute, said. In Benicassim, further south, up to 30 metres of beach disappeared, according to a local councillor. Torrential downpours and rough seas also destroyed beaches in Valencia where costly regeneration schemes concluded only last week.
In a recent report Greenpeace said the intensive building of maritime boulevards, marinas and barriers was changing the shape of the coastline as the sand was washed off many beaches.


---
Landslides and rockfalls are demolishing our coastline. The Isle of Wight.

The Observer 17-01-1999

by John Sweeney
. The floor tiles exploded rat-a-tat, as if shot up by a machine gun, as chunks of land far beneath the old house slid on the water-greased. blue clay and went skidding into the English Channel. The story of incredible shrinking Britain could be witnessed around the coastline last week: at Beachy Head, where a biggish stick of chalk tumbled into the sea; at Charmouth in Dorset, where slabs of rock rich in ammonites fell onto the beach; in Humberside, where the sea is biting off a pig farm like a fat boy chomping into an apple.
But perhaps the most vivid illustration of the threat posed by coastal erosion and landslides can be seen -in two 'before and after' photographs taken from virtually the same spot: the garden of -Reeth Lodge in Niton on the Isle of Wight. In the first photo, taken in 1965, the house is intact and the lawns of the garden are beautifully manicured and flat, edged by hydrangeas and visible at the top left-the branches of a great yew tree. Today the lawn is a corrugated mess, a series of rucked shelves falling away to a mud slide. The yew tree lies in a dead heap at the bottom of the mud slide. Beyond is the Channel, white spume beating away at the beach. Nearby, abandoned on the ground, is something which looks like the mini-parasol you find in a banana daiquiri. It used to be the roof of a neighbour's bandstand. It will soon tumble into the briny. Inside Reeth Lodge, what was a very fine 1840s villa resembles the Crazy house at nearby Blackgang Chine: the angles are all skew-whiff, the banisters have been torn from the newel post and the floor is -humped and ridged like a rhino's back. Chris Hayes-Davies and Pat Mann are the only occupants left, living on the north-facing side of the doomed lodge. One day, it will go the way of the yew tree. The house moans at night, a tortured soul.
They're living on the edge: but their style is to make light of it, in the fashion of Bruce Willis in the movie Armageddon. 'It makes life interesting,' said Chris. 'It's not going to go "whoosh!" and fall down overnight so we don't have any problem sleeping. Still, one can't help feeling a little sad at what is happening. 'This has always been a lovely place, but it is less lovely now.' Emeritus professor of geomorphology Denys Brunsden knows more about landslides than most. A twin of Captain Bird's Eye - though he objects to the comparison - Brunsden, of Durham University and King's College London, took The Observer up a decaying cliff edge at Stonebarrow Hill, Dorset, and demonstrated how hills crumble into the sea. 'Right, I'm gravity. You're the hill. Push against me.' I did. 'Now I'm going to chop your left legg off.' The profesor did kick at my leg, and I staggered, but didn't quite fall over the edge and plunge-to an early death. As a demonstion of how landslides work, is was rather memorable.
Geomorphologists play Sherlock Holmes, studying Victorian guidebooks and old Ordnance Survey maps. Breteil's Handbook of the Isle of Wight, published in 1848, refers to a landslip which destroyed a house 'about a mlle south' of Niton village. The 1862 Ordnance Survey showed the Victoria Hotel, sited above the cliff but beneath Reeth Lodge. But in the 1908 edition of the map the hotel has vanished, destroyed by landslip or cliff erosion. Experts like Brundsen study the rock structure and - a critical factor in disturbing the balance of forces in a hillside 'Rainwater on a hill or cliff works exactly like a toilet system,' the professor explained. 'The more water you have in the tank at the top of the system and the higher the tank, the greater the pressure down below. 'When you have permeable material on top of an aquiclude - that just means rock that is less permeable - then the water- builds up and reduces the friction of the hill making it less stable.
'In the Isle of Wight you have chalk, then porous Upper Greensand and beneath that what the locals call blue slipper and we call Gault clay 'The result is instability, but the undercliff on the southern edge of the Isle of Wight has been like that for thousands of years,' he said. - Heavy rain, plus the jemmy like effect of overnight frost, is thought to be behind the land-slip at Beachy Head. In Dorset the geology responsible for a series of land-slips is a little different from the Isle of Wight: bright orange Tertiary soil a mere 43 million years old, sits on Lower Lias clay from the early Jurassic, which dates from about 160 million years ago. The clay is similar to the Isle of Wight's blue slipper, and makes the cliff weak. The professor pointed to a concrete shed at the foot of the cliff. 'That's what is left of a Battle of Britain-radar station that fell down on 8 May 1942. You can see the hole for the mast.' At Charmouth itself, a great crack in the clay underneath has caused a landslip that rises from above the sea cliff towards a row of 1960s poshish bungaloids on Higher Sea Lane. A lump of rough land just in front of the houses has sunk; cracks can be seen clearly in walls and driveways.
'I advised against the building of those houses in 1964. But my advice was overruled by the Ministry of Housing,' Professor Brunsden said. In one of the threatened houses, a relatively new owner looked stricken with worry when I asked about the mud slide coming his way, If he didn't know about the problem when he bought the house, he does now. The professor was concerned not to frighten householders unduly - 'it might not happen in their lifetime' -and was keen to point out the local council's excellent surveying work with the European Union is using as a model. But, he adds, wetter winters and rising sea levels will mean that susceptible lengths of our coastline will be eaten away at an accelerating rate in the decades to come, The ash-grey sea at Charmouth scudded in, attacking the beach. But in the fossil shop someone had brought in a new ammonite. It had been locked in the rock for something approaching 160 milllon years, and had been found in a landslide that very morning.

---
Measuring sea-damage

The Telegraph 10-12-1998

by Jan Pretty
Winter storms over the past few weeks have carved big chunks out of the chalk coastline of southern England. But it's not just Britain that is threatened, and the European Union is funding a three-year research programme in five universities to find out how much damage is being done and how quickly it is happening. "Wave energy is spent by the rock Platform, just offshore at the base of our coastal cliffs. We are interested in measuring its erosion," said Rendell Williams of Sussex University, a geologist who is co-ordinating the programme.
He has begun testing a prototype mobile laser-measuring system to monitor damage to the crucial rock platform. Developed by Jan Swantesson, of Karlstadt University in Sweden, the £15,000 device uses. downward-facing lasers mounted on a small aluminium framework. The machine can take thousands of measurements in seconds, many times faster than when geologists measured erosion using laborious mechanical means. Swantesson originally developed the machine to measure very precisely the erosion of Bronze Age rock paintings at risk from acid rain. He refined the idea, and the lorry-sized machine shrank until it could be carried by two people was self-contained and could be powered by two motorcycle batteries. Comparative data are built up by repeating measurements regularly at precisely the same spot. This is loaded into a software program that builds a picture of the rate of rock erosion. "The instrument isn't waterproof, so we can't work in the rain," said Williams, who is looking for additional funding. "You sit there under your umbrella, the chalk cliffs are blindingly white and you get your measurements, then move on."
This link will bring you to the ESPED-project website at the University of Sussex.
---



Limpets threaten coast

The Guardian 08-01-2000

by Paul Brown
When part of Beachy Head fell into the Channel last year, everyone blamed rising sea levels and storms - nobody fingered the Patella vulgata, otherwise known as the humble limpet.
But scientists have worked out that the chalk guzzling gastropods, together with tunneling piddocks and polydora worms, are nibbling away at the soft rocks round our shores year by year, undermining Britain's chalk cliffs and sea defences and whittling away the coastline. Engineers have previously assumed that chalk rocks made sure foundations for concrete sea defences, but Brighton is having to replace sea walls finished only 10 years ago because the foundations are collapsing.
The work on the limpet was done by a PhD student, Claire Andrews, at the centre for environmental science, at the University of Sussex, near Brighton. Ms Andrews was following up work done by an obscure Victorian scientist, known only as Hawkshore, who calculated that limpets were reducing the height of the foreshore at Dover by 1.5mm a year. No one believed him. But over three years Ms Andrews collected limpets and measured the calcium carbonate content of their faeces.
She came up with the figure of 1.3mm a year in an area where there was a dense limpet population - which is about 30% of the natural erosion thought to be caused by wind and weather and is significant in the continuing issue of coastal erosion. So serious is the problem that the European Union has paid £660,000 for Sussex to do further research in France, Portugal, Spain and Sweden as well as Britain. Rendel Williams, head of the environmental science department at the University of Sussex, said that as the limpets crept round the rocks eating the algae, they also ate the chalk. They also hollowed out places to rest between tides. By measuring the quantity of chalk in their faeces it was possible to work out the erosion the limpets were causing. "What on earth made Claire spend three years doing this I have no idea, but the results are very valuable. With other destructive chalk borers like piddocks and polydora worms they are making a significant difference.
"The engineering assumptions about the durability of soft rocks as foundations for sea defences will have to be revised. "We can see that these creatures can be immensely destructive to sea defences. It is a controversial area, but we may have to take measures to keep these beasts away from certain areas."


Hungry limpets are eating Sussex coast

The Times 08-01-2000

by NIGEL HAWKES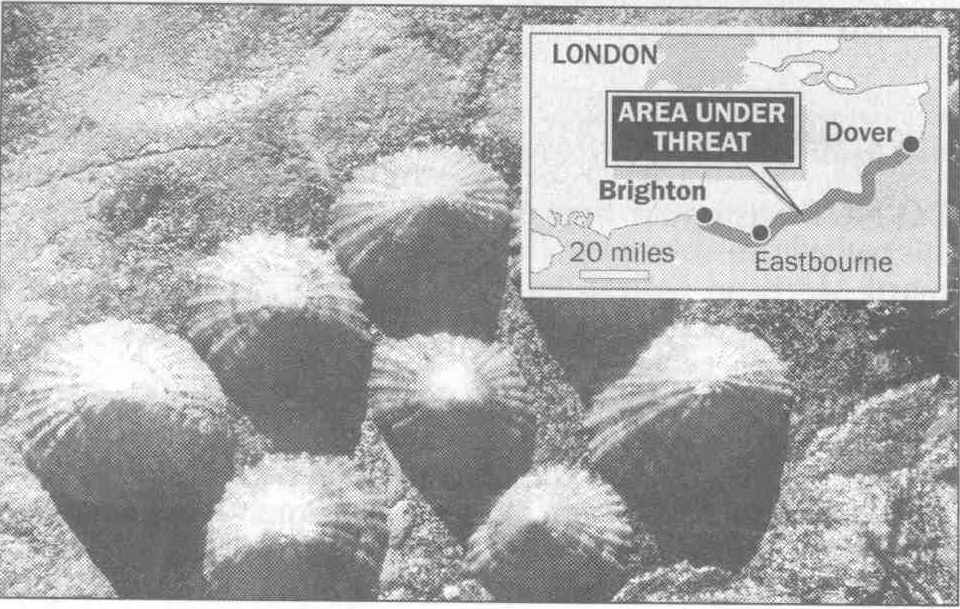 The coast of Sussex is being munched away by limpets a three-year study has shown. In some areas, the gastropods may be responsible for almost a third of the erosion. The effects, though barely perceptible in the short term, ultimately undermine chalk cliffs and sea defences, contributing to collapses such as the one that removed a chunk from Beachy Head last year. Claire Andrews, of the University of Sussex. has discovered how much damage limpets do by analysing the amount of chalk they digest. As the limpets graze the rocks, consuming algae, they create shallow incisions.
These show the damage done to rocks by limpets, but measuring the extent of that damage is a challenge. Rendel Williams, also of the University of Sussex told the geographers' conference there that the problem had taxed biologists since Victorian times. Ms Andrews collected limpets and took them back to the laboratory, where she analysed their tiny faceal pellets. The amount of chalk in the faeces, multiplied by the number of limpets on the rocks, gives a measure of the damage they do. Ms Andrews concluded that each limpet consumes, on average, 5.6 grams of chalk a year. This means that the entire limpet population is responsible for lowering the chalk "platform" that underlies the cliffs at the rate of 0.1 to 0.2 millimetres a year. "The life expectancy of soft rocks will have to be revised," Dr Williams said. "Limpets are immensely destructive."

---
p class= theArticleTitle>BEACH MAY BE GOLDEN ONCE MORE. Marina village scheme for Bognor

The Argus 29-10-1998

by CARREN HERON
A SEASIDE resort could get its sandy beach back after 20 years. Bognor beach was covered in shingle to help prevent flooding two decades ago. Now Compass Rose Developments wants to build a marina village in Bognor with its own sandy beach and the company. Plans to bring golden sands back to the town's main beach too.
Managing director Richard Birch said: "My own children played o n the sandy beach at Bognor. It is something that we are keen to see restored. "Regis Harbour is designed to protect and shelter the Bognor Regis seafront. This will make it possible for the sand to be returned and, importantly, for it to remain on the beach." The developers say the new village would create a more sheltered environment and provide some protection from flooding. They admit that the scheme is still some y ears away and the exact mechanics have still to be worked out. But they would retain shingle along with sand on the original beach to stop problems from the past returning. The development would also include light industrial units for fishermen and boat-builders at the marina plus 2,500 houses and flats. It would create up to 1,000 jobs during and after the building work. Mr Birch said the scheme had to be big to attract commercial investors such as shops and restaurants. Arun Council is currently carrying out consultation to gather ideas to revitalise Bognor. A spokesman said: "We are neither backing these plans nor turning them away. But we are a long way from making any planning decision."