How do young children see, think, and learn about colour?
This study is looking for 2-5 year olds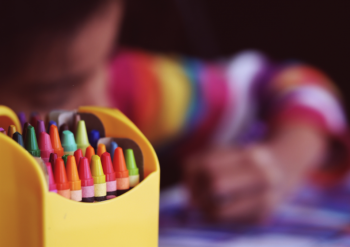 The main goal of our current research is to investigate how children see, think, and learn about the colourful world. One thing that we want to know is how children learn the names for colours.
We are also developing an app that will allow parents and educators to identify children at risk of colour vision deficiency (colour 'blindness'). The app will also provide information on how to support a child with colour vision deficiency so that they are not disadvantaged in their learning.
Around 1 in 13 boys and 1 in 200 girls have a colour vision deficiency, which means that they see colours differently to others. As colour is everywhere around us, this deficiency can impact on a person's life, from their learning at school all the way through to their adult lives.
We are looking for 2-5 year olds to come to the Sussex Baby Lab with their parent(s) / guardian(s) between September and June to play colour-based games on our iPads.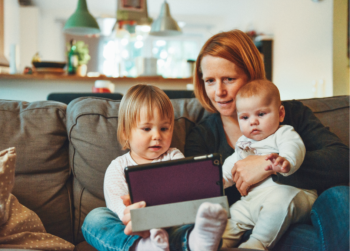 Some children will be able to complete the games at home via a link sent by us. The way that they respond to these games will give us valuable information into how children see and interact with colour.
If you and your child come to the Baby Lab, the visit will take around 30 minutes, including time for the researcher to fully explain the study to parents and to ensure that the child is comfortable and happy before playing with the app. Each child will be given a book as thanks for taking part and travel expenses will be reimbursed.
If you would like your child to take part in this study, or would like more information on the study, please fill in our Taking Part form, or email us at babylab@sussex.ac.uk.
Thank you!

The Rainbow Project - Phase 1 and 2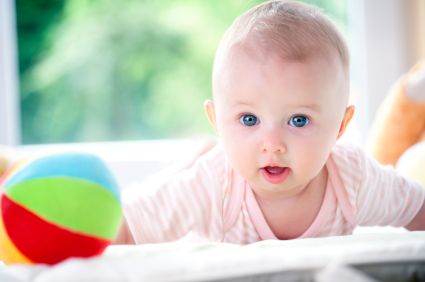 The first phase of the Rainbow Project (2012-2015) investigated how babies aged between 4 to 6 months old see colours. Our previous research had shown that babies know that some colours belong together. For example, at four months, babies treat different greens as if they are the same kind of colour. The first phase of the Rainbow Project established how babies group different colours in this way and in just over two and half years we were helped in this research by over 400 babies who visited the Baby Lab to help us answer this question. The babies were shown coloured images and to see if they notice a change in the colour. The project not only told us how babies see colour but it also helps us understand how babies structure their visual world and how this structure might help them think and learn. The Rainbow Project is part of a bigger 5 year project (Project Categories) funded by the European Research Council (led by Professor Franklin).
The second phase of the Rainbow Project is exploring further exciting questions about babies and colour: Can babies see illusions? Do they know the colour of an object under different lighting conditions? Do they prefer lighter or darker colours?
How do we know?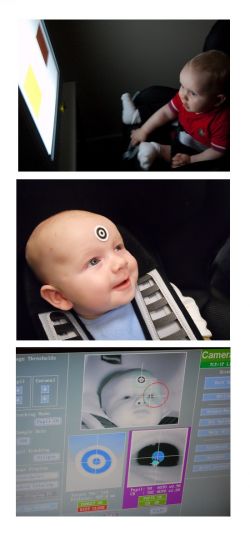 Even though babies cannot tell us how they see things or what they are thinking, infant researchers have come up with a number of ways of finding this out. One of the main methods is to investigate how babies look at things. If babies look at one thing more than another ('preferential looking') then we know that they must be able to tell the difference between these two things. If babies look at something new longer than something they have seen before ('novelty preference'), then we know that they can tell the difference between the familiar and the new thing. The Sussex Baby Lab uses these well established methods to understand how babies see, think and learn.
We also measure how babies look at different images using a special eye-tracking camera. This camera allows us to record with great precision exactly what a baby fixates when they look at an image (e.g., do they look at the eyes or nose of a face). Here you can see a 4-month old baby taking part in one of our eye-tracking studies. The bulls-eye sticker on the baby's head helps the camera to keep focus on their eye when they move their head. The other image shows the baby's eye-movements being recorded by the camera.
What happens to the findings?
We inform the scientific community about the findings of our research by giving presentations at national and international conferences. In addition, we give invited talks to research groups at universities around the world (e.g., Cambridge University; Oxford University; University College London; University of California-Berkeley; University of Stanford).
We then publish our research findings in scientific journals specialising in Child Development or Psychology, and in broad interest journals read by scientists from multiple disciplines. So far, we have published over 25 scientific articles and book chapters. See here for a full list of our publications.
In the past we have worked with industry (e.g., children's TV or toy companies) to enable the findings of our research have influence in the real world. We also work with various forms of the media to ensure that the general public find out about our findings. For example, our research has been reported to the public via: BBC South East Today, BBC Horizon TV documentary, 'Do you See What I See?'; National Public Radio (USA); The Naked Scientist, BBC 5 Live Radio; Southern Counties Radio; Radio 6PR Perth (Australia); Beat Radio (Ireland); Mercury Radio; BBC News Online; Nature News; The Times; Junior Baby and Pregnancy Magazine