News
Keep up with the latest UNISON news, and find out what's going on in your branch.
Black Lives Matter
By: Louise Boruta
Last updated: Friday, 5 June 2020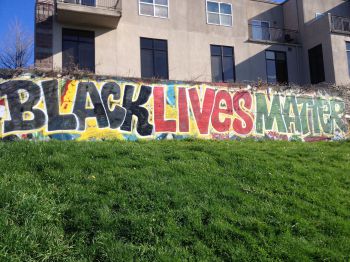 The following statement includes a link to an open letter to the Vice Chancellor which we strongly encourage all Sussex staff, students and alumni to sign.
The University of Sussex UNISON Branch has one clear message:
Black Lives Matter
This stands without ifs or buts or qualifiers of any kind.
As a campus community, as a nation and a planet we fall short continually but this does not change this irrefutable truth. We mourn the senseless murders of George Floyd, Breonna Taylor, Ahmaud Arbery and Tony McDade. These names do not stand in isolation but add to the long list in the UK and the US of black people being targeted and killed by those who protect and serve other members of our communities.
We also know that these tragic deaths are just one facet of systemic racism in every part of our society which leaves black people worse off than others; from higher levels of maternal mortality, to the awarding gap within academia, to the disproportionate effect of COVID-19. Sussex plays a part in this systemic racism.
As a committee, we don't always shout about the work that we are doing but we want to assure you that this work continues actively and we are including below a sample of our activities these past few months. If you'd like more information about any of the below, please email v.babatunde@sussex.ac.uk and our Equalities Officer would be happy to speak with you.
There's a lot here but we think it's important to inform you of how we represent you.
This Year:
- Equality, Diversity and Inclusion Committee is our opportunity to challenge decision-makers and remind the University of its responsibilities. Please note though that the University has decided to cancel these meetings twice this year and so the last meeting was October 2019.
- Race Equality Charter Self Assessment Team which is working on a long campaign to educate people at Sussex and dismantle the racist systems across the institution. We began this work just before the lockdown with two full days of training for key decision makers across the institution delivered by AccessHE. This also includes a pilot toolkit on the awarding gap in the School of Life Sciences.
- Co-lead of the BAME and Disabled Staff Networks, creating a space for people to share experiences, receive support and be part of a community built for and by staff. As co-lead, I make sure that staff members' voices are being heard across the University.
- Insisting that Sussex thoroughly considers equality in any and all responses to COVID-19 and demanding an equality impact assessment be undertaken throughout negotiations.
- Informing HR about the need for increased training and specialism within its staff on equalities issues and for an intersectional approach to rewards and progression.
- Working with HR to address the Gender Pay Gap and not in isolation but rather in conjunction with disability and ethnicity pay gaps, demanding broader and clearer reporting.
This Week:
- We have had several conversations with Adam Tickell, criticising the University's silence and reluctance to stand boldly in the face of this oppression. We have been informed that Sussex intends to hold a vigil to support those mourning through but it is important to inform you that as co-lead of the BAME Staff Network, I stand in opposition of this. The University has been told unequivocally by black staff and students that this vigil means nothing if it does not also stand in clear opposition to racism and in solidarity with its black staff and students. The University must acknowledge its role – failing to address racism on this campus and thereby adding to the anger and hurt of black people during this time. It must commit to do better. We have shared with you this open letter and we hope you'll take the time to read and add your names.
- We have been in touch with the chaplaincy to encourage them to offer greater support to black people during this time. The chaplaincy holds a great deal of expertise but does not currently offer any BAME specific resources or support and is not offering anything additional for the current tragedies.
- We are working closely with black activists across the University and SU, supporting their initiatives, campaigning and lobbying for the University to do better.
- We have begun preparations to celebrate Pride Month and will be focusing on black LGBTQIA+ people. You'll receive more information about our plans soon but as part of this, we are making a series of donations to organisations supporting black people and more specifically, black LGBTQIA+ people struggling at this time. Our first donation is for the BMECP.
Earlier this week, the University posted on social media directing people to the work of the REC SAT, the BAME Staff Network and to the BAME Ambassador Programme piloted this year by the Students' Union. This was done without informing any of the BAME people that work on and run these programmes and many of us are actively opposing the current approach. I run these staff networks as a volunteer, often in my own time and with little support from the University and do not have the capacity or the desire to plug the gap in Sussex's failings. These posts directed people to work being done for and by black people and if anything, highlights Sussex's slow progress in this area.
UNISON will continue to work for equality, for black lives and for change in this University tirelessly until we see a fairer campus and world. We will be by your side and in the University's ear as often as possible and we will continue to put our time and money where our mouths are. Do not hesitate to tell us what you need from us and we will not hesitate to make it happen.
Finally, the University has made clear to us that it has no intention of speaking up in this situation. Our Vice Chancellor feels that this is a US issue. If this position is held at the start of next week, it is with a heavy heart that I inform you that I will be leaving the Race Equality Charter Self Assessment Team (REC SAT). I cannot continue to work harder for equality than the University will and I will not allow my hard work to be used to rubber stamp a University which does not stand for anything.
UNISON is here in solidarity with Black Lives Matter.
Victoria Babatunde
Equalities Officer
University of Sussex UNISON