Summer School: Engineering and Informatics
Study at the home of the very first intercontinental computer link at a university ranked joint 160th in the world*. Discover our Engineering and Informatics Summer School modules below.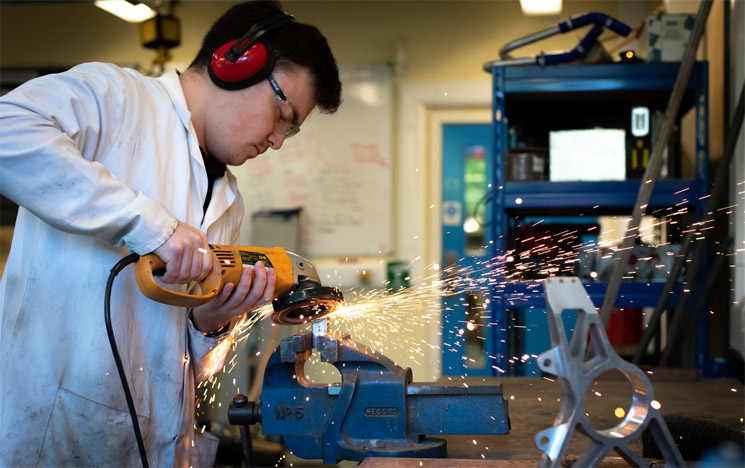 Browse our modules
You can see our full list of engineering and informatics modules below.
Session One
28 June - 16 July 2021
Digital Media Concepts and Applications

Module code: IS429

In our changing digital world, this module will provide a deeper understanding behind the human perception of multimedia such as colour and sound; how perception relates to the capture, display, storage and transmission of media. This module offers the grounding into digital media of computer science and will interest students looking for an insight into digital multimedia production and distribution.

You will be introduced to the technical principles and fundamental concepts of digital media. This will include human visual and aural perception, pixel-based and vector graphics, graphics formats, networked multimedia, web development concepts, digital video, mobile-based digital media and digital audio concepts including compression.

You will develop core practical skills and theory, by exploring the challenges with digital video, mobile-based media, and through interactive lab sessions, you will develop your understanding of building code-driven webpages using HTML, CSS, JavaScript.

This module will provide you with a theoretical understanding of the capture, display, storage and transmission of digital multimedia and introduce the technical principles and hardware underlying these concepts. You will put this theory into motion when in the labs, with access to Double Screen Computers and high-spec software to enable you to synthesise multimedia and web-based content.

Learning outcomes:

Describe the principles behind the human perception of media such as colour and sound and how perception relates to the capture, display, storage and transmission of this media
Recognise the wider issues involved with multimedia production and distribution
Identify and summarise the technological basis of the capture, display, storage and transmission of sound, video, image and graphical based multimedia
Synthesise multimedia and web-based content.

Teaching method: Laboratory and lectures
Assessment: 50% Software Exercise, 50% In-class test
Contact hours: 40 hours
Credits: 15 Sussex Credits

Experience Prototyping

Module code: IS402

Prototyping is a key activity in the design process, which informs both the process and design decisions. This is a hands-on module, introducing you to the process of making prototypes, starting with basics of card/foam/paper and progressing through different levels, to 3D Printing.

It enables you to gain a first-hand appreciation of active engagement with developing prototypes. This module illustrates the value of prototypes in three critical design activities: understanding materials, exploring design ideas and in communicating design concepts. This module will also ensure correct methods are utilised and understood as far as health and safety is concerned.

This module is for those interested in art, technology & development and product design, and will develop transferable skills for the marketing, product design, graphics industries. This is a practical module with 70% of time spent in workshops, you will be actively engaged in this prototyping, as the module is topical and innovative, with students developing a deeper understanding of the process of 3D Printing.

This module is extremely hands-on, with every aspect of theory that students learn being put into practical work; these sessions are linked to the assessment where students will showcase their prototypes towards the end of the session.

As this is an introduction to Prototyping, this module is open to students of any academic background. An example of the module structure is outlined below:

Week 1 - An introduction to prototyping, looking at form and surface design using subtractive and additive prototyping methods
Week 2 - Investigating structural properties with prototypes
Week 3 - We look at further developing prototypes and adding detail

The Product Design degree is accredited by the Institution of Engineering Designers (iED) providing graduates with further opportunities. Graduate Lucy Hughes has been named this year's UK national James Dyson Award winner for her innovative solution to single-use plastics and inefficient waste streams by harnessing fish offcuts to create a unique bioplastic alternative called MarinaTex.

Learning outcomes:

Demonstrate a systematic understanding of different materials and the ability to plan and source relevant materials and technologies for the creation of models and prototypes
Demonstrate the ability to use prototyping to create, explore, illustrate and develop and design idea
Demonstrate practical modelling and presentation skills to both specialist and non-specialist audiences
Demonstrate how to use prototyping as not only a tool for creativity but for communication, reflection and dialogue.

Teaching method: Lectures, seminars and workshops
Assessment: 100% Presentation
Contact hours: 40 hours
Credits: 15 Sussex Credits

Natural Language Engineering with Python

Module code: IS430

This module teaches students how a computer processes and ideally understands the English language. It explores how computers mirror human behaviour: "What we can do with the English language? How do we find certain words in documents? How do we find positive/negative words in the same document?"

Through this module, you will acquire a deeper understanding of how large quantities of data are ranked in search engines to coincide with search terms. This module will provide you with a theoretical and practical understanding of how generic Natural Language Processing (NLP) technologies can be deployed to large quantities of realistic data. This will include technologies for text pre-processing, text classification, sequence labelling (e.g. part-of-speech tagging and named entity recognition), those that make use of manually curated linguistic resources (e.g., WordNet) and those where meaning is acquired through statistical patterns (distributional semantics). You will be introduced to the Python programming language including many of the core Data Science libraries including NumPy, SciPy, PANDAS and SCIKIT-Learn, all accessed on Double Screen Computers and high-spec software.

Distinctive to Sussex, this module has an applied nature, with access to Double Screen Computers and high-spec software in the Laboratory, so will appeal to students looking for a more practical module. You will ideally have a background in computer science and be familiar with machine learning, and/or with some academic background in computing, engineering and business. This module explores the idea of humans versus robotics – therefore, if you are interested in Artificial Intelligence, then this module is for you.

Learning outcomes:

Describe applications and summarise the underlying principles of current NLP technology.
Recognise the wider and ongoing challenges in using NLP technology.
Deploy generic NLP technologies to large quantities of realistic data.
Design and run an empirical investigation to determine which language processing technologies are effective in a given scenario.

Teaching method: Lectures and seminars
Assessment: 50% Report, 40% In-class test, 10% Observation
Contact hours: 40 hours
Credits: 15 Sussex Credits
Session Two
19 July – 13 August 2021
Principles of Data Science in Python

Module code: IS431

This module will provide students with the practical tools and techniques required to build, analyse and interpret 'big data' datasets. We will cover all aspects of the Data Science process including collection, munging or wrangling, cleaning, exploratory data analysis, visualization, statistical inference, model building and implications for applications in the real world.

We will look at data manipulating both politically and in the global business industry. We will design testable hypotheses, exploring how data is analysed in meaningful ways by applying suitable experimental methods to determine whether these hypotheses are supported by robust and reliable data. An example of the testable hypotheses that students will be asked to conclude on is: "Do male actors get paid more than females actors?" Students actively analysed medium-large datasets from IMDB statistics to prove/disprove the hypothesis.

During the module, you will work with real-world datasets and apply techniques learnt in practical sessions and lectures, to scrape data from the Internet, develop and test hypotheses and present findings. In the laboratory, students will be introduced to the Python programming language including a number of fundamental standard Python libraries/toolkits for Data Scientists including NumPy, SciPy, PANDAS and SCIKIT-Learn, all accessed on Double Screen Computers and high-spec software.

This introduction course aimed for students wanting to develop a deeper understanding of Python, students should have some mathematical background and an interest in code programming.

Learning outcomes:

Analyse real-world `big data' datasets using appropriate tools and techniques
Design testable hypotheses and apply suitable experimental methods to determine whether those hypotheses are supported by the data
Evaluate the applicability of different tools and techniques for data analysis and visualisation in different scenarios
Summarise an analysis of big data and present data in an appropriate format.

Teaching method: Laboratory and lectures
Assessment: 50% Report, 20% Presentation, 30% In-class tests
Contact hours: 40 hours
Credits: 15 Sussex Credits
Not sure how to choose?
Follow our top tips for choosing your modules. You can also find out about our teaching structure, assessment process and how your credits transfer back to your home institution.

Find out more.
The University of Sussex reserves the right to cancel modules due to staff availability, student demand, minimum enrolment, or updates to our curriculum. We'll make sure to let our applicants know of such changes to modules at the earliest opportunity.
Top 20in the UK for Engineering and Technology**

£11mFuture Technologies Lab with computer suites and automation/robotics facilities***

1stcity in England for student happiness****

Expert teaching from academics at the forefront of their fields
Which school will I study in?
You'll study in the Department of Engineering and Department of Informatics which is part of the School of Engineering and Informatics.

Our academic staff have expertise in electrical and electronic engineering, automotive and mechanical engineering, robotics engineering and product design.

Find out more.
Our engineering and design research
Staff at Sussex are working on satellite navigation systems and building sonic tractor beams.

Our research influences the way we teach, and you learn from academics at the forefront of their fields.

Find out more.
Contact us
If you are studying at Sussex for a summer and have questions, email summer@sussex.ac.uk.
*The Times Higher Education World University Rankings 2021 **Times Higher Education World University Rankings by Subject 2021 ***Access to facilities is dependent on the module you study ****(Our campus is nine minutes by train from Brighton & Hove) survey by accommodation providers Student Living by Sodexo. Rankings based on full undergraduate degree at Sussex.
---
You might also be interested in: