Summer School: Engineering and Informatics
Study at the home of the very first intercontinental computer link at a university. Discover our Engineering and Informatics Summer School modules below.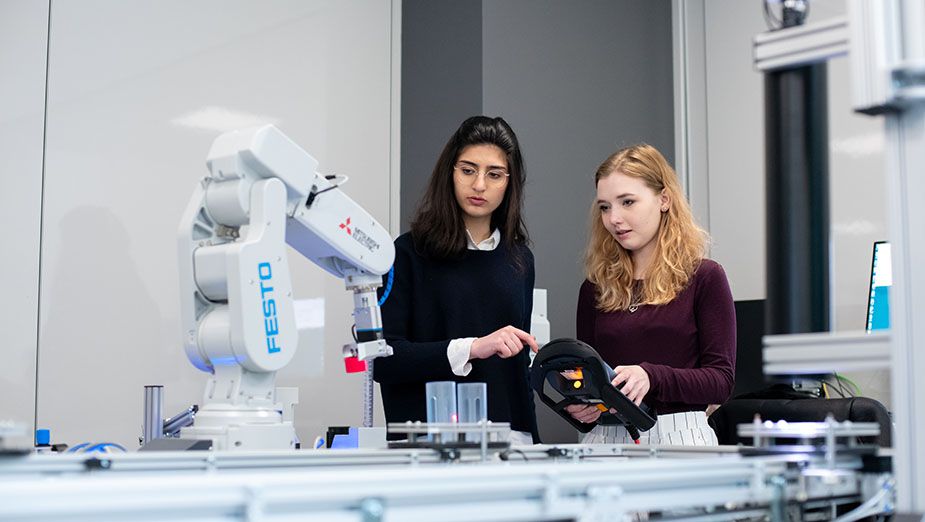 Browse our modules
You can see our full list of Engineering and Informatics modules below.
Session One
26 June - 14 July 2023
Introduction to Electronics and Robotics Engineering

Module code: IS440

Robotics is the engineering area that deals with the conception, design, construction, operation, application, and usage of robots. The future of robotics engineering is full of opportunities from manufacturing systems to innovative robotics for medical, military and automotive industries. Robots have a massive scope when it comes to careers. They play a crucial role in the industrial sector and help speed up manufacturing processes, such as designing bio-medical equipment. A robotics engineer core skillset is practical to aid all aspects of creating robots such as design, maintenance, testing and functioning.

Throughout this module, you will get a strong foundation in the concepts and principles used in robotics including kinematics, tolerances, structural analysis, prototyping and novel fabrication techniques required in the design and implementation of robotic systems. Through a series of practical Workshop/ Labs, you will learn the application of computer aided design software in robotics (i.e. CAD/Solid works).

You will also develop skills in electronic engineering and gain knowledge and ability to program embedded systems used in robotics to interact with actuators and sensors; and acquire practical knowledge of robot integration and testing.

This is a hands-on, intensive project-based module that exposes you to the design and implementation of robotic mechanisms and systems from scratch. You gain further insight into the robotics and electronics taught by carrying out a series of laboratory experiments and learning how to design, build, program and test your own robotic system.

The module closes with a robot competition/presentation, where you as part of a team will have the opportunity to communicate and present technical information of your design and justify decisions of your robotic project to specialist and non-specialist audiences.

Learning outcomes:

Have essential knowledge and analysis of the different robotics principles, systems, system design and methods covered in the course
Be able to apply state-of-the-art computer aided design, novel rapid manufacturing, prototyping techniques and programming microcontrollers for the design and implementation of robotic systems.
Be knowledgeable and able to demonstrate the design of low-complexity embedded systems utilising the various interfacing modules of microcontrollers, sensors and software algorithmic skills required to control those systems.
Be a team worker - proactive, flexible, creative and trusted - with ability to problem solve, communicate technical information and justify team design decisions of a robot challenge to specialist and non-specialist audiences.

Teaching method: Laboratory, lectures and workshops
Assessment: 50% presentation/competition, 50% lab evaluation
Contact hours: 43 hours
Credits: 15 Sussex Credits
Laboratory fees: £150
Level: 4
Session Two
17 July – 4 August 2023
The University of Sussex reserves the right to cancel modules due to staff availability, student demand, minimum enrolment, or updates to our curriculum. We'll make sure to let our applicants know of such changes to modules at the earliest opportunity.
---
---
You might also be interested in: