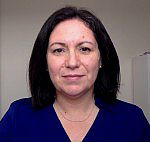 Dr
Carmen Rios Garcia
Biography
After completing a five-year degree specialising in English Philology in 1991, I worked as a Language Assistant and part-time Lecturer in Spanish at Manchester Metropolitan University (1991-1995). From 1995-1998 I was a Lecturer in Spanish and Spanish Subject Leader at Bournemouth University, where I developed the BA Spanish strand of the BA Modern Languages, validated by HEFCE. I was a Lecturer (1998-2004) and Senior Lecturer (2004-2008) at Northumbria University, where I coordinated the Spanish University-Wide Unilang and Unilang Plus programmes and co-supervised the Postgraduate Programme in Hispanic Studies. I worked as a Teaching Fellow in Spanish at the University of Exeter (2009-2010) and as a Senior Teaching Associate in Spanish at Lancaster University (2011-2018), where I led the development of the Distance Learning MA Translation and chaired the Language Committee before joining the University of Sussex in 2019.
Academic Qualifications
Licenciatura en Filosofía y Letras, Especialidad de Filología Moderna (Inglés). Universidad de Murcia, 1991.
Modular MA (subject: Applied Language Studies). University of Salford, 1995. Dissertation on 'Hedges, Discourse Markers, Deixis: Problems in Literary Translation'.
PhD Linguistics. University of Manchester, 2002. 'The Pragmatics of NP-Anaphora in Spanish Conversation'. University of Manchester, 2002. 251 pages.
Metropolitan Police Test in Spanish Translation and Interpreting, Chartered Institute of Linguists, 2008.
MA English Language and Linguistics. Newcastle University, 2010. Dissertation on 'Definiteness in L2 English: An On-line Approach to Genericity'.
Module 2 of the Postgraduate Certificate in Academic Practice (Experienced Route). Lancaster University, 2015.
Membership of Academic Associations
Association of Hispanists of Great Britain and Ireland (AHGBI)
Linguistics Association of Great Britain (LAGB)
International Pragmatics Association (IPrA)
Membership of Professional Associations
National Register of Public Service Interpreters (NRPSI) (Interim)
Association of Police and Court Interpreters (APCI)
European Legal Interpreters and Translators Association (EULITA) (Interim)