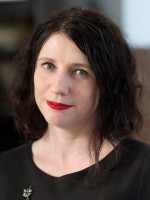 Prof
Claire Langhamer
Biography
Claire Langhamer is a social and cultural historian. Her work deals with the diverse ways in which ordinary people negotiated modernity in twentieth-century Britain. She was brought up in North Humberside. She completed her first degree in History at Manchester University in 1991 and conducted doctoral research with Dave Russell at the University of Central Lancashire, 1992-6. She started working at Sussex in 1998.


Role
Professor of Modern British History
Community and Business
Media work includes being interviewed by Madness front man Suggs for A History of the World: Brighton, the First Resort (BBC 2, 2010), appearing as a panellist in the BBC3 Freethinking Festival debate, 'Is Marriage in Peril' broadcast on (Radio 3, 2010), and contributing to Word of Mouth's, History of the Microphone (Radio 4, January 2011), Timeshift's The Rules of Drinking (January 2012) and a Radio 4 Today series on Mass Observation (Spring 2012) which culminated in Mass Observation serving as the Today programme editor on Boxing Day 2012. In 2012 I also helped Masterchef host Gregg Wallace trace his family history in the BBC1 programme Who Do You Think You Are? and in 2013 I was interviewed in the Mass Observation Archive by David Dimbleby for the BBC1 programme, The People's Coronation. In 2018 I contributed to the BBC 2 series: Princess Margaret: the Rebel Royal.
In 2013 I discussed my book, The English in Love on The World Tonight (Radio 4), World Update (World Service) and BBC Russian Service. I appeared on the ITV Tonight programme to discuss internet dating and a BBC Schools broadcast Exploring the Past: Post war Britain. In 2014 I was a panellist on a BBC Radio 4 Thinking Aloud special on romantic love.

Other community engagement work includes a public talk on 'Love and the Dancehall' as part of the Brighton-based Our Dancing Feet community project (2013) and a public talk on 'What is Happiness?', part of the Mass Observation series for the ESRC Festival of Science (2013). I have discussed The English at Love at a variety of events and venues including the Wigmore Lecture series and the Ropetackle Arts Centre. I spoke at the 2014 Words by the Water festival of words and ideas and delivered the 2014 Bedford Centre public lecture. The English in Love was nominated for the 2014 Spears Book Awards in the social history category. In 2015 I delivered a public lecture on 'Evidence and Emotion' for the Institute of Advanced Study, Durham, and in 2016 spoke at a National Army Museum event for International Women's Day.