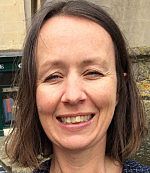 Dr
Beth Richards
Role
I currently work as a Lecturer in Art History (Education and Scholarship)at The University of Sussex. Specialist in histories of art and material culture in the long Nineteenth Century in Britain, with specific interests in gender and sexuality.
As a Doctoral Tutor and School Tutor, I taught a range of modules in the department since 2018.
I was awarded my AHRC CHASE-Funded PhD in July 2020. Entitled 'The East India Company's Engagement with Indian Dress in England, c.1720-1800,' my thesis examined eighteenth-century portraiture through textiles and jewellery as a global marker of worldliness. I focused on the direct relationship between the material object and its depiction in visual culture. A core feature of my research was the study of four specific EIC individuals and their families who purchased estates in Sussex. It demonstrated a lesser-explored regional approach set within the more recognized context of the British Country House. Through the impact of travel, I established that dress and art generated gendered implications that provided a culturally hybridised translation of ethnicity for these individuals and their kinship networks. My research adopted a multi-disciplinary approach that applied historical evidence, such as wills, letters, and inventories, to support my art-historical scholarship of portraiture and I used dress as a cultural mediator to connect the disciplines.

In 2017-2018 I undertook a 9-month placement at the NPG. It gave me a sound knowledge of slavery and black presence in the satirical prints of the period. As such, I have an up-to-date understanding of debates relating to Eighteenth-century art and culture alongside collection management, object acquisition, and museology.


My research specialisms include:
18th-19th century portraiture with a specific focus on the work of Tilly Kettle and artists working in the East Indies.
East India Company domestic histories and kinship transmission.
18th-19th century histories and theories of dress and the body.
18th-19th century jewellery and textiles: materiality and objectivity
Regional history with a particular focus on Sussex.
Qualifications
2015 – 2020 PhD Art History, University of Sussex (supervisor Prof. Geoff Quilley)
2013 – 2015 MA Art History (Distinction), University of Sussex
1998 – 2001 BA Honours History (2:1), Birkbeck College, University of London