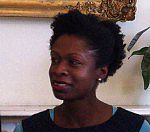 Dr
Eva Sansavior
Biography
Born in Trinidad, my work as academic developer in the new School of Media, Arts, and Humanities builds on my experience as a researcher and lecturer in the fields of International Strategic Management, Global French Studies and Francophone Postcolonial Studies. With teaching and research experience gained at major UK and Irish universities including UCL, Oxford and Limerick, my academic and professional values are shaped by a deep personal engagement in ̶ and commitment to ̶ the practices of possibility and the community-generated conditions that they create for radically re-imagined cultural and educational futures. Current research is situated at the nexus of educational and social justice and aims to offer solutions to real-world problems by bringing postcolonial theories, educational scholarship and the UK HE policy landscape into dialogue.
Key funded research and cultural projects:
'Caribbean Globalizations: 1492 to the Present Day', The University of Oxford (The Leverhulme Trust & The University of Oxford, 2008-2012).
'Confluences: Interdisciplinary Dialogues in Humanities Research and Teaching', The University of Limerick (2012-2014, Faculty/Erasmus+)
Head Judge, Bridget Jones Caribbean Art Prize (Society for Caribbean Studies)
'The (Student- Facing) Online Transition to HE Toolkit for the Arts and Humanities' (Nottingham Trent University/HEFCE, 2019).
Publications and knowledge exchange
I have published books, articles and reviews on the Global Francophone Caribbean literary, dramatic and visual cultures. Creative knowledge exchange is a key dimension of my academic practice developed through my work on organising conferences, study days, exhibitions, dance and music events which connect academic researchers, artists and members of the community.
Key publications include Maryse Condé and the Space of Literature (Legenda, 2012) and the co-edited volume of essays Caribbean Globalizations: 1492 to the Present Day (Liverpool, 2015).
Role
Academic Developer, School of Media, Arts, and Humanities
Working at the interface of student experience, curriculum design and research, my work with the new School of Media, Arts and Humanities is essentially focused on supporting academic teams in the development of innovative cross-humanities communities, pedagogies and practices.