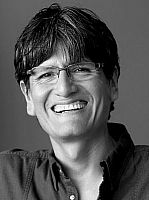 Mr
Ernesto Cabellos Damian
Biography
Ernesto Cabellos is an award-winning Peruvian documentary filmmaker living in Brighton that has been teaching since 2019 at the School of Media, Arts and Humanities at the University of Sussex.
Ernesto co-founded Guarango Films in 1994, a non-profit film organisation based in his hometown of Lima dedicated to produce films for social change. In Guarango, Ernesto has directed the feature documentary films "Choropampa, The Price of Gold" (2002), and "Tambogrande: Mangos, Murder, Mining" (2007). He also produced "The Devil Operation" (2010).
His latest film "Daughter of the Lake" (2015) was available on Netflix worldwide for 2.5 years. It tells the story of Nelida, an Andean woman able to communicate with water spirits that joins a struggle to prevent a mining corporation from destroying the lakes of her community.
These films chronicle 15 years of conflicts between indigenous communities and mining companies in Latin America and have received more than 40 international awards and distinctions.
In 2019, Ernesto co-directed the documentary film "Until the last drop" about Palestinian and Israeli farmers in the Jordan Valley. The film was produced by Reelmedia, a film company based in Brighton, and it's been distributed by Journeyman Pictures.
Role
Professional Instructor (Media and Film)