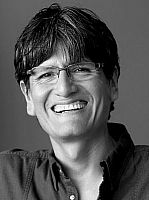 Mr
Ernesto Cabellos Damian
Biography
Ernesto Cabellos is an award-winning Peruvian documentary filmmaker living in Brighton that has been teaching since 2019 at the School of Media, Arts and Humanities at the University of Sussex.
Ernesto co-founded Guarango Films in 1994, a non-profit film organisation based in his hometown of Lima dedicated to produce films for social change. In Guarango, Ernesto has directed the feature documentary films "Choropampa, The Price of Gold" (2002), and "Tambogrande: Mangos, Murder, Mining" (2007). He also produced "The Devil Operation" (2010).
His latest film "Daughter of the Lake" (2015) was available on Netflix worldwide for 2.5 years. It tells the story of Nelida, an Andean woman able to communicate with water spirits that joins a struggle to prevent a mining corporation from destroying the lakes of her community.
These films chronicle 15 years of conflicts between indigenous communities and mining companies in Latin America and have received more than 50 international awards and distinctions.
In 2019, Ernesto co-directed the documentary film "Until the last drop" about Palestinian and Israeli farmers in the Jordan Valley. The film was produced by Reelmedia, a film company based in Brighton, and it's been distributed by Journeyman Pictures.
In 2022, Ernesto completed another feature-length documentary film titled "Wändari", this time as a producer. The film addresses social and environmental conflicts in the Amazon from the perspective of native communities. Please, watch the trailer here.
Throughout his career, Ernesto has actively engaged in education and outreach, sharing his experience with students through lectures and practical sessions, as well as public conferences and screenings. At the University of Sussex, he has taught modules such as Producing Media for Development on the MA Media Practice for Development and Social Change, and on the MA Digital Media Practice: Activism and Social Change.
He has also been invited to deliver lectures at renowned universities, including Cornell, the University of Chicago, and NYU in the United States, and UCL and the University of Warwick in the UK, among others.
Role
School Tutor (Media and Film)